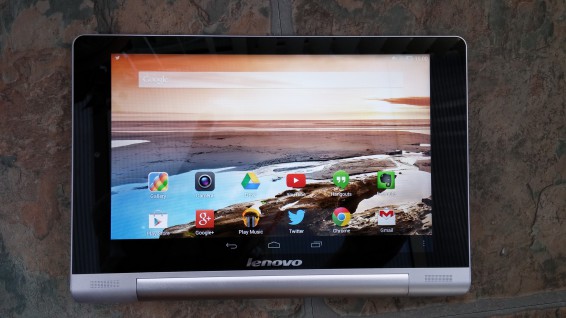 It seems that, once again, I've found myself a device that splits opinion. So, the Lenovo Yoga Tablet 8 is lopsided, has a built in stand and is made by a manufacturer not known for its tablets. Let's just say that it's got some persuading to do!
Good
Innovative design
MicroSD card slot
Camera
Quick launcher
Speakers
That extra inch
Bad
Underpowered for 2014
Heavy skinning
No app drawer
A little slippery in the hand
Good/Bad Depending on Your Sex
Champagne finish can look slightly effeminate
What's in the box?
The tablet, a charger and USB cable
Aesthetics
Fellow writer James Pearce was horrified when I said that I thought the Lenovo Yoga Tablet 8 looked great the other day on the podcast. That was a bit of a surprise, because I think it looks pretty smart. To me the problem is that, on the whole, tablets are flat, black rectangles, and when one comes along that's a bit different it has to be viewed with a different mindset; the question has to be asked as to why Lenovo are breaking the mold? Is it a case of innovating or attention seeking?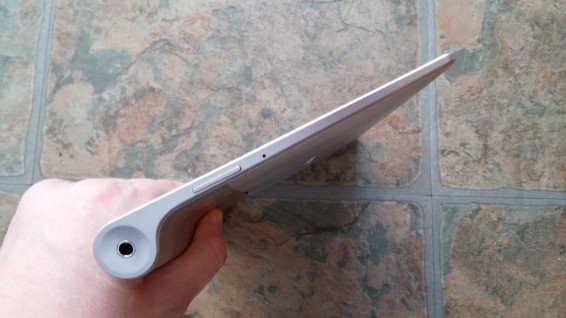 Design and Usability
The thing that sets the Yoga tablet range apart from the competition is its bulge – stop it! This is almost exclusively to house a stand that stows away within it. It rotates out and slots satisfyingly into place forming a sturdy method of holing the tablet upright in landscape orientation – a far more stable arrangement than most of the cases that form a stand for a regular shape tablet. This mode is perfect for watching TV or films in the kitchen or on one of those fold down tables on a train.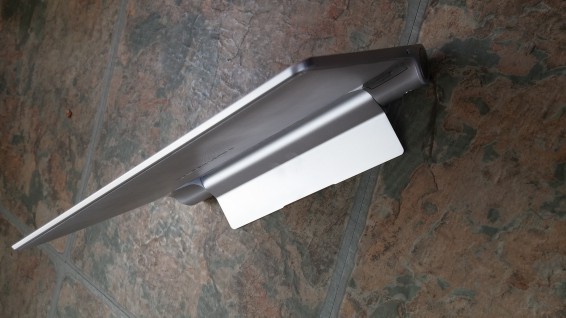 My favorite use for the stand configuration was sitting at a dining table with a Bluetooth keyboard in front of it, forming a make-shift netbook. Several Coolsmartphone articles were written like this.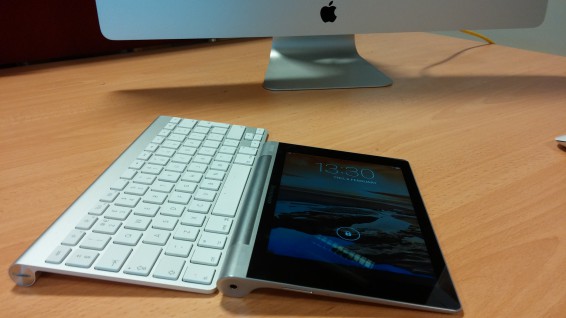 If laid on its back in landscape mode on a flat surface with the stand out, the Yoga not only looks like an Apple keyboard, but it forms a comfortable method of typing. I've always found that the worst part of on-screen typing on anything bigger than a phone is the unwieldiness. Being a 10 finger typist (but not quite a touch-typist), stretching my thumbs across even the smallest of tablets is a frustrating ordeal, but for the first time I've found a tablet on which I can type quickly and comfortably.
I say the bulge is almost exclusively for the stand, but its other purpose is to to form an extremely comfortable way of holding the tablet in portrait mode. Whether this was thought about by the designers or a happy accident isn't clear, but it makes for a much better experience when reading a novel, for example, over holding a flat tablet.
Build Quality
The use of metal for much of the cylinder housing and stand gives the Yoga 8 a very premium feel. The plastic on the rest of it isn't the highest quality, but it's by no means the worst I've seen. The buttons are solid and positive, especially the power button that's built into the bulge and lights up for notifications.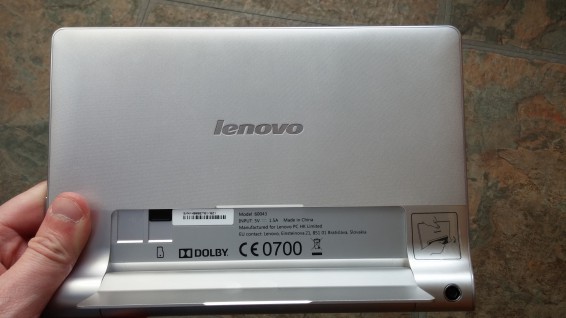 The only noticeable flaw is that the stand is rather difficult to extend without bending the thinner part of the tablet. Once I was used to the mechanism that didn't happen any more, but it was rather alarming at first!
Specs
Processor: MT8125/8389 Quad Core 1.2GHz
Operating System: Android 4.2.2 Jelly Bean
Display: 8″ 1280 x 800, IPS
Memory: 1GB LPDDR2 RAM
Storage: 16GB
Battery: 6000mAh
Form Factor: 213 x 144 x 7.3 (at the bulge) 3 (at its thinnest point) mm, 400g
Camera: Front:1.6MP, Rear: 5MP
Connection: WLAN 802.11b/g/n
Retail price: £169.99
The Screen
These days a full HD screen is almost expected on anything larger than a 5-inch device, so I was a little concerned that the 1280 x 800, 8-inch panel on the Yoga was going to be a disappointment. I'm not going to pretend it's as good as the Nexus 7 (2013), but it certainly does a superb job. It's bright and crisp, and only really falls down when I put my reviewers hat on and look for faults. Stand it up, sit back and start watching a film and the screen resolution is the last thing on your mind.
There are quick toggles available to change colour profiles depending on how the tablet is being used (tilt, stand or hold modes). I found tilt mode worked well for every occasion though, and never used the toggles!
Performance
The Yoga 8 follows Lenovo tradition of using MediaTek processors in their devices, in this case it's a quad-core 1.2GHz MT8389. This isn't a big issue these days, but they never quite live up to the standards of the NVidia Tegra chipsets or Qualcomm's market leading Snapdragon SOCs.
Couple this with 1GB of RAM and 16GB of internal storage and the specs are looking decidedly last year. Having said that, the Yoga very rarely lags, and whilst it is never going to be the ultimate gaming tablet, most time-wasters that are to be found in the Play store will run perfectly.
Here's what Antutu says about things: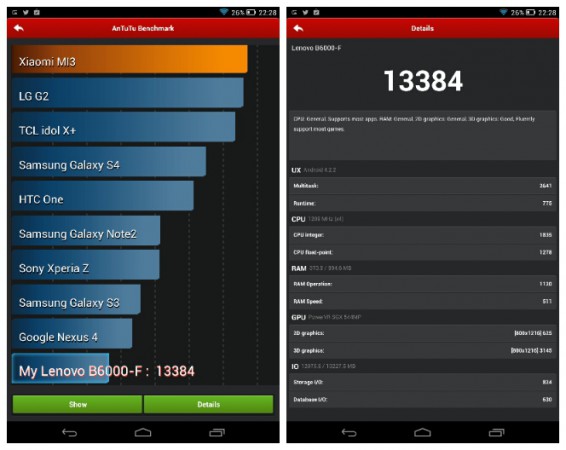 Camera
The 5MP rear facing sensor that's built-in to the cylinder of the tablet is never going to win the hearts of any budding David Baileys out there, however, I would go so far as to say that I got the best outdoor photos from this camera than any other Android tablet I've used (that includes the impressive Sony Xperia Tablet Z).
Part of this may not be down to the sensor or software at all, as I believe it's identical to that used in the Lenovo S5000 tablet I reviewed last year. I think it's another benefit of the bulge (you can have that one, Lenovo!). You see, holding the device still in one hand is so easy that it doesn't feel like an awkward chunky slab. The only disappointment is that there's no way of using the camera whilst in stand mode, which would have made it the perfect built-in tripod.
There is a front facing camera on board, which can take advantage of the stand, however, making this the perfect Skype tablet.
I stress that the main camera is great for outdoor shots in good daylight. In low light conditions it's pretty awful, and without a flash onboard I wouldn't even bother trying anything inside. Just get your phone out instead!
Sound Quality
The Yoga has stereo front facing speakers, meaning that when used in landscape mode there is very good lip sync for watching TV, and a reasonable amount of grunt to boot.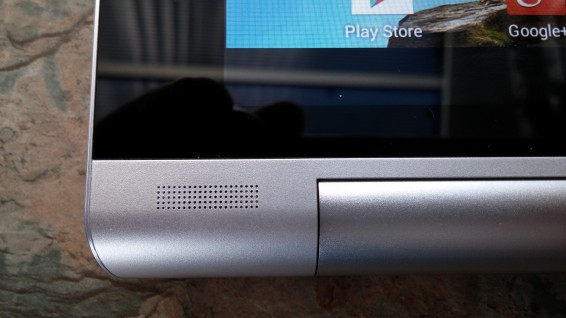 The inclusion of a Dolby Digital Plus audio app further enhances the sound, giving it a surprisingly wide sound-stage and deep bass considering its size. The settings in the app let one tailor the sound for various different settings (movie, music, gaming, speech and two users definable options), which can be switched between at will by using a widget. This is very similar to the DSP Manager found in CyanogenMod ROMs, and works just as well, if not better.


In my initial impressions review I said that the headphone jack socket crackled. Lenovo very kindly sent me another tablet that hasn't got a broken socket and I can report that the sound quality through my House of Marley earphones is excellent.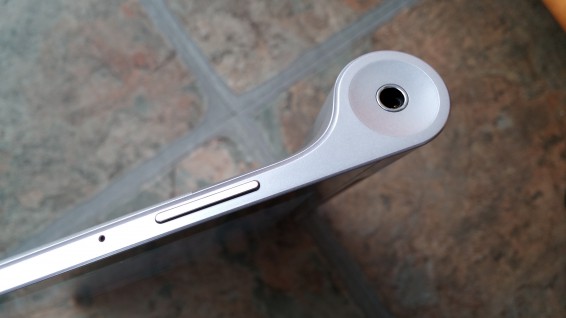 An Aside
I loaned the faulty Yoga to a self confessed non-techy friend of mine, whilst I continued with the replacement, just to get a second opinion on it. All I have to say is that she really doesn't want to give it back, the only negative she's mentioned is that it needs more grip, because it slowly slips through her fingers if holding it for a long time. That's it. So there's your (wo)man in the street's review!
Software
Android Jelly Bean 4.2.2 is the operating system of choice out of the box, and I have a feeling that won't change any time soon, because it doesn't matter what is running in the background when a device is so incredibly heavily skinned.
There are bubbly, cartoonish icons liberally strewn throughout the system menus, and across the homescreens in a cluttered mess. Don't worry though, I thought, I'll just relegate them to the app tray… nope, no app tray!
I can live with fridge magnet style icons if I have to, but the lack of an app tray is a real bugbear. I can't see a single advantage of cluttering up a load of homescreens with icons or folders of icons that are unwanted on the whole. Maybe that's just me though, because iOS users put up with it on a daily basis.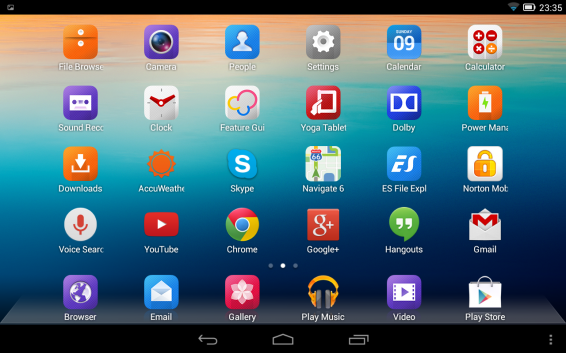 There is one very handy software tweak that Lenovo has added to the launcher, however. Known as the Smart Side Bar, it's basically a quick launch tray that contains recently used apps (even after it's been switched off), and direct links to books, photos and videos. This is nice as it can be accessed from any homescreen. What would have made it brilliant if it could be accessed whilst in any app, but unfortunately it can't. If Lenovo could implement this in the next version of their ROM then it would be an extremely useful tool.
Other software that comes bundled includes 'txtr book library, Kingsoft Office, Norton anti-virus, Accuweather, ES File Explorer – which is fantastic, and a rather excellent battery management tool that really helped to get many days of use out of the 6000mAh battery when the simple settings had been twiddled with. There's an auto setting for battery management that learns usage patterns and adjusts accordingly. I don't think I had the tablet for long enough to test that fully though.
Unfortunately I doubt this device will get a lot of attention from the ROMming community, but it's really nice to see that Lenovo have provided free downloads of the Yoga's open source code on its website.
Conclusion
The Lenovo Yoga Tablet 8 is an excellently designed piece of out-of-the-box thinking. There is no other tablet like it on the market (apart from the two 10-inch versions) and, rather than being a quirky bit of tat that's different for the sake of being different, it's been well thought out and well executed.
The heavy skinning on the UI is dreadful, in my opinion, but the main issues I've highlighted can be overcome by using a third party launcher, such as Nova. Other than that, the bundled software is very useful and will get a first time Android user off to a flying start.
The internals and screen are a little under-spec for the price (£169.99), but if you're not a heavy gamer or extremely critical about your video content then it's more than adequate.
The question any potential purchaser should ask themselves is whether they want a 'normal' tablet, of which there are many to choose from, or a Yoga tablet. After my experience with the Yoga, I can say that it's the best user experience I've had with a tablet and I wholeheartedly recommend it (with a liberal dose of your favorite third party launcher!).
The Lenovo Yoga Tablet 8 is available from the Lenovo website for £169.99
Lenovo Yoga Tablet 8
Design - 10
Hardware - 7
Software - 8
Camera - 7
Screen Quality - 8
Battery Life - 9
8.2
A unique design that addresses the problems you didn't realise existed on other tablets. This could well be your next tablet, but try before you buy.