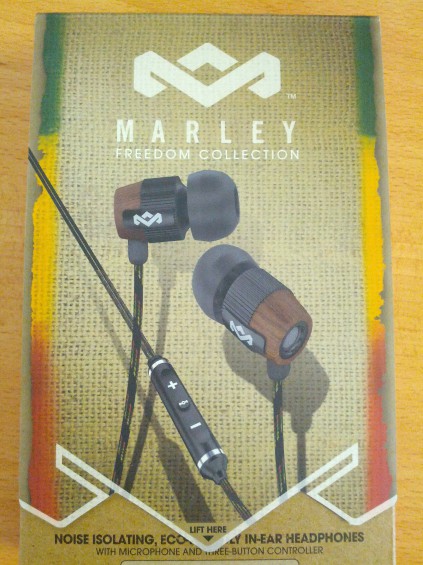 Can eco-friendly, wooden clad, celebrity endorsed earphones really cut it when it comes to multi-platform mobile entertainment, and being a hands-free kit?
After reading Simon's excellent review of the Klipsch S4a Android earphones I was tempted to grab myself a pair. In fact, there was a pair in my Amazon shopping basket by the end of the next night, but I didn't checkout. Why? Because I'm not an Android only user.
Whilst I do have two Android tablets and an Android phone, I also have two iPod Classics, and therefore my requirements are broader than the S4a's can provide. I need a comfortable, high quality pair of earphones with in-line mic, call answer and volume remote.
After lengthy research I decided I'd take a punt on a manufacturer I'd never heard of: The House of Marley.
Now, I have to admit to being a cynic. I normally steer well clear of technology endorsed by actors, footballers or musicians especially if they're – how should I put this? – no longer with us! However, I was just too intrigued by these to pass them by.
The House of Marley is actually an active supporter of the 1Love foundation, a charity formed in conjunction with Bob Marley's family to help the environment and some of the poorest people in the world. So, not your average Wayne Rooney hair gel kind of product 😉 The other thing The House of Marley are very proud of is their eco-friendly credentials. pretty much all of the materials used in the product and packaging are recycled or recyclable; a nice, unique selling point.
But, and it's a big but, what do they sound like? There's no point in all of the above if they sound like a pair of dustbin lids and fall apart in the first week!
The pair I settled on were the £69.99 Redemption Song Midnight in-ear headphones, and I'm glad to report that the build quality is nothing short of excellent. The body is half plastic, half wood making for a distinctive and classy look, and the cables are clad in a black braided fabric, stylishly highlighted with the red, green and yellow flecks of the Ethiopian flag. The three button remote (volume up/down and function) feels sturdy, and the buttons are positive.
Sound quality is also very good. When listening to rock, the bass is surprisingly deep, kick drums have a crisp thud that shudders through you at high volumes, vocals float in front of you and electric guitars feel raunchy and alive. Dance and pop are also lively, although drum machine cymbals are a little sibilant. Classical music is airy, and especially impressive with nylon strung guitars. Reggae, of course, sounded great. One criticism is that the the lower mid range is a little woolly, and I have to use the equalizer on each of my devices to combat it.
When used as a hands-free kit the sound quality at both ends is clear and loud, and the remote function button works perfectly on my Samsung Galaxy Nexus, even though it's only branded for use with Apple products. However, the volume controls didn't. This is a failing of Android, however, not the earphones.
To add extra functionality to the remote on my Android devices I installed the JAYS Headset Control app, which allows you to use the single button to control all aspects of playing music (much like on iDevices). It's free and is fully compatible with these earphones.
Included in the box are a selection of different size and style earbuds and a superb little canvass carry pouch.
All in all I am very happy with my new earphones, especially as I managed to get them for a reduced price of £51.98 from Amazon!
The House of Marley do a full range of earphones and headphones priced between £19.99 and £149.99.
N.B. For test purposes I used a Samsung Galaxy Nexus, a Samsung Galaxy Tab 2 7.0, an Asus Transformer TF101 and an iPod Classic, playing 320kps MP3s. Android devices were all running the full version of Poweramp.