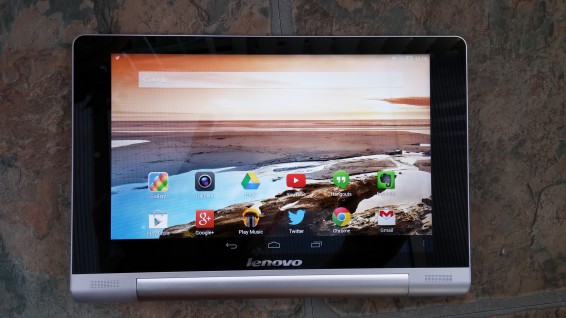 The Lenovo Yoga Tablet 8 has something that isn't very abundant in the Android tablet world: innovation. OK, the design may look like an Apple Mac keyboard, but it makes for an interesting, and often pleasant, user experience.
Good
Design
Build quality
Some of the Lenovo software
MicroSD card slot
Bad
Heavily skinned UI
No app drawer
Crackling on the headphone socket
Slightly under powered for 2014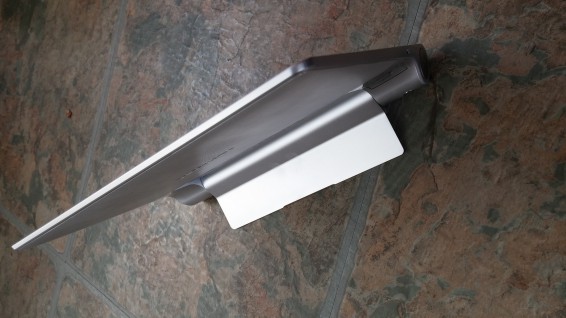 Design
The first thing you'll notice about the Yoga is the cylindrical bulge down one of the long sides. This serves several purposes. Firstly, it houses a hinged foot that turns round and slots into place to form a stand, much like a digital photo frame.
However, with the stand retracted it forms a comfortable grip for holding in one hand whilst reading.
The third bonus is that, just like the similarly designed Mac keyboard, when placed on a level surface in portrait mode it makes typing a doddle. Something I've always disliked doing on a tablet.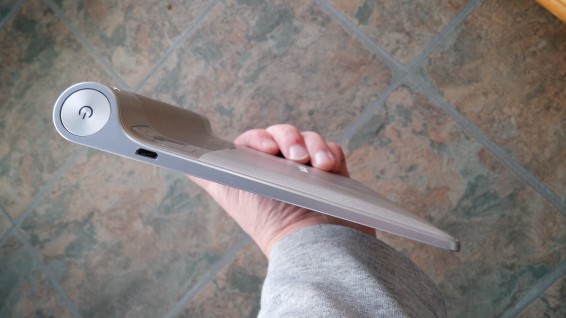 The intriguing thing about this design is that it's still aesthetically pleasing; a trick that's not easily achieved.
Screen
The 8 in the name of the Yoga refers to its 8″ screen, which makes it stand out from the 7″ tablet crowd. Whilst it doesn't seem like a difference in the hand, the extra inch is definitely noticeable in use, making reading and surfing a nicer experience without the bulk of a 10″ screen. At a resolution of 1280 x 800, it's not the highest spec screen on paper, but it really is very sharp.
Software
The Yoga runs Android 4.2.2 Jelly Bean out of the box, but you'd never know because of the extreme skinning that Lenovo has applied. Just like the skinning on the Lenovo Ideatab S5000 tablet I reviewed last year, the app tray has been completely removed and all the menus redesigned.
There is a choice of themes that can be switched between, but none of them are anywhere near stock Android, which is a shame.
There is a nice quick launcher that can be accessed by using a gesture from either side of the side of the screen. I am using this quite a lot, rather than cluttering the homescreen with folders.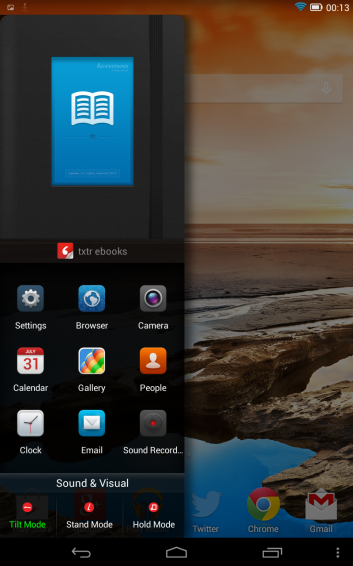 Sound
I have noticed a crackle on the headphone socket. I've tested it with several sets of earphones, but it still persists. I can't say whether this is a one-off faulty unit or not, but I can only review what I've been given, and unfortunately I can't tell you how good the sound is via the socket.
What I can say is that there are stereo speakers on the front of the unit, which are reasonably loud. I haven't had a chance to play with the Dolby sound settings yet, so I'll be interested to see how good the sound can be.
Initial Conclusions
I've only been using the Yoga for just over three days, but I'm already enjoying it very much. If it wasn't for the dreadful skinning that's been applied I wouldn't have anything against it (apart from the crackling headphone socket!).
Over the next couple of weeks I will be giving the Yoga Tablet 8 a good old going over. If there's anything you would like me to look at in particular all you have to do is leave a comment below.