It's unfeasibly big, it's got a rotating camera, a rear touch panel, and it runs a custom ROM out of the box, but is the Oppo N1 CM Edition innovative or just a giant freak? I put my credit card where my mouth is to find out.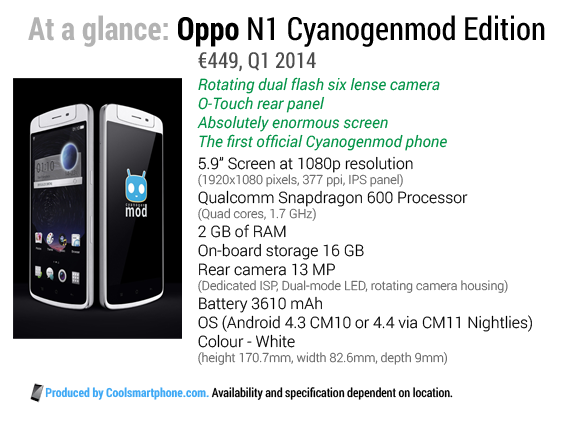 So to start things off here are my good and bad points.
Good Points
Screen.

Battery.

Build quality.

Goodies.

Camera.

Sound quality.

Price
Bad
Weight.

O-click not working.

No notification LED.

Lack of 4G LTE.

No microSD card slot.

Battery not removable.

Specs are slightly behind the other flagship phones.
What's in the box?
The question should be: what isn't in the box?! This is one well presented phone.
The main cardboard box contains a flip case and what looks like a small (plastic) biscuit tin. Upon opening it the disappointment of not finding any cookies is immediately wiped out because there's the phone, an earphone holder and another box (within the biscuit tin, within the box) with the charge cable and other gubbins. It's like a Fortnum and Mason's Christmas hamper for phone geeks. I certainly felt I'd got my money's worth, even before I turned the phone on!
Design
OK, lets get this out of the way now: it's big. No, wait, it's massive! This, however, cannot be seen as a design flaw. When the Oppo engineers put pen to paper they knew they wanted a gargantuan phone. I'm just glad they didn't go any bigger, because it's more than a handful as it is.
The design has been thought about a lot. It would have been so easy for the engineers to have taken the blueprints for the beautiful Oppo Find 5 and change the dimensions to suit, but that would have meant the power and volume buttons would have been inaccessible on the left hand side, so they put them lower down on the right.
Whilst the phone is obviously a device to be used two-handedly, the designers realised that there would be times when owners would have to use it with one hand. To aid this they added the O-Touch panel – a touch sensitive area on the back of the phone that can be used for scrolling through emails, homescreens, etc. More on this later.
Then there's the swiveling camera that allows horizontal axis adjustments of up to 207 degrees, meaning that the full functionality of the 13MP camera with dual flash can be used in pretty much any configuration whilst still being able to view the screen and operate the software with ease. More on this later too.
So, as you can tell, there has been a huge amount of thought put into the N1 to make it a unique phone, not just a massive version of an existing handset.
So what did they miss?
There's one simple feature that is fitted to some of the cheapest phones on the market that's missing from the N1: a notification LED. It may seem trifling, but having to turn the screen on every few minutes, just in case an email, tweet, WhatsApp, Google + or any other other message has arrived gets infuriating after a while. Would it have broken the bank, Oppo, to fit a tri-colour LED? After all, you're not short on space!
Hardware
The trouble with buying a phone outright over the internet without seeing it first is there's always a nagging suspicion that is may fall to bits within a week, which is why I need to report on the build quality of the N1.
Build
Oppo gained a name for high build quality with the Find 5, and the N1 carries on in the same vein.
Whilst the body is completely polycarbonate, it has that 'soft touch' feel to it that still feels premium. Around the edge of the phone is a raised strip that's finished on either side with chrome effect aluminium; a nice touch that gives it a really classy look.
The swivelling camera could have been a stumbling block here, but the mechanism feels strong and smooth, and holds nicely in place when in its normal upright position. Oppo claims that it will last at least 100,000 turns, which I can easily believe.
Specs
Quad-band GSM/GPRS/EDGE support; penta-band 3G with HSPA
5.9″ 16M-color 1080p Super IPS LCD capacitive touchscreen with 373ppi
Android Custom CyanogenMod 10.2 ROM
Quad-core 1.7 GHz Krait 300 CPU, 2 GB RAM, Adreno 320 GPU; Qualcomm Snapdragon 600 chipset
13 MP autofocus camera, 207 degree module rotation; dual-LED flash; HDR, long exposure (up to 8 seconds)
1080p video recording @ 30fps with HDR mode, continuous autofocus and stereo sound
O-Touch touchpad on the back
Dual-band Wi-Fi ac/a/b/g/n, Wi-Fi Direct and DLNA; Wireless TV-out (Miracast)
GPS with A-GPS
16GB of built-in storage
microUSB 2.0 port, USB on the go support
Bluetooth v4.0
NFC
3.5 mm audio jack
3610 mAh battery
Accelerometer and proximity sensor
Active noise cancellation with dedicated mic
Premium aluminum and polycarbonate finish
O-Click Bluetooth Remote Control in the package
Flip case with O-Touch support
Limited edition CyanogenMod Cruzerlite Gel Case
As you can see from the more technical of the specs above, the N1 isn't quite cutting edge. The Snapdragon 600 chipset isn't far off the 800 that's fitted to the likes of the LG G2 or Samsung Galaxy Note 3, but it isn't what you'd associate with a flagship phone.
Similarly, the Adreno 320 GPU isn't the absolute latest technology, but once again, it isn't exactly incapable.
When considering this one should also bear in mind the price. The N1 has only just been released and is currently retailing at just under £370. Compare that to the launch price of a Note 3 (£649), Sony Xperia Z Ultra (£599) or HTC One Max (£599) and you start to forgive the Oppo a few of its shortfalls.
One thing that shouldn't be forgiven is the lack of 4G LTE. I recently reviewed the Samsung Galaxy Express 2 that packs 4G for around £200. With all the main networks launching their LTE networks this year, we really should be seeing 4G on all new phones.
Display
The main thing I loved about my Oppo Find 5 was the awesome screen, so I was expecting something a bit special from the N1. Whilst I couldn't say that the N1's full HD screen is breathtaking, it really is superb. The larger the screen, the less pixels per inch, so it's not surprising that the ultimate clarity isn't quite as good as the Find 5, but it would be a critical man who would rate this as anything less than excellent. My only criticism would be that whites can sometimes seem slightly grey, but it's vary rarely noticeable in normal use.
One of my favourite features of the screen is that it will take gesture control when off. Like the LG G2 it uses 'knock-on' (double tap) to wake it up, but it takes things further: a circle will launch the camera, a V turns on the torch, drawing right and left arrows (< >) will skip music forward and back, and two vertical lines will pause playback. I'm a big fan of knock-on, and these music controls are very useful, especially as they're easy to use one handed in the dark.
O-Touch
As mentioned before, the O-Touch is a rear touch panel to help with one-handed operation on this massive beast. It is just above half way up the phone and is about the size of a large postage stamp. It simply provides the ability to scroll vertically and horizontally by swiping across it. It's an interesting development, but it takes quite a bit of tweaking and practice to make it usable.
It also means that if you want to protect your big baby there either has to be a hole cut in the case, or a compatible case with touch sensitive material built in.
Luckily two compatible cases are included, but it's not ideal.
Do I use it? Occasionally. Would I miss it? No, I'd rather my case covered the whole of the back of the phone.
Performance
The Antutu benchmark app shows up what the N1 lacks in specs on paper: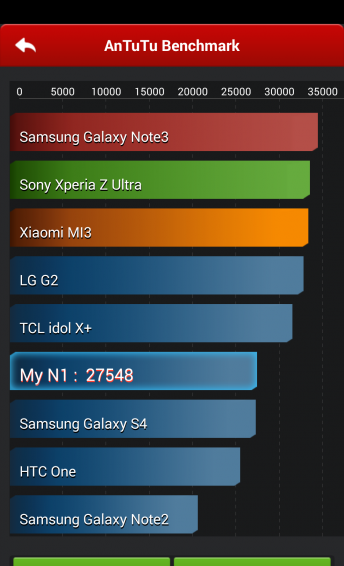 I have to say, however, I really haven't noticed much difference in real world performance when compared to my LG G2. Some of this is probably because of the G2's skinning and bloatware, and some is undoubtedly down to CyanogenMod's tweaking, but whatever the reason is, this feels like a very rapid device.
Camera
This is where things start to become a little strange. As you probably already know by now, the Oppo N1 has one camera. It sits in its own little pod that's built in to the top of the phone, along with the dual LED flashes; this can be swiveled on a horizontal axis all the way round from a normal rear facing position through 207 degrees to slightly beyond where you'd expect to find a normal front facing camera.
At first there seems very little point in a rotating main camera, aside from taking really high resolution selfies of you squinting as you're blinded by the flash, but there' are more practical applications that become apparent when in use.
The best use I've found for it is that one can use pretty much any flat surface as a makeshift tripod. All you do is turn the camera to the horizontal position and lay the phone on the flat surface. The angle of the camera can then be adjusted to suit. This way the phone is stable and the screen always visible. You can see examples of this in the slideshow below.
The camera software isn't as heavily featured as you'd find on the HTC One or Nokia Lumia 1020, for example, but it does have some nice options.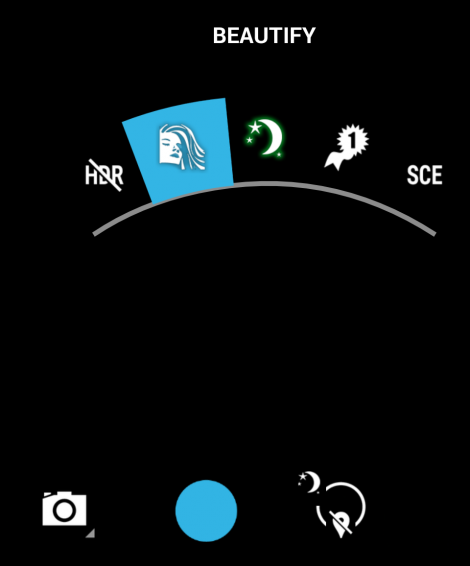 All the navigation is done by holding a finger on the screen until a fan of options appears. The blades of the fan then expand again with further options. It takes a few minutes to get use to, but it works really nicely.
In these options are the usual settings for HDR, flash, lighting modes, etc. As well as a rather nifty feature called 'slow shutter'.
Slow shutter is exactly what it sounds like, the shutter speed is slowed to a maximum of 8 seconds, letting in more light for better exposure in dimly lit conditions.
In the photos below you can see a comparison of one taken using HDR (pic. 1) and the other using slow shutter mode (pic. 2). I haven't included the one taken with flash as it was just awful.
I think you'll agree that the slow shutter mode gives impressive results in these kind of low light conditions.
There's also an setting called 'Beautify'. I don't know if you've ever seen my face, but it had a hell of a job on its hands! In all seriousness though, it really didn't seem to improve things at all.
The usual settings for image resolution, ISO, white balance, burst mode and the like are also available through the same menu system.
There are also the usual filters and effects that make your photos look like they were taken in the 1920's, or you've drawn them with crayons, etc.
Despite the lack of software features, the camera took some decent pictures and video. The slow shutter mode reduced the need for flash on stills, which meant a lot of low light shots were more natural than had the flash fired.
More examples of my photos can be found at the end of the article.
O-Click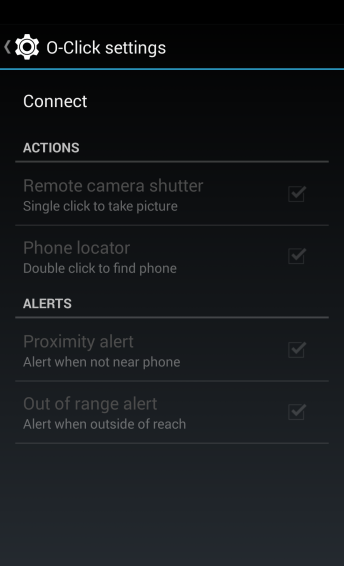 The O-Click is another unique feature of the N1. It's a circular, pebble like Bluetooth remote control. It has two functions: firstly it acts as a wireless shutter button for the camera, and secondly it can be set to sound an alarm if the phone goes out of range or as a 'phone finder' if you are capable of loosing a massive white slab.
It's very similar to products produced by HTC, Motorola and others, but what makes this unique is that it doesn't actually work with the CM Edition! Oh dear.
A CyanogenMod blog post has explained that there was a last minute change made by Oppo that broke the compatibility between the O-Click and the certified version of their operating system. Something that wasn't picked up until after the first batch had started shipping. There is a fix in the pipeline and it will be pushed out over the air soon. For more on this take a look at the CyanogenMod blog.
Battery Life
One thing that is absolutely outstanding on the N1 is its battery life. I'm a reasonably high usage case, with a typical day including emailing from four accounts (all on high frequency checking), listening to music, writing articles for Coolsmartphone, playing games, taking photos, and chatting over various forms of social media, as well as the occasional phone call.
Using the N1 on one of these typical days, starting at 7am with a full charge, I will normally end up with about 40% battery left at 11pm. If I do the same day on my trusty G2, it may not even make it through to bed time.
Here are a couple of screenshots of battery stats from one full charge.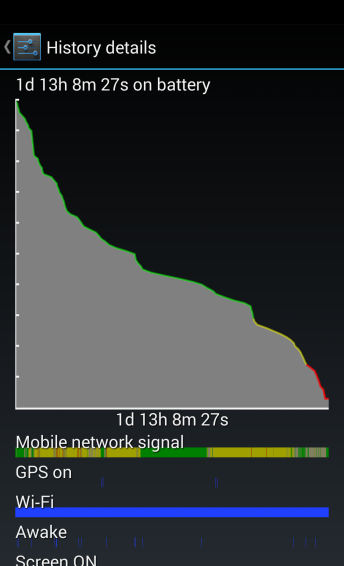 You can see that I got over 37 hours of life, which included over 6 hours of screen on time. I had no battery saving features turned on, but the screen brightness was on auto. It was on 3% battery when I took the screenshots.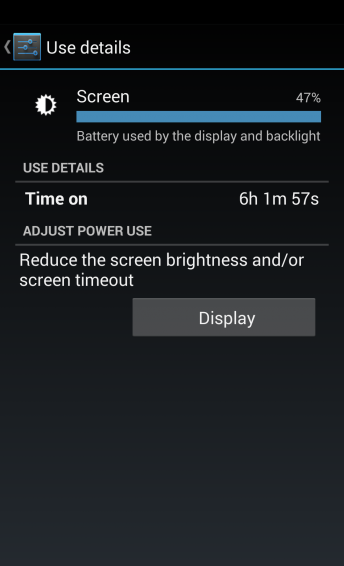 CyanogenMod
So that's the phone, but CyanogenMod is what put the 'special' in special edition, and the first question has to be why?
The answer is because there's a gap in the market. The open source nature of Android has meant that manufacturers have made their phones' UI's individual and, on the whole, bloated. Ironically, the custom ROM community have spent a lot of time removing the bloat and improving on stock Android.
Oppo's unique approach of encouraging third party ROM development made the Chinese company the ideal candidate to provide hardware for the newly formed Cyanogen Inc. And so, on Christmas eve 2013 the first ever phone running a third party custom ROM out of the box was launched.
The normal N1 comes preloaded with Oppo's own ColorOS ROM. Pretty much everything from this has been ditched and the latest fully stable version of CyanogenMod (10.2 – based on Android 4.3) has replaced it.
The sort of person who will buy this phone will probably have encountered CyanogenMod before, so I won't go into too much detail. The usual things are there to give extra core functionality without degradation.
There are masses of options for changing display settings, icon grid density, notification tray preferences, etc. Even the chance to install different themes which can be switched between at will.
It's not just about a pretty face though – far from it. The amount of control the user has over hardware settings is a bit scary at times: processor clock speed, hardware acceleration, memory stack allocation, and a lot of stuff I'm not brave enough to touch!
The Cyanogen File Manager, Apollo Music Player and DSP Manager are all included. All three are excellent apps in themselves, especially the control that the DSP Manager gives over the different sound profiles for headphones, speakers, Bluetooth and USB docks.
I've not used the Oppo ColorOS ROM, so I can't compare the two, but I know I didn't like the Oppo ROM on my Find 5, and from what I've seen ColorOS is better, but not for me. I am a big fan of CyanogenMod, however, and from this respect I'm over the moon to have it on my phone without the risk of bricking my phone and voiding my warranty.
There has been a bit of a backlash about the N1 coming with a Jelly Bean 4.3 based ROM, rather than KitKat. The simple truth is that they had to sell it with the most stable version of CM for the confidence of both the companies and the consumer. However, whilst writing the last paragraphs of this review the news came through that there is now a nightly CM11 (KitKat) ROM being published, so brave owners can get their fingers all chocolatey.
Conclusion
When the N1 was announced I was convinced it was too big and I'd never buy one. When we got wind of the CM Edition I became very tempted, but decided it was just too big and I'd never buy one. When I got bored on Christmas day and actually ordered one I was certain I'd made a rash and stupid decision, after all, it's too big, right?
There's no getting away from the fact that the N1 is enormous, I mean, just take a look at my comparison shot between it and the Note 3, LG G2, Galaxy S4 and iPhone 5S: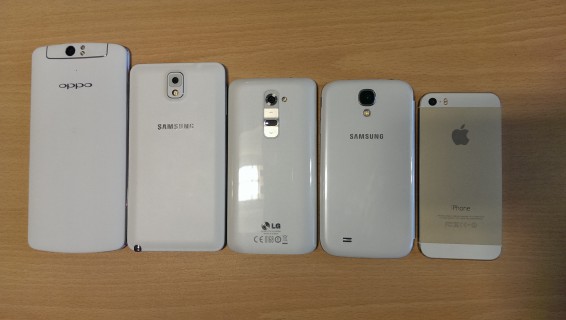 Despite the size, it fits in my jeans pocket (even when sat down) and isn't as cumbersome to operate as you may think. It's usable as a phone and a tablet, so, if you replace both of your existing devices with one N1 you're actually saving space!
OK, that's stretching the point too far for most. My point is that it's more practical than I thought it would be, and as such it isn't as ridiculous as it first seems. You wouldn't believe the amount of people who've laughed at the N1 when they've seen it for the first time, then wanted to keep it after playing with it for a while. One Apple devotee said that his iPhone has felt like a flimsy toy ever since using my N1 for half an hour.
Of the unique selling points, the swivelling camera is surprisingly useful, the O-Touch isn't, and the O-Click doesn't work, but the inclusion of CyanogenMod goes a long way in making up for any of the phone's shortcomings.
I'm now looking forward to trying CM11, and maybe even some more adventurous CyanogenMod based ROMs. It just feels wrong not to experiment on it.
If you're seriously considering buying an Oppo N1 CM Edition, then you're the sort of person who wants something quirky, innovative and – dare I say it – geeky; an early adopter with a thirst for something new in a sea of generic 5″ rectangles. If you are that person then, like me, you'll love the N1 CM Edition's toys, accessories and software features. Even if they don't do it for you, the gorgeous screen, build quality, battery life and speed will.
One of my colleagues summed the N1 up in one word: Epic.
So, stop asking if the N1 is for you, instead ask whether you're man enough for the N1.
Oppo N1 CyanogenMod Edition
Design - 8.5
Hardware - 7.5
Software - 9
Battery - 10
Camera - 7
Screen - 9
8.5
A mighty phone that's not for the faint hearted, but if you're after something individual that acts as a phone and tablet, it's a hard act to beat at this (or any) price.