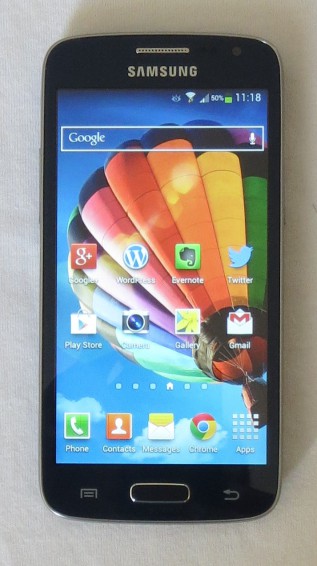 The Samsung Galaxy Express 2 fills a size gap between the Galaxy S4 and the Galaxy S4 mini, but its price is the lowest of the three. Is it an awkward, overgrown child, or a serious smartphone worthy of consideration? I've spent a fortnight with one to find out. 
Let's start with the basics:
Good
Looks
Feel
microSD slot
4G
Bad
8GB internal memory
No notification LED
Price
What's in the box?
It's as you'd expect: a charger, a pair of earphones and a phone.
Design
Budget and mid-range Samsungs have often been the ugly ducklings of the massive family, seemingly bypassing the design department all together at times, but the Galaxy Express 2 draws on the familiar lines of the flagship S4. As such it's a decent looking handset. In fact, you'd be hard pressed to tell it apart from the S4 at a distance.
The layout is similarly familiar, with the single hardware button flanked by two capacitive buttons on the front, volume is on the left, power on the right, earphone socket on the top and microUSB/charger port on the bottom.
My review unit has a colour designation of 'Rigel Blue' (I'm sure that's a planet on Star Trek!), which is a dusky translucent blue that shows a fine mock carbon fibre pattern in certain lights. I like it, but if you don't it also comes in ceramic white.
Hardware
The Express 2 promises much from its looks; an S4 mini with a slightly larger screen but without the price tag. Sounds great, eh? Well, the specs don't make this a reality.
Specs
Internal memory: 8 GB
RAM: 1.5GB
Processor: Dual-core 1.7 Ghz Exynos
Networks: 2G, 3G and 4G
Main camera: 5MP
Front camera: VGA
Video: 1080p Full HD at 30 frames/second
Screen: TFT 540 x 960 pixels, 4.5 inches (245 ppi pixel density)
Battery: 1500 mAh
Having said that, the screen is nice and bright, if a little too colourful to be lifelike, and the handset feels as good in the hand as any Samsung (with the exception of the Note 3). In fact, the whole experience feels premium.
Performance
The Antutu app is my go to benchmark these days, and here's what it made of the Express 2.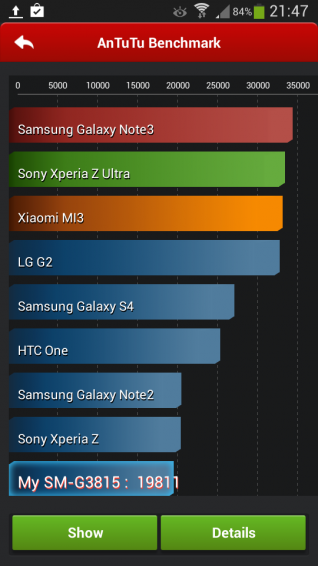 As you can see, considering the specs, it really isn't too shabby. I wouldn't say that sitting just below the Sony Xperia Z is bad, considering that 6 months ago that was Sony's flagship!
Benchmarks aren't real life, but I found very little lag in normal use. Scrolling between homescreens and using typical apps like Twitter, Google Plus, Chrome and Evernote every bit as smooth as on my LG G2.
Google Play Music, YouTube and the like could have been quicker, but not to the point of being annoying.
Watching videos was pleasant, although there was the inevitable frame drop on action sequences and detailed animations. Once again, only picky people would find this bothersome, and if you're that picky then you should probably consider a higher spec phone.
The one thing I couldn't test was its 4G capabilities. That's wholly down to the fact that I don't have any 4G Vodafone coverage. It is good that Samsung has seen fit to future proof a relatively low end phone, so that when your contract is 18 months old you will be able to pick up the wider 4G coverage, even if you can't now.
Software
The Express 2 runs Android 4.2.2 out of the box, which is par for the course on phones at this tier, and, of course, there's Samsung's much maligned TouchWiz UI skin. I won't go into too much depth here as this is one of those things that divides opinion, suffice to say that you'd be hard pressed to find anything that hasn't had a touch of bloat.
In the notification area you will find an embarrassment of toggles for various features. The usual suspects are here – wi-fi, screen rotation, Bluetooth, etc. – but there are the following extras:
S Beam – allows you to tap two Samsung phones together to transfer files between them. I don't have another phone with S Beam on, so I couldn't test this.
Smart Stay – the phone 'watches' to see if the users eyes are looking at the screen before activating the timeout. This feature never used to work very well for people with glasses on, but I found it worked very well through my bottle-like prescription specs.
Driving Mode – as it sounds, gives extra functionality for hands free functions when driving, such as audio notifications of who's texted you. This also works well, especially when used in conjunction with Google Maps Navigation that runs in full screen mode by default.
Group Play – an app that Sumsung made a big deal of when it was launched on the Galaxy S4, even going as far as having TV adverts dedicated entirely to it. It allows you to connect multiple phones wirelessly and stream audio and video to all of them simultaneously. Once again I didn't have any more Samsung phones to use it with, but I've seen it in action previously and found it rather underwhelming. However, if you need that sort of thing, then you've got it. 
Added to that, on my review model, there is a bunch of Vodafone software that can't be uninstalled. It may be of use to some people, and it doesn't really get in the way.
Also included are some of Samsung's own apps. These the most useful of these include the Samsung Hub, which gives access to Samsung's app, music and book store; 'Briefing' -a kind of organiser-cum-newsfeed.
My favourite though, bar far, is S-Planner, Samsung's calendar app. It really does knock Android's offering into last week. It's been around for a few years now and has only got better. I just wish it were available for all devices!
Camera
The 5MP camera can probably best be described as average. In the right light and focal distance it can take a decent picture. Macro is probably its forte.
Low light pictures are poor, it struggles to keep focus and is very susceptible to blur.
The best thing about the camera is actually the software. There are multiple options for tweaking photos, from iso and contrast to taking panoramas, choosing best shots.
There are loads of post production effects for making your loved ones look like they are cartoon characters or mosaics, for example. Even the ability to add snippets of sound to pictures in a little multimedia file. All very well if you like that sort of thing, I suppose.
I've included some test shots for your delectation, all of which were taken on the auto setting (the ones with the duck pond in were taken in bright sunlight, but the water looks almost black).
Conclusion
So the Samsung Galaxy Express 2 looks good, feels good to use and performs well. What's not to like? Well, the price.
At £225 on pay as you go the Samsung is expensive. The game changing Motorola Moto G is just as good as the Express 2 and can be picked up for around £100 less!
To be fair to Samsung, pretty much every manufacturer has been caught out by the Moto G, and if I had been reviewing this phone a few months ago I would have been recommending it highly.
Samsung is big enough and ugly enough to slash the price of the Express 2 in order to compete with the Moto G, but it almost certainly won't. Until that time this excellent phone cannot be highly recommend.
The Samsung Galaxy Express 2 is available on Vodafone for £225 on pay as you go and free on various contracts.
Samsung Galaxy Express 2
Design - 8.4
Hardware - 6.6
Software - 6.2
Camera - 5.9
Screen Quality - 6.7
Battery Life - 7.3
6.9
A great phone that's a good size between the S4 and S4 mini, it's just too expensive compared to the competition.