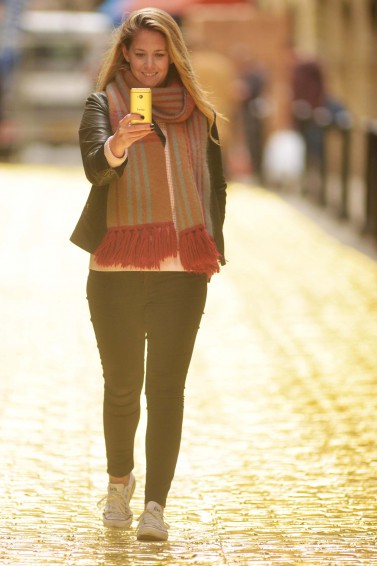 HTC have gone all festive by err.. paving an entire cobbled street in gold this Christmas. It's all to promote the HTC One in Gold.
If you've been to a pantomime recently then you may have heard Dick Whittington say that the streets of London are paved in gold. You may have also heard him say, "Oh no he isn't" and you've perhaps shouted "He's behind you" a bit too. Anyway, HTC wanted to show that the streets really are paved with gold, with a real glistening gold cobbled street in Shad Thames in the heart of historic London.
If you're interested in the HTC One, the first thing you need to do is read our HTC One review. Next you'll want to watch our full demo of the phone and then decide if the gold shade is your thing. If you've ticked all those boxes, head over to somewhere like Phones 4u to get a deal.
More details below, plus we've got some pictures of annoyingly good-looking people enjoying the cobbles.
Actually, this all reminds me of that joke. Two nuns riding their bikes down a cobbled street on their way to the church. One nun says to the other, "I've never come this way before." The other nun replied, "It's probably the cobbles."
There, you can have that one for Christmas from me. For free. Thank me later.