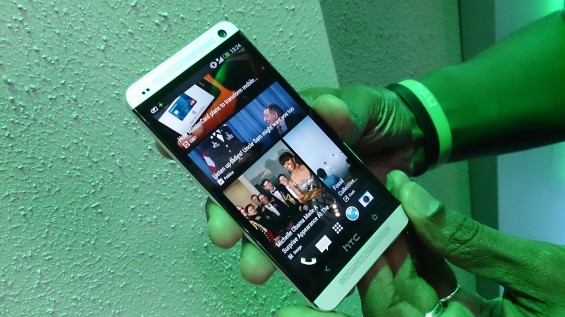 Last week we were in London for the launch of this, the HTC One. The launch event was pretty crowded and, although we got a video demo and some pictures, I asked the guys at the HTC stand to give us a full run-through of every new feature in this phone. We were looking for the lot – a full introduction and demo of the HTC Zoe feature, the HTC BlinkFeed system, the HTC BoomSound tech, HTC Sense Voice, the new infrared port and everything in between.
At the stand there's a booth for testing out the BoomSound experience in a quieter, perhaps more "home like" atmosphere. Unfortunately it's pretty dark in there, and it's not perhaps best to compare sound based on this YouTube clip alone, however I can tell you that it's a lot better than the audio from a normal smartphone.
The Sheryl Crow song below was particularly impressive as it didn't distort the high notes or bass, even at full volume. Sure, you won't be putting your Bose sound system on eBay just yet – this is a phone after all and the speakers can only be a certain size. However the volume, coupled with the Beats technology, was far, far better than any other smartphone I've used.
After walking around all day I decided it was time for a little sit down and, I know Dan and Mark will tell you about this in a post shortly, but the HTC One can also be used to plan and control your TV. Heck, you can even go into the pub / electrical store and start turning random TV's on and off. Out of the box the HTC One will be aware of all the major TV / satellite / cable brands but you can also "teach" the device from your existing remote control too.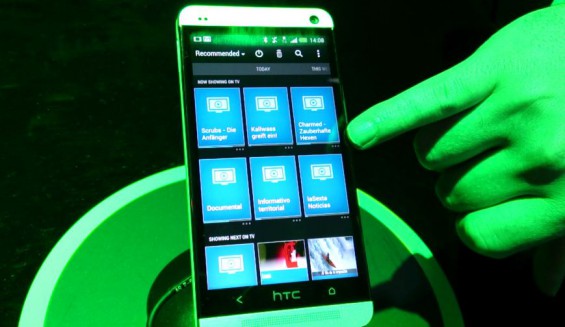 It's not just about changing channels either. This will let you see what's on TV now, what's coming up, how far through each show you are and a synopsis of the programme. It'll also let you replace your Sky TV / Tivo / Virgin or other digital recorder and does the full record / pause / rewind stuff you'd expect from your normal remote. Really, give this one a watch it's pretty interesting and will really show how the system works. You can have multiple remotes setup, name them how you wish and it's intelligent enough to know where you are so you get all your local programming.
As for HTC Zoe, BlinkFeed and the HTC Sense Voice tech, if you don't watch anything else I really recommend the video below. The HTC guys spent a long time with us today and this really demonstrates the phone well. The Zoe technology perhaps isn't for everyone, but you can "fix" shots if you took them on the Zoe mode and there's a very funky montage system for making your videos into "music video"-style productions.
Grab all the shots we took below..