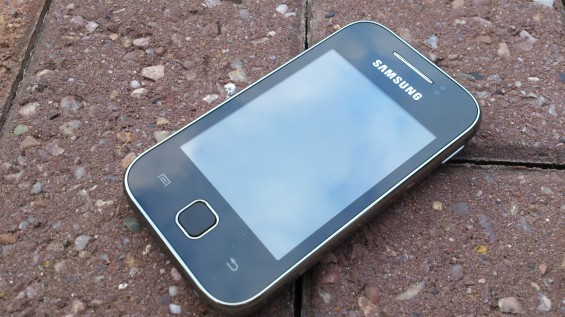 Someone has sent us a Samsung Galaxy Y. If I'm honest I have absolutely no idea. The bag was ripped and this popped out. This is the slightly older Y, aka the "Young", and not the one announced last week.
You can get a locked one from Tesco Mobile and they're offering this black one or a pink version for nothing on a £7.50 per month plan. For that tiny amount you'll get 250 minutes, 5000 texts and 500MB of data on a 24 month plan. You can also get it on Pay As You Go for a mere £64 with free delivery, and you get some of those Clubcard points too.
However, at this price-point you're probably going to want an unlocked one so that you can shop around between networks. A SIM unlocked version is available from UR Mobile for £91.10.
But wait, I'm getting ahead of myself. It's time for own up. If you're paying such a little for a phone you're not going to get a top-end handset are you now?
The specs include a 3″ 320×240 screen which is a little grainy to look at. It's powered by Android 2.3.6 which, whilst old now, still works fine. The 1200mAh battery lasts well but that 832MHz CPU isn't going to mean a super-speedy experience.
There's some Samsung tweaks on the phone, but it doesn't interfere too much and it's a fairly stock experience. The screen itself allows 4 rows and 4 colums of icons on the app listing. There's an FM radio built-in which you can use with the headphones, which act as your antenna.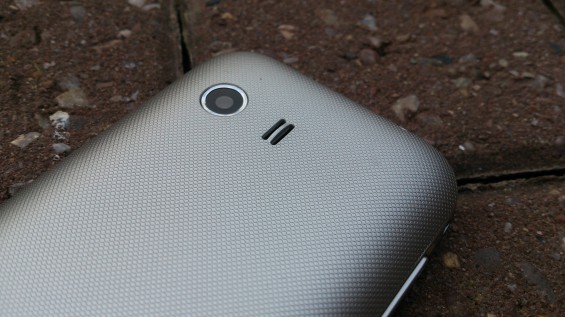 OK, let's take a tour around the phone and, at the back, we have a 2 megapixel camera. 2 megapixels isn't going to give you super-crystal clear shots. It's enough to take some "happy snaps", although low-light shots are tricky without a flash.. there isn't one.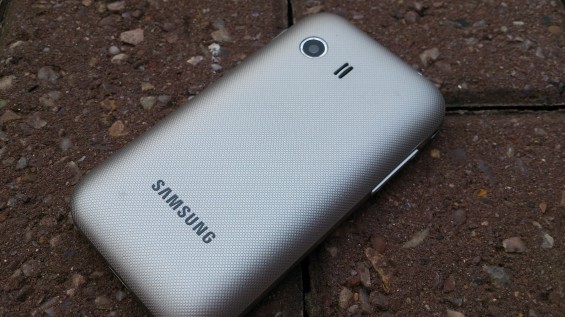 WiFi, GPS and Bluetooth are included, and there's 160MB of "user memory" with the possibility of extending that through the microSD expansion.
Typing using the on-screen keyboard is a little tricky due to the size of the screen. Luckily Samsung seems to have realised this and there's the Swype keyboard available too. Just switch to that and it could make things a lot easier.
The left side has the volume control, the top has the microUSB slot which is hidden behind a flap and, next to that, there's a 3.5mm audio port.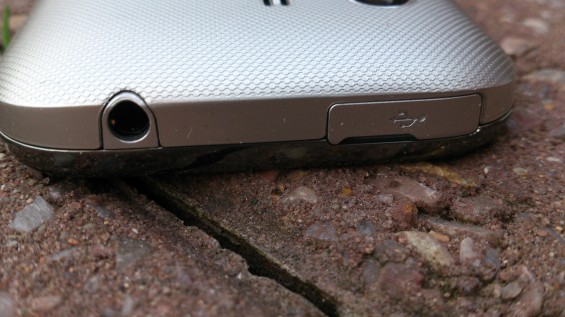 On the right is the power button, but you can also wake the device from it's standby mode by using the button on the front, which I always like to see in a phone. If you take the battery cover off (which is a grippy sliver plastic), you'll find the microSD card slot on that side.
At the bottom, a small slot for your nail. This releases the rear panel and gives you access into the battery and standard-sized SIM card.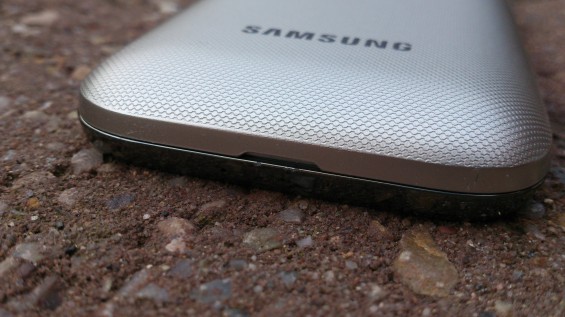 Now, as you'll see from our comparison shots with the Galaxy S3 and huge Huawei Ascend Mate (which has a screen more than DOUBLE the size), you'll see just how dinky the Galaxy Y is.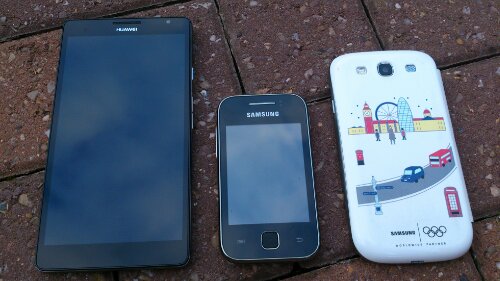 Ahhh little baby… 😉
The handset is also known as the Galaxy Young or Galaxy GT-S5360, and that "Young" name does reveal who this is aimed at.
It is, at least in my humble opinion, a featurephone replacement and it's cheap enough for kids, teenagers or anyone on a budget to purchase. It's also a fairly capable handset for those who don't want to splash out £500+ on the latest, greatest super-powered handset and are quite happy with a phone that makes calls, texts, browses the web and packs an array of games and apps that can keep you entertained for far less than most consoles.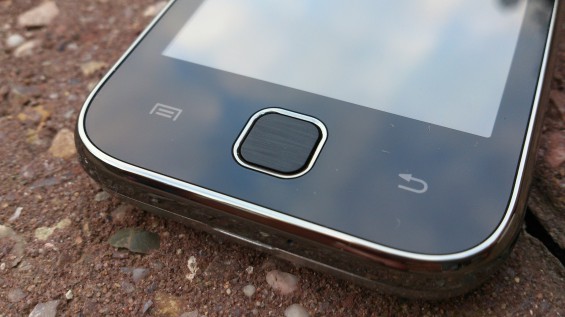 The styling, especially on the rear and edges, is very good indeed and that pretty basic-looking front is somehow saved by the Samsung branding up top. This is possibly where Samsung could have the edge over budget rivals because, if you think about it, there are handsets you can buy with a slightly faster CPU and bigger screen, such as the Ascend G300 from Huawei. However, knowing what kids are like, they might choose the more recognisable brand – Samsung.
Two softkeys and a central "home" button are at the bottom here.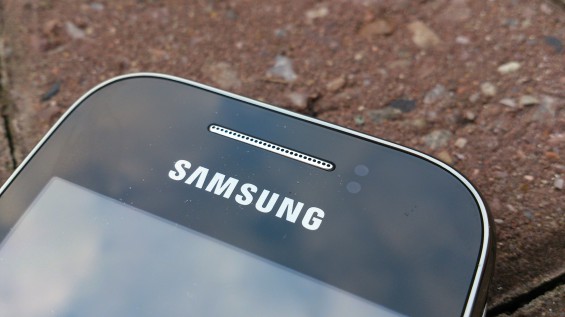 Video Overview
Inside
As I mentioned before, the OS is relatively unspoilt. Samsung have added their "Social Hub" and the "Samsung Apps" recommendation / app store but not a great deal else. There's no real UI replacement here but you can drag widgets onto the three home screens and organise app or app shortcuts into folders. This will probably be something you'll want to do to make the small-ish screen work a bit more for you.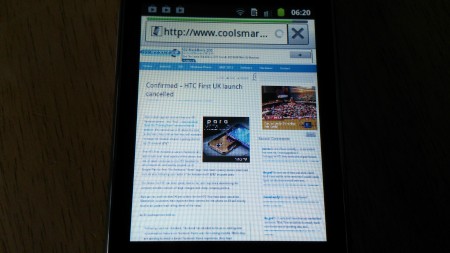 Opening the stock browser is a slight struggle, especially on fairly hefty / graphic-heavy websites like our own. I found that the first load was a little slow, but subsequent loads (with most of the site in the cache) were acceptable. There's also the option to format web pages to fit the screen, so a double-click will zoom in and the paragraph will be nice and easy to read. That sort of thing is essential on a device this size.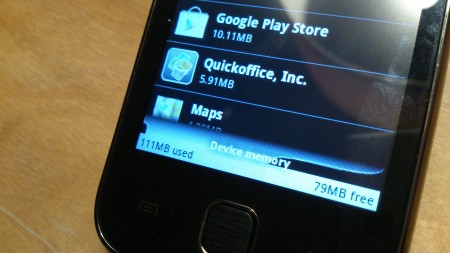 Sadly, without a microSD card you will run out of storage incredibly quickly. There's 160MB of usable storage according to the specs, and in practice that let me install about 5 of the major apps before things started getting tight. I put Facebook, Instagram and TuneIn on here then quickly found that my storage was getting pretty low. A microSD card is essential on this device, so don't buy the Y without one.  You'll then need to hop into the settings and move your apps across to the storage card every now and then.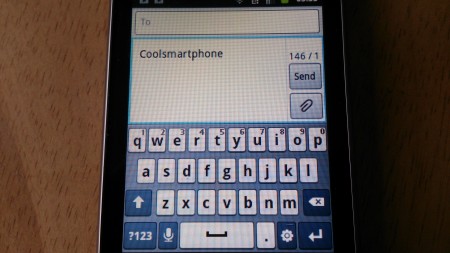 The usual stock apps are here – a browser, email, GMail, clock and even Quickoffice if you fancy trying to open a document of some kind. You can also do most of the things that other Android devices can do – Navigation, Google Maps, Street View and all of your contacts are kept in sync with the might Google Cloud.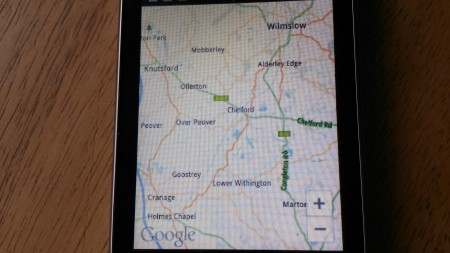 However, due to the screen size and the spec, some apps aren't available to you.  The BBC iPlayer won't work but luckily Angry Birds will.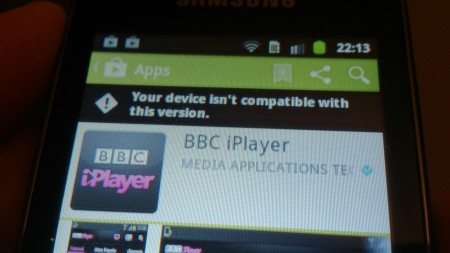 Camera
As mentioned, the camera is fairly standard and doesn't fare well in low-light. I've taken some example shots in daylight below..
Conclusion
It's a pretty easy one to call. For around £90 things are going to be lightweight in certain areas. The 2 megapixel camera will get most people by, although it could be a pain when friends with cheap Nokia featurephones use their 8 megapixel shooters. However, the Android OS does deliver a lot of goodness – navigation, mapping, social media, proper(ish) browsing and access to many, many thousand of apps and games in the Google Play store.
Put together with a Pay As You Go or SIM-only plan this will quickly reduce your bills and will happily serve those who don't use or particularly need smartphones.
If you're going to consider this, definitely buy an SD card, else it'll run out of space in minutes. The speed of the OS is passable, although if you add a number of apps and have them running in the background whilst trying to browse a hefty website then you'll soon see things slow. A newer version with a 1GHz CPU, slightly enhanced styling and slightly better camera, is now available, but the Galaxy Y we have here is still worth a look if you're after a featurephone replacement or cheap-and-cheerful budget smartphone for the occasional user.
Get one unlocked from UR-Mobile.com
Overall - 5.8
5.8
Cheap yes, but there's better for the money. The Galaxy Y is somehow saved purely by the Samsung brand.