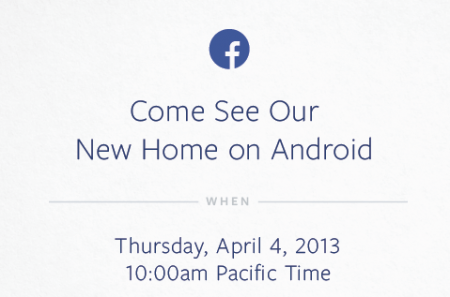 Like Facebook and Android? You may want to put a note in your diary then, because on 4th April there will be an event to announce… well, something. All we know is that it's apparently going to be Facebook's "new home on Android".
As with most marketing these days, a new product isn't just announced, it's teased so we can all try to work out what it's going to be. This time it's something to do with both Facebook and Android.
The problem is that Facebook and Android have never quite got on. The official Facebook app has been disappointing in every incarnation, and, despite many valiant attempts from third party developers, there's not been a great deal of decent choice either. So, could this be what avid Facebookers have been waiting for: a Facebook phone?
HTC have been touted to make such a beast for a long time. Leigh reported on a Facebook phone back in April last year.
Then there's the recent rumours of the HTC Myst – a fully fledged Facebook phone. It could be an interesting concept. Interesting, but niche. That's not what HTC need right now. In fact, they did something similar before with the HTC ChaCha. It bombed, big time!
No, HTC need MASSIVE sales and cash flow. But then again HTC have been the diggers of their own grave recently, so who knows? Maybe Facebook have invested millions of dollars in developing a phone with HTC? Doubtful.
I subscribe to the idea that there's going to be a heavily skinned version of Android running on a pretty bog standard handset. As we know, HTC have been the masters of skinning Android since day one with Sense, their Marmite interface that's pretty, but not to everyone's taste. The strap line makes a hint at this, "new home on Android".
If it's not this, then what else could it be? A new app? Seems quite a big deal for a new app though.
Would you buy a phone dedicated to Facebook, let us know in the comments below?