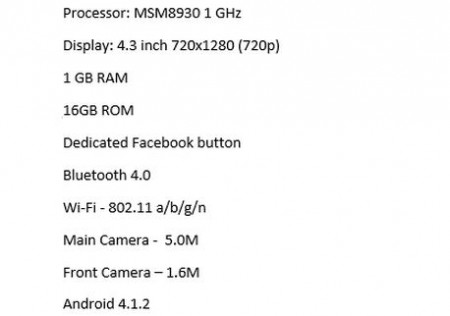 Specs trickled out for a mid-range HTC device called the "Myst" some months ago. The device has a 4.3″ 720p screen with two cameras – a 5 megapixel rear shooter and a front 1.6 megapixel cam. It'll do 4G and has 16GB of storage but no microSD storage. These details seem to have firmed up now, although there's now a dual-core 1.5GHz CPU instead of the earlier 1GHz version.
The usual WiFi, Bluetooth 4.0 and GPS are included but this is more than just another HTC handset. This will be a full Facebook handset with a dedicated Facebook button sitting atop the Jelly Bean 4.1.2 Android OS.
evleaks have added this quote from Facebook..
We are working with partners to get deeper integration into Android. These partners have agreed to give us exclusive access to additional features of the phone, such as the ability to read (and therefore display) all of a user's notifications.
Link – LlabTooFeR