Last year we went to see James Maynard, Fujitsu's new product marketing Director. At Mobile World Congress last year they showed off some of their new kit to us as they prepared to push into Europe.
They were the "new" boys on the block in the way – just like Panasonic across the courtyard. Both were showing off waterproof handsets but, just a few months later, Panasonic stepped out of the ring leaving only Fujitsu. Today Fujitsu and Orange have announced a partnership to make their first big launch outside of Japan. It's the Stylistic S01 – a "smartphone designed for senior users" which will be available in France from June this year.
Powered by an 1800mAh battery this runs Android Ice Cream Sandwich (4.0) with a custom interface to make things a little easier for users. It has a 4″ WVGA (800×480) screen with "unique tactile feedback", an 8.1 megapixel rear camera, 0.3 megapixel front camera, WiFi, Bluetooth and GPS. It's waterproof and dust-proof and has 4GB memory with a microSD card slot. The CPU is a 1.4GHz Qualcomm and Fujitsu have added a loud security alarm with the easy navigation.
Extra features include that special tactile technology – this works by makes the screen require the same "push" as a physical button. This prevents inadvertent touches by the user. There's also a neat feature which slows down the other callers voice without changing the length of the conversation or the pitch of the voice.
We'll be looking at the new Stylistic S01 at Mobile World Congress, so if you want to learn more, you know where to stay.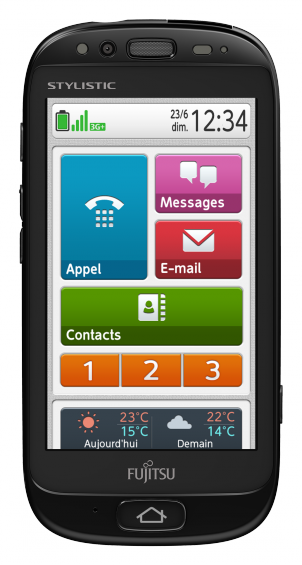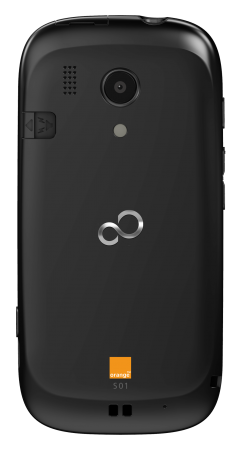 Fujitsu and Orange Partner to Deliver Smartphones to the Rapidly Growing Senior Market in Europe
Intuitive, feature-rich STYLISTIC S01 smartphone to debut June 2013 in France

Tokyo and Paris, February 19, 2013 – Fujitsu Limited and France Telecom-Orange today announced a new partnership to offer mobile phones and services in Europe. The partnership marks Fujitsu's first extensive foray into the smartphone market outside Japan. The initial offering will be the STYLISTIC S01, a smartphone designed especially for senior users, and will be available through Orange in France in June 2013.

As the senior population in Europe continues to grow rapidly, smartphone usage in this demographic is expected to rise. With the release of the STYLISTIC S01, Fujitsu and Orange plan on offering users in this market segment an innovative smartphone that provides outstanding usability. The STYLISTIC S01 will include services like Orange Cineday (*1) and Orange et Moi (*2), which are unique to Orange. Based around the human-centric technologies that Fujitsu has cultivated for over a decade, the STYLISTIC S01 also offers a variety of original, convenient functions designed to reduce barriers to smartphone adoption by maximizing ease of use.

One of these barriers is conventional touchscreens, which do not offer the tactile sensation of pressing a physical button. The STYLISTIC S01, however, employs a unique screen technology that requires users to apply the same level of pressure to on-screen icons as they would to buttons on a keypad. This helps users avoid inadvertent touches, preventing unintended operations and improving input accuracy. Furthermore, the intuitive graphic user interface features extra-large icons and a simplified layout to ensure straightforward navigation for easier operation. The STYLISTIC S01 is also equipped with a loud personal security alarm that can be used to alert people in the surrounding area in emergency situations.

The handset incorporates audio technology that optimizes the frequency range based on a user's age, making it easier to hear the voice of the person on the other end of the call. Another user-friendly audio function slows down the speech of callers who speak rapidly without lowering the pitch of their voice or changing the length of the conversation. These and other innovative features are currently in use in the Fujitsu Raku-Raku Phone series for seniors, which has been offered by NTT DOCOMO since 2001 in Japan where it has sold over 20 million units.

"The senior customers within our customer base are just as hungry for smartphone technology and mobile internet services as anyone else. We are thrilled to be working together with Fujitsu to leverage our combined strengths to provide products for an emerging smartphone market segment in Europe," said Yves Maitre, Senior Vice President of Device & Mobile Multimedia, France Telecom-Orange.

"As Fujitsu's first extensive entry into the smartphone market outside Japan, we are delighted that Orange – a company that holds a strong position in the European market – will be offering our phone, which features Fujitsu-exclusive human-centric technologies," said Nobuo Otani, Corporate Senior Vice President, Fujitsu Limited. "We are committed to the success of this partnership as we strive to expand our smartphone business overseas, while advancing the promotion of Japanese technology worldwide."

The STYLISTIC S01 will be on display at the Fujitsu stand (Hall 5 Stand 5E120) and can also be viewed upon request at the Orange stand (Hall 5 Stand 5H110) during Mobile World Congress 2013, to be held in Barcelona, Spain starting February 25, 2013.

STYLISTIC S01 Product Specifications

· 130 x 64 x 10.9 mm
· 4-inch WVGA (800×480) touchscreen with unique tactile feedback technology
· Camera: back 8.1 MP; front: 0.3 MP
· Connectivity: GSM/GPRS/EDGE/UMTS/HSPA, Wi-Fi/Bluetooth, GPS
· Memory: 4 GB + microSD
· OS version: Android Ice Cream Sandwich 4.0
· Chipset: Qualcomm MSM8255 1.4 GHz
· Battery: 1800 mAh
· Water- and dust-resistant (IPX5/8, IP5X)

Glossary and Notes
1. Orange Cineday
Allows Orange customers to take a friend to see a movie every Tuesday for free.

2. Orange et Moi
A free application enabling Orange customers to understand and manage all their account details directly from their mobile in an efficient and easy manner. Customers can track their consumption, top up their account, take out options, find out about special offers, access Orange help, and also discover all the applications published by Orange with just one click.