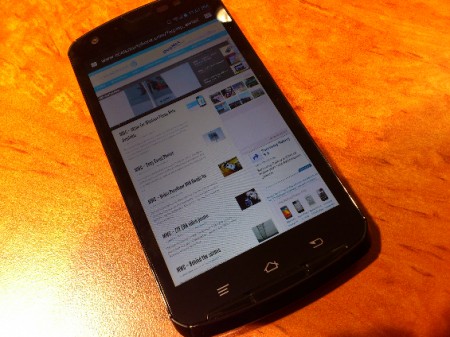 Say the name "Fujitsu" to most people here in Europe and you'll probably receive a pretty blank expression. The truth is that they're behind a lot of IT-related projects and services and they're nearly 80 years old. In the mobile arena they're already a big player in Japan with a 20% market share. We sat down with James Maynard, Fujitsu's new product marketing Director, who told us about their new European team and their plans for moving their mobile devices into Europe and the rest of the world.
First up, a minor "feature" that all Toshiba devices have. They've had this for years now and but it's still a little weird to see girls outside the stand doing this..

I saw the confused look of many attendees strolling past, and it's not surprising. We've seen "splash proof" products, but Fujitsu take things to the next level. This is actually their "Arrows" Tablet – a 10.1″ capacitive screen (1280×800), two cameras and a dual-core 1GHz CPU are just some of the specs (we've uploaded some product details if you'd like more info below).
Then, as we walk into the large Fujitsu stand there's evidence of how they're testing their handsets. The handset I'm holding their isn't actually intended for Europe, it's the Fujitsu Arrows F-07D, a device which still holds the title of the worlds "thinnest waterproof smartphone" – just 6.7mm.
With names like the "F-07D" James admits that they're looking at the naming convention ahead of their entry into Europe. They'd also like to add their own "stamp" onto Android phones and have developed something called a "human centric engine". This isn't just a GUI, they have a clear voice technology which adapts the call volume to give you – not just the person on the other end – the best call quality.
Fujitsu showed us their new "Fujitsu Quad Core" phone which has 1.5GHz NVIDIA quad-core CPU. This, like few other phones across MWC, has that 5th core or "companion core" to drive the day-to-day things and save battery life. The handsets are built and maintained in Japan and they're aiming for high quality device. This new quad-core beast is water proof and penciled in for a European release in Q4 2012. Let's not forget that Fujitsu have a Windows Phone device on the Microsoft stand around the corner too.
So, if you've finished throwing it in 1.5 metres of water for up to 30 minutes you can fire up Android 4.0.3 on the 4.6″ full HD 1080p screen. Around back there's a 13.1-megapixel camera and you can secure the phone by using the fingerprint reader at the back. Oh, and I had to ask the question.. no, you can't take photos under water because the touch-screen won't respond to your finger press.. Hmmm.. I wonder if video would work if I started it and then dropped it in though? Fujitsu? Can we try? 🙂
The handset itself was fairly decent build quality, although the rubber seal and flaps required to make this waterproof, plus the slightly plasticy buttons weren't overly impressive. Keep an eye out for Fujitsu though – they're on a mission.
Links – Fujitsu IS12T Hands-on – Product brochure