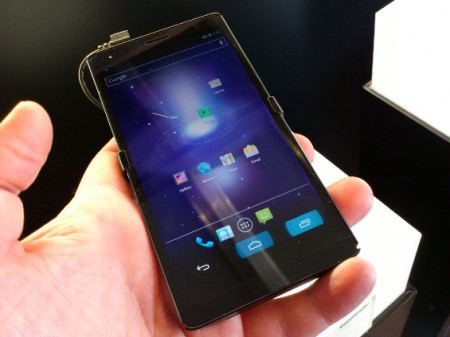 The Panasonic ELUGA Power has just been announced (press release below) so it definitely warrants some hands-on time.
It's waterproof and has a Qualcomm Snapdragon dual-core 1.5GHz CPU. In the hand it selt very well build and thin too (9.6mm), despite the large 128×720 HD 5″ screen, which didn't feel overly big to us at all.
Panasonic have chucked in NFC – a technology which is becoming more of a "given" this year – 8GB of internal memory and a microSD expansion for another 32GB. The Panasonic EULGA Power has another trick up its' sleeve too – it'll do a 50% charge in just 30 minutes, and will reach 80% in just under an hour. Crickey, at last – a manufacturer that is concentating on batteries!
Ice Cream Sandwich runs the show and it has an 8 megapixel camera with full 1080p HD video recording. Other specs include an 1800mAh battery, Bluetooth 3.0, WiFi and GPS.
Here in Barcelona there's an increasing sense that more and more players are coming to the market. Fujitsu, Panasonic, Alcatel, ZTE and others are producing much better handsets with good specs and great designs. The competition are definitely not standing around while the major players have all the fun.
Panasonic Unveils New Smartphone – ELUGA Power

5.0 inch HD screen, dual-core 1.5GHz processor smartphone bolsters Panasonic's offering in Europe

Barcelona, Spain (27 February 2012):
Panasonic today revealed its latest smartphone for the European market, the ELUGA Power, featuring a 1.5GHz processor and Android 4.0 (Ice Cream Sandwich)

The stylish ELUGA Power arrives with Qualcomm's SnapdragonTM S4 dual-core processor, a stunning 5.0 inch HD LCD screen (1280×720) and 1080p Full HD video capability. With Android 4.0 on board, the ELUGA Power also boasts near field communication (NFC) technology, allowing you to pay and transfer data wirelessly.

At just 133g, the ELUGA Power combines lightweight portability with big-screen usability to deliver the ultimate blend of form and function. With a 9.6mm chassis, the ELUGA Power's slender, pocket-friendly dimensions and very thinly framed 5.0 inch display mean it's equally at home whether being used for leisure or out on the road for business. The ELUGA Power also offers superfast charging, making it one of the most convenient smartphones on the market. In just 30 minutes Panasonic's big-screen, big-battery smartphone can reach 50% charge capacity – and with its 1800mAh battery the ELUGA Power is perfect for those who need their phone to work as hard as they do.

Features include:

● A 1280×720 HD, 5.0 inch LCD screen with a 9.6mm thin frame
● Slim form factor – 136x70x9.6mm
● Qualcomm Snapdragon S4 1.5GHz dual-core processor, Android 4.0
● International standard IP57 water and dustproofing
● NFC – allowing for contactless payment and data transfer
● Main camera with 8MP autofocus and 1080p Full HD video recording, including auto scene recognition and 8x digital zoom, as well as a front-facing camera
● Superfast charging – 50% charge takes just 30 minutes, and 80% takes 57 minutes (provided it starts charging from a 10% charged status)
● 8GB of internal memory, with Micro SD Card Slot supporting a further 32GB

Toshiya Matsumura, General Manager, Head of Mobile Communications, Panasonic System Communications Europe, said: "The ELUGA power is a real landmark for us as it redefines everything a modern smartphone should be. For too long, smartphones have either compromised on looks to embrace new features or dropped functionality in the pursuit of the perfect form. The ELUGA Power marks a true turning point – delivering both high performance and high-end style. In developing the ELUGA Power, we refused to compromise and remained ambitious. That's how we've managed to deliver the convenience of a 5-inch HD screen and superfast charging, make it water and dustproof, as well as add impressive features like NFC and a 1.5GHz processor. All in a slim, pocket-friendly and stylish smartphone."