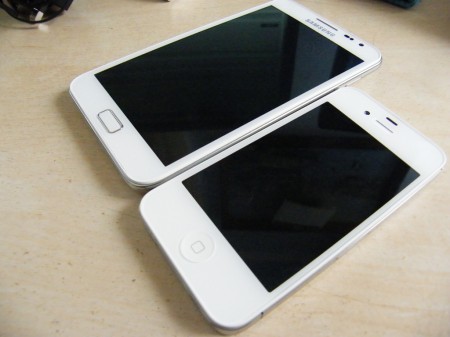 What started out as a light hearted discussion during our weekly podcast has turned into something of a monster. I've changed, I've become something I've always strived to avoid. I'm becoming a bit of a fan of Apple.
You may be wondering what on earth I'm on about here. Well a good few weeks ago I mentioned that I had never used an Apple product and Jamie and Ravi encouraged me to buy an Apple device to give it a go. I then wrote up part 1 of the experiment (details here).
A short while later I was offered an iPhone 4S 16gb in White brand new for a crazy cheap price, it would have been stupid to not have bought it. I then wrote up part 2 of the experiment (details here).
Since then a lot has happened in the world of Apple, what with the release of iOS 6 and the iPhone 5. When I finished part 2 I was left wondering where to go with the iPhone next. Yes it was a gorgeous device that had heaps of potential, but I was left feeling a little lost with it. Part of my problem is that I carry a Samsung Galaxy Note everywhere I go, so in comparison the iPhone just felt like a pretend phone really. Anything that I was trying to do on the smaller screen of the iPhone was always easier using the Galaxy Note. I even tried to just use the iPhone for a day and nothing else.
I had heard quite a bit about the iOS 6 update that would be coming soon, so I thought I should hold onto the iPhone until the update came out. It came and went without any problems, until I tried the maps app that is.
After a little playing about with the new maps I realised which bits worked and which bits didn't. I dealt with it like most other people that day by tweeting a screenshot of my town looking a bit cloudy. Then upon further inspection during episode 15 I came across the 3D satellite view in London and I was pretty impressed. Yet still the whole world was up in arms about some dodgy satellite images and a few missing towns, strangely the most vocal of the angry people were Android users bashing anyone who mentioned having an iPhone that day.
Overall I felt a little let down by iOS 6 as in the past an OS upgrade (other platforms) usually meant the arrival of a load of new features. What had I got? Panorama pictures, Twitter and Facebook in the notification area, an updated Appstore and a slightly inferior mapping app. What was meant to be something a bit special and make the whole iOS experience better hadn't really done much for me.
Overall I am finding the iPhone nice, but I keep finding things that I can't do, yet I know Android and sometimes even Windows Phone can do. Take sharing for instance, you take a few pictures, check them out in the photos app and you decide you want to share some on Facebook, some on Twitter, some on Instgram and some on Google+. Yes you can do it but Instagram and Google+ have to be done from within the apps themself. Little things like that really start to annoy after a while, especially when you have seen how easy it could be.
The sheer selection of apps on offer is a little daunting as with most of the official app stores. The new look certainly helps you find the big name favourites quickly, but I do wonder how many gems are hidden away beneath all of the sheen.
So where do I go now? I am really not sure. As I keep repeating I am feeling a little lost with the iPhone. Would a slightly larger one help me out? Doubtful. I think for a phone, messaging and people management tool the iPhone is lagging behind even my Windows Phone devices. iOS 6 does add contact sync with Facebook but the implementation is still behind WP7. The more I see of the new WP8 devices the more I feel iOS may not be for me.
As regards standalone apps and hardware then the iPhone is ahead of the competition, I just don't feel that is enough.