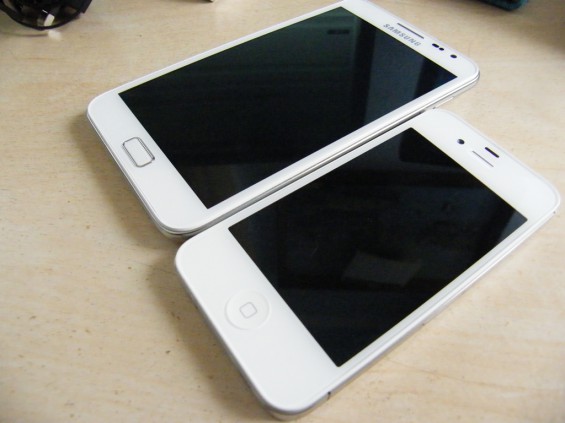 A few weeks ago I realised something, I was often explaining to people about how I use Windows Phone and Android on a daily basis. I realised there was another option. No not Symbian, I'm talking about iOS. I have never used an iPhone, an iPad or any other Apple product. I don't know why really, in the past it was the price that kept me away. More recently it has just been a "I don't use Apple stuff" kind of way. We talked about this on the podcast, about how I had never touched an Apple device ever.
As Android is starting to stagnate (my opinion don't get cross) and Windows Phone is just waiting for the next generation to eventually appear. It got me wondering about the alternatives. iOS or Blackberry were the only smartphone platforms I hadn't tried.
In the lead up to the new iPhone being announced I started getting emails from people getting rid of old iPhone 4S's as they were preparing to get the new one when it comes out. This set my mind racing as I'd been after something that might hold it's value for a few months and let me try out iOS 6.
Needless to say I bought one and I am now the reluctantly proud owner of an iPhone. My main problem now is that people are a little shocked I've bought one. After several years of encouraging friends and colleagues to get Android or Windows Phone devices, I've gone and done the opposite. I've been telling them I'm having a mid life crisis (in my early thirties). They're ok with that.
When it arrived I was stunned at how heavy it was, how small it was and how well made it looks, it really is a solid piece of kit. It got me thinking though, how can something this small be such a phenomenon in the tech world. Especially when I placed it beside my Galaxy Note. I guess the software and marketing have a lot to do with it.
After a few hours of attempting to get it set up over 3G I was up and running and my various accounts were active. I had installed a variety of cloud storage accounts and all that remained was to get some music and games installed. So what am I going to do with it? Well for the next few weeks I am replacing my Nokia Lumia 800 with the iPhone and using my Samsung Galaxy Note as my number 2 device. Then when iOS 6 comes out its decision time again.
That will be part 3 of the experiment. To decide whether to sell it and get the new one, buy one of the new WP8 devices or just sell everything and become a normal person with one phone.