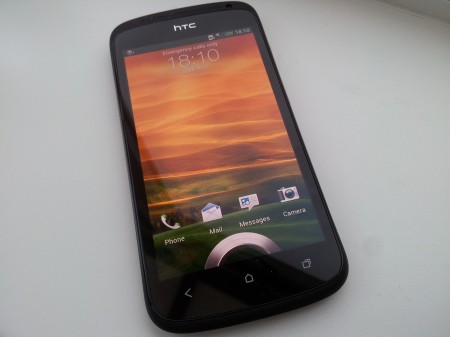 The HTC One S is the slimmer, ever-so-slightly-less-powerful brother of the HTC One X. It's got a 4.3″ screen with 960×540 pixel screen. I say "slightly less powerful" but heck, a dual-core 1.5GHz CPU is still ruddy good.
Powered by Android 4.0 with HTC Sense 4.0, it uses a microSIM and has 16GB of internal storage but no microSD. What you see is what you get and, let's be honest, 16GB is still plenty of storage.
There's the usual stack of sensors – a gyro sensor, G-sensor, compass, proximity sensor and light sensor. Around back there's an 8 megapixel camera with LED flash and some wizardry to make low-light shots appear better. HTC have added something called "ImageSense" which, in theory, should mean those quick and dirty shots in the pub aren't so .. dirty any more, at least from a quality perspective. 🙂 A dedicated "imaging chip" should make shots crisp, clear and blur-free. There's also an image stabilizer, and that flash is "intelligent" so it'll figure out how bright it should be based on the distance to your subject. HTC have also added cool tricks like filming and snapping shots at the same time. You can also go back through a video you've filmed and grab shots from it, plus there's the ability to snap shots rapidly too. More on the camera in a bit. There's a VGA front-facing one, great for video calls and checking your make-up etc. I try not to wear it that often, but y'know.. 😉
HTC have added the Beats Audio technology which brings you the music just as the artist intended for it to be heard. It's a technology which works with the Beats headphones and the software inside the phone. Put them together and music really does sound a whole lot better. In our review box we got a set of normal headphones by the looks of it – they didn't have a Beats logo on at least.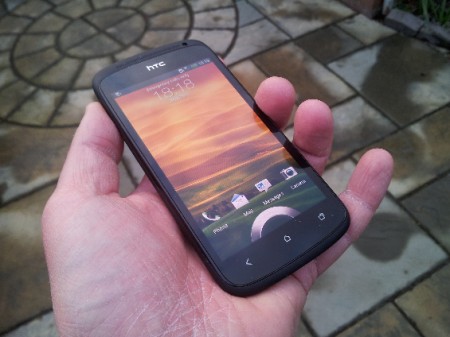 Powered by a 1650 mAh battery you also get Bluetooth 4.0 technology, WiFi, DLNA for beaming content to your TV and a 3.5mm audio jack for those headphones.
OK, so to sum up – the HTC One X we reviewed has a 4.7″ screen, this has a 4.3″. The One X has a screen resolution of 1280×720, this has 960×540 and the screen is a Super AMOLED. The One X also has that 1.5GHz quad-core CPU and here you're getting a 1.5GHz dual-core processor.
First impressions? Well, I have to be honest right now and say that – out of the three (the One X, One S and "chinny" One V), the One S was my favourite when I started playing with it in Barcelona. It's very thin and has a very feint hour-glass design when you look at it from the side. This grey one has red highlights to point, presumably, to the Beats technology. This particular one we're reviewing has a "ceramic, super dense finish" which, according to the people at HTC, is five times more durable that stainless steel. During Mobile World Congress we got to play with another HTC One S which had a anodized metal finish with a light-to-dark gradient across it. If I was to choose between them, I'd definitely choose the latter. If you have a look at my earlier story you'll see the HTC One S with the gradient finish from picture 22 onwards. I loved the thing.
Video overview
If you want the quick-fix, here's my video overview of the One S…
Outside
The touch-sensitive buttons sit up-front and seem a little large to begin with. There's three of them, a back key, home and a recent apps button.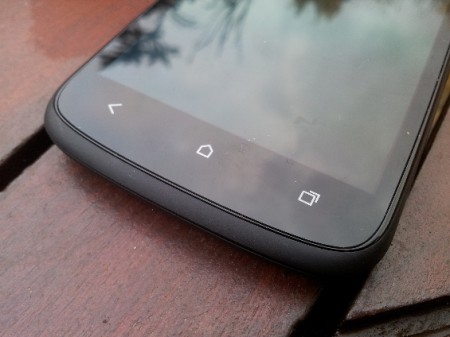 Up top you have a very nice speaker grill which isn't your standard bit of metal dropped in, this is several dozen holes drilled into the device itself. To the right is your front-facing camera for video calls through apps like Skype etc.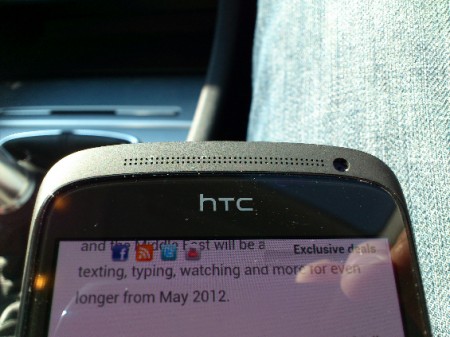 On the top edge you have the power button and 3.5 mm audio port. You can pop this top section off to access the microSIM which is in a red section. There's no way of accessing the battery.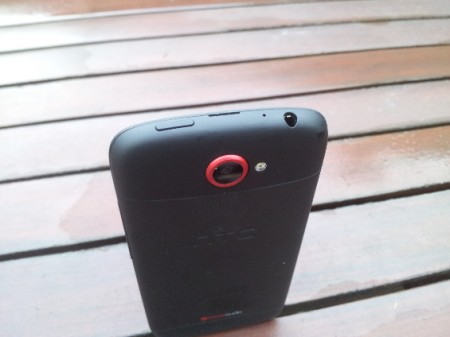 The 8 megapixel camera has a red rim and, to the right, that rather clever flash which will only go as bright as it needs to, so no more washed-out shots in theory.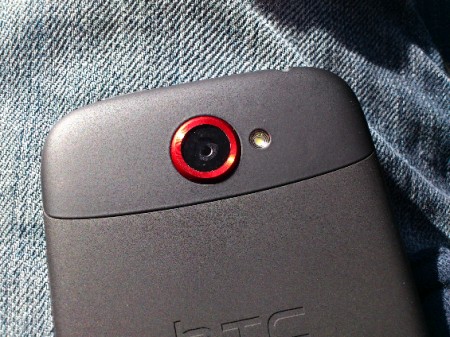 The whole rear section is a matt-black. It's almost and you get more small holes at the bottom for the external speaker.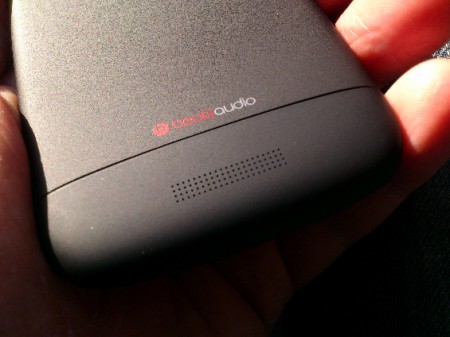 There's not a great deal, if anything, to moan about with the construction of the One S. I'm not a massive fan of the slightly big space between the top of the screen and the earpiece grill, but as you can tell, I'm picking at flies.. 🙂
Under the screen are three main keys – Back, which obviously returns you to the previous screen; Home, which takes you back to the main screen or – if held down – the the panels interface; Task switcher, which lets you flick between apps you have running.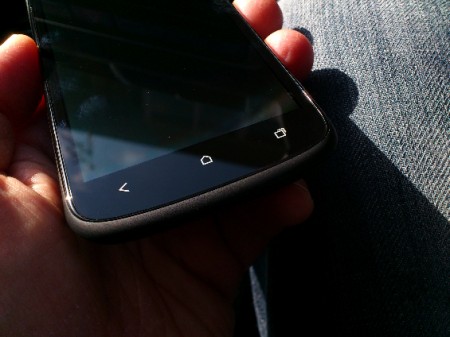 On the left, the microUSB port. On the right, the volume up / down…
Inside
Right from the word go there's a little smile on your face as 25GB of Dropbox storage is delivered to you when you setup. It's cloud storage basically, and it means that you can upload some of the rather wonderful camera images to a safe and secure home. Other sites will point out something about pentile screens and the differences between the One X screen and this. Yes, alright, the One X screen is better, as is the resolution, but this very bright Super AMOLED unit combined with the 7.8mm thickness of the phone really "did it" for me.
The new HTC Sense 4.0 interface can take a minor amount of getting used to (you may see me get stuck on some videos) if you've used earlier versions, but it's really something to worry about.
First up, the big thing I liked straight out of the box was HTC Music. HTC have splodged all the music services into one place. Y'know what it's like, there's lots of music apps out there. SoundHound (like Shazam), TuneIn Radio and so on – HTC have added them all into their "Music" section which means that you have just one place to go to get your tuneage. Oh, and don't forget that there's the Beats audio technology which inserts the music into your lug-holes as the artist intended. Imagine your favourite artist singing in your own front room. Boom.
We've included a lot of the interface in the video above so I'll highlight the key points here.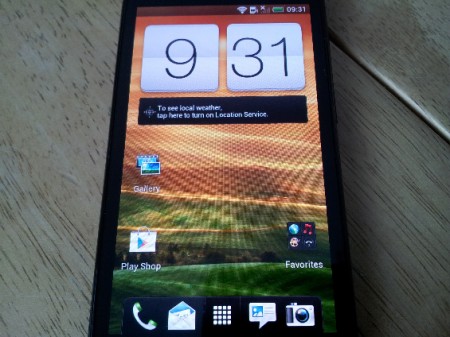 I loved the fact that the internet radio app "Tunein Radio" was here, because I'm always listening to Ministry Of Sound radio or C89.5 in Seattle – I can basically listen to these stations where-ever I am and I like the fact that it's in one place with all my local music too. HTC will mention how this is "the epicenter of your music"… yeah, it's that.. on a stick.
Next up, HTC Car – a driving companion that let's you do lots of useful stuff whilst you're driving. Now, a big fat warning to all of you reading this. This is a warning that you're gonna ignore anyhow but…
THIS IS A GREAT APP WHICH WILL HELP YOU CHOOSE YOUR MUSIC, NAVIGATE AND CALL WHILST YOUR DRIVING. BUT PLEASE DON'T USE IT WHILE YOU'RE DRIVING, BECAUSE IT'S PROBABLY NOT SAFE TO DO SO AND A NICE POLICEMAN WILL PROBABLY PULL YOU OVER AND TELL YOU RIGHT OFF.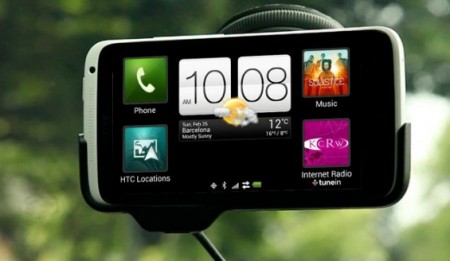 OK, must stay calm. Next up, the Entertainment bits. You can use DLNA, which is basically "sending your stuff from your phone to connected devices". Basically, if you've got one of those flashy TV's with WiFi etc, you can pump out your TV, music and pictures over WiFi to the TV. If you don't have a connected TV, check out the HTC Media Link.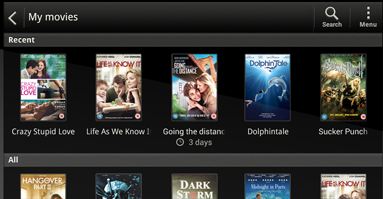 HTC Watch, the instant access library of TV and movies. Stream it instantly seconds after you've paid for it, oh and you can beam it out over your DLNA kit if you want, so imagine a ma-hoo-sive video shop on your phone which you can watch on your phone or a rather clever connected TV.
The new HTC Sense interface also adds all your most recent apps which are really easy to switch to, oh and lets not forget the 25GB of free Dropbox space for two years you get too. The HTC Sense 4.0 interface isn't "in your face" but, whilst we're talking about faces, you can use your own to unlock the phone.
Camera
The ImageSense technology should, in theory, mean that every shot is a good shot. The new rapid-fire technology on the camera means that you can literally carpet-bomb your intended scene and either let the camera pick out the best shot or do it yourself from the resulting images. In low-light conditions the camera did perform a lot better than I've seen, although if you're a little too quick and take a shot whilst moving around you can probably still manage to grab a blurry shot, although the same could be said about any camera really.
Here's some example shots..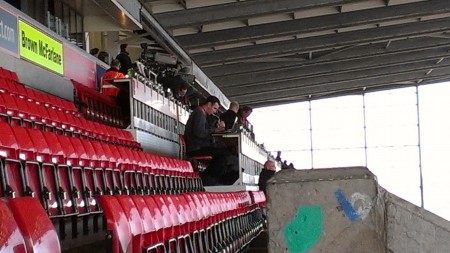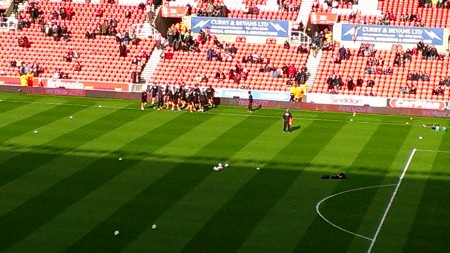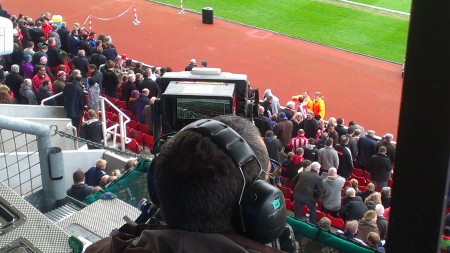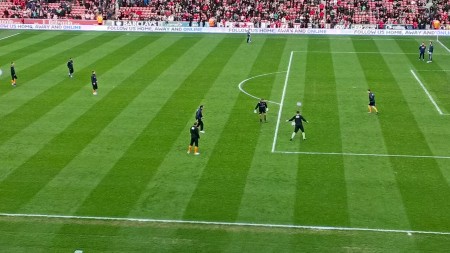 The speed of the camera is fantastic. I wanted a dedicated camera button. I wanted to be able to zoom in and out using the volume adjustment, but this wasn't to be. Either way, you can drag the camera shortcut into the unlock "ring" and jump straight into it from the lock screen. This is another gripe of mine, and perhaps only comes into this review because my current phone is a Samsung Galaxy SII. With the SII, because it has an "action" button, I can press the "action" button OR the power button to wake it up. Here I've only got the power button to choose from. It's a tiny and seemingly insignificant change but I liked the big fat "go" button to get into the phone.
Anyhow, the camera. This fires up and takes photos very quickly. It snaps shots in an instant and there's a definite intelligence there. For example, let's imagine you're in the photo app and you're taking photos. If you want to switch to video you'd probably think that there's some on-screen switch which you need to flick, then you need to press another button to record. Right? Well no, here you just switch to video and it'll start recording straight away.
Now that, and I know it's only a tiny thing, is great. Someone in HTC thought, "Hey, if someone is in the camera app and wants to switch, it's obvious that they want to shoot video straight away, right? So let's just start filming yeah?"
Thumbs up.
There's a massive selection of live effects which I've shown off in the video below. You get to add some really great and professional-looking filters. Add to that the big range of scenes – HDR, Panorama, Portrait, Landscape, Whiteboard, Close up, Low light or Automatic.
On top of all that the massive selection of options – a self-timer, image resolution, review duration, ISO, white balance, auto-upload (you can fire all your pics up to Dropbox and other service), geo-tag, resolution, shutter sound and a gerzillion others.
As you've probably guessed by now, the camera on this phone is nothing short of fantastic. Don't get me wrong, if you're ham-fisted and blind drunk you're still going to get rubbish shots, but there's a much better chance of you getting better shots in rubbish conditions. Oh, and I particularly loved some of the macro-shots I took during this review. I quickly snapped a picture on my desk and was shocked at the amount of dust that showed up on the resulting image. Really, really good.
Below I've got a video showing you some of video options and the slow-motion video facility which you may want to use too.
Here's the slow-mo footage. As you film, you'll see the counter on-screen moving up quickly..
Here's some footage recorded on the camera..
Conclusion
Me, I love this phone. Camera, great. Design, great. OS, great. Added stuff? Great. Build quality? Great. Speed? Great. That thing in front of the fire-place? Grate.
Bad points? Umm.. No microSD card. No dedicated camera button. Are those bad things really? They're not terrible. I do wish that they'd included full Beats headphones.
Sure, the One X has more grunt and a better screen, but this is a real slender beast with a brilliant camera, wonderful interface and the very latest Android OS.
Link – HTC One S Deals
Update – There's a great set of comparison photos here if you'd like to see more of the One S camera in action.