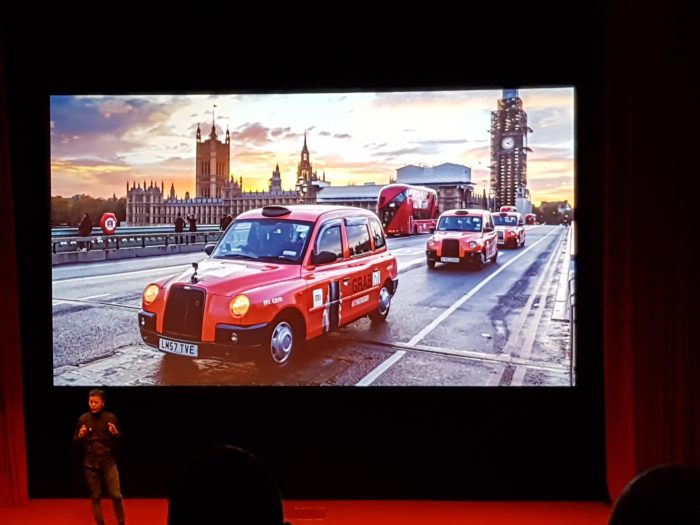 OK, so lesson number one. Never hold an event in an underground venue in London unless you've got a WiFi hotspot and you've given the assembled press a password for it. Sadly this is why we couldn't bring you any live tweeting. We were two floors down, deep underground, then we decended into a cinema which effectively made it three floors below ground. No mobile signal. No access to WiFi. DOAH!
Here's a "as it happened" version of the Xiaomi UK launch. I'll be honest and up-front right now. This is the start of a big shake up. For all too long, the big companies with the cash (Apple and Samsung) have poured millions upon millions into advertising. They've got your attention, but they have to get some money back again to offset all that expenditure, plus they of course make a very good profit.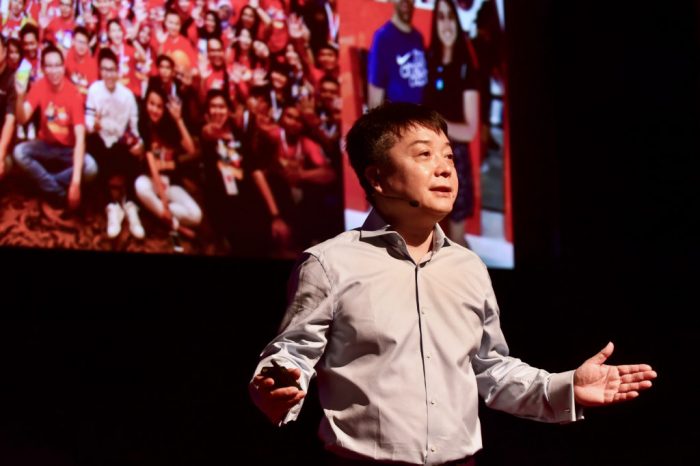 Now, with companies like OnePLus, Honor and Huawei pushing hard, it's questioning the assumption that there's only enough room in the market for two players.
Today, Xiaomi landed. You can learn more about exactly who they are here. But I'm glad we've got companies like this, because we need good smartphone manufacturers questioning the status quo.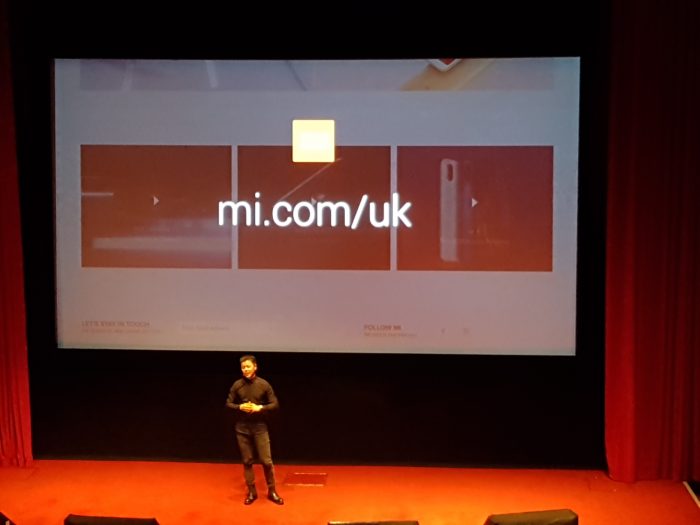 Today I arrived at the Barbican in London and sadly missed all the free beer. Had to make do with a small glass of water. That was my first and only fail of the day though.
"Why did we pick the UK as the next market to enter?", said Wang Xiang. He's the Senior VP and President of Xiaomi Global.
"It's because we all love London, we love the UK".
That's good start. He then went on to detail the 8 year journey that has got them to this point.
"We want to make innovation more accessible, for everyone. We want people to enjoy a better life through our innovation. No matter their income levels".
He showed how the company started and told us that, "We treat our customers as our friends. We listen to them, we work with them. Our users then hopefully become our fans".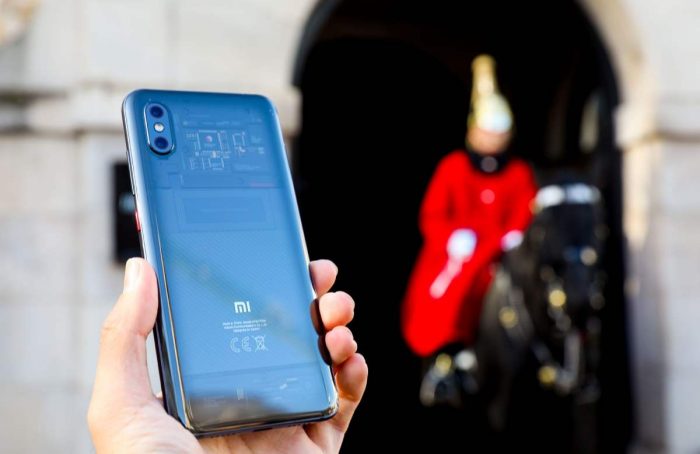 There was a big cheer from the assembled fans. Xiaomi had invited the "Mi Fans" to the launch too – these are the people who have been using, importing and playing with Xiaomi kit for a while. They love Xiaomi and, as the presentation continued, it was easy to see why.
"We offer amazing product at honest prices. We have four pillars – innovation, design, quality and value for money."
You do get a sense from them that they want to deliver more for less. This isn't about cutting corners and producing cheap stuff. This is about quality, an attention to details and a belief that customers shouldn't really have to pay a fortune for a decent smartphone.
Plus, they make a bold statement. They say that they will never exceed 5% net profit margin on their smartphones. That's how finely they're cutting things in order to bring you the absolute best price. So no, it's not all about advertising and spending billions shoving the brand down your face, it's more about delivering the quality and the tech you expect for a price that will surprise you.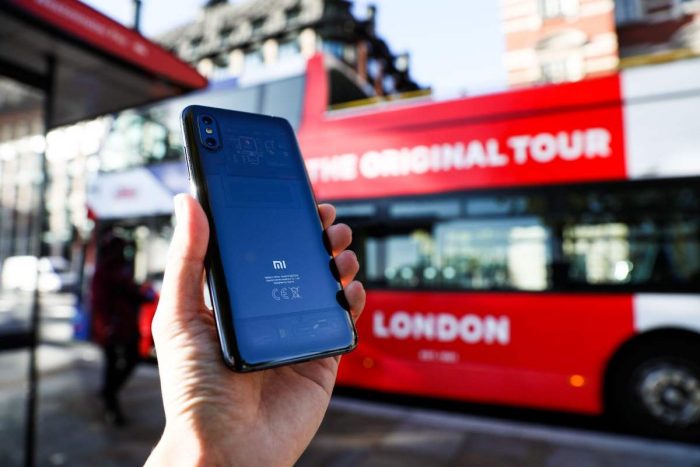 Here in the UK they want the grow an idea called "Smart Life". This will be accessible, easy to use and will improve your life. They do this with their Mi Home app. With this you control your "Smart Life" on your phone. You can set your Xiaomi automated vacuum to go off and clean, you can control the air quality, the temperature and so on.
Donovan Sung then took to the stage. He's the Director of Product and Marketing ad Xiaomi Mobile.
He detailed the UK trail-blazing that the "Mi Fans" have been doing over the last few months – painting the town orange in order to promote the brand here. For me it was quite nice to see the colour coming back – it reminded me of the Orange mobile network here in the UK. Perhaps the future will be bright for Xiaomi too.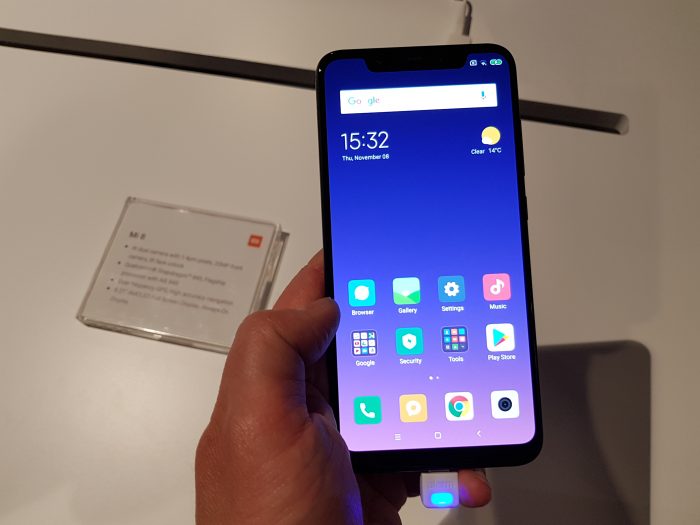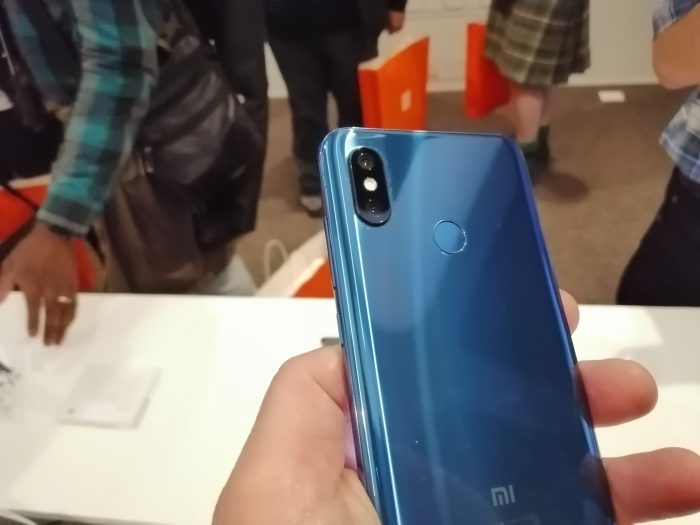 We then got the launch of the Mi 8, a top-end smartphone but with a sensible price. It's the 2018 Xiaomi flagship and is actually already out. You can go and import one now. It's received some rave reviews. This will be arriving now in the UK. However, it's now coming to Three UK and you can buy it on the UK Xiaomi website for £459.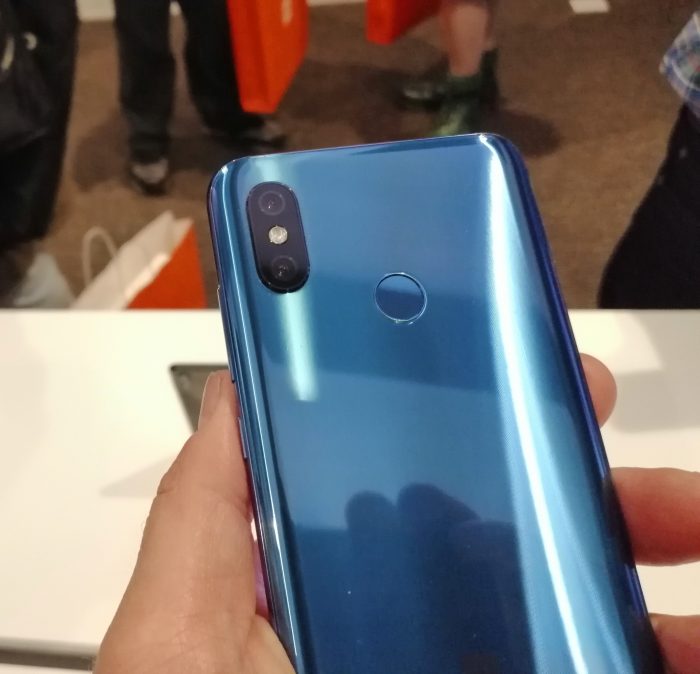 It packs a Qualcomm Snapdragon 845 CPU (an octa-core one running up to 2.8GHz), a Qualcomm Adreno 630 GPU, 6GB memory and 128GB storage. The display is a 6.21″ AMOLED unit which has a 2248 x 1080 pixel resolution. It also has some clever camera technology including face recognition, a dynamic bokeh system and a Quick Charge 4+ system. There's a rear-mounted fingerprint sensor, Bluetooth 5.0, WiFi NFC, No microSD card slot.
More on the cameras in a minute though, because about this time we found out that the Mi8 and the entry level Redmi 6A were both coming to Three. That Redmi 6A is just £99 and has a 2GHz Mediatek quad-core Helio A2 CPU. It's got an 18:9 5.45″ 720 x 1440 pixel screen with an 18:9 ratio. Your £99 will get you 2GB RAM and 16GB of storage with a microSD card slot. You get a 13 megapixel rear camera, a 5 megapixel front camera and, I must say, this wasn't at all embarrassing to use when I tried it out in the demo area after.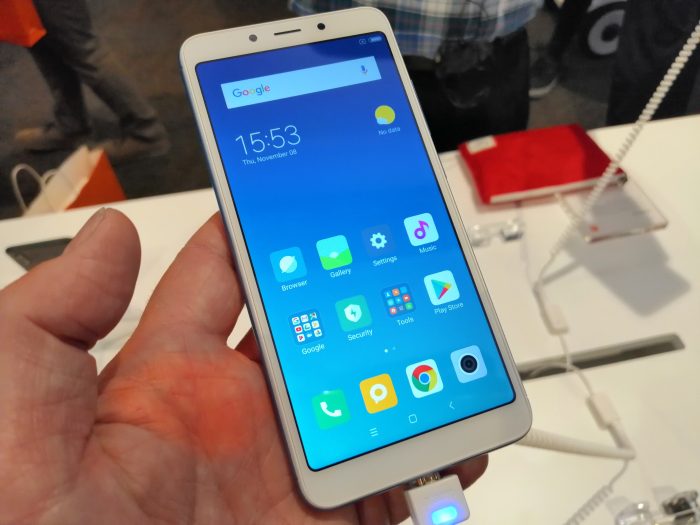 I know I go on about this like a broken record, but £99 used to get you an utterly terrible smartphone. Now you get a very good smartphone indeed, actually. The Redmi 6A also gets a 3.5mm jack, Bluetooth 4.2 and WiFi is here, as is GPS, but no NFC or fingerprint sensor.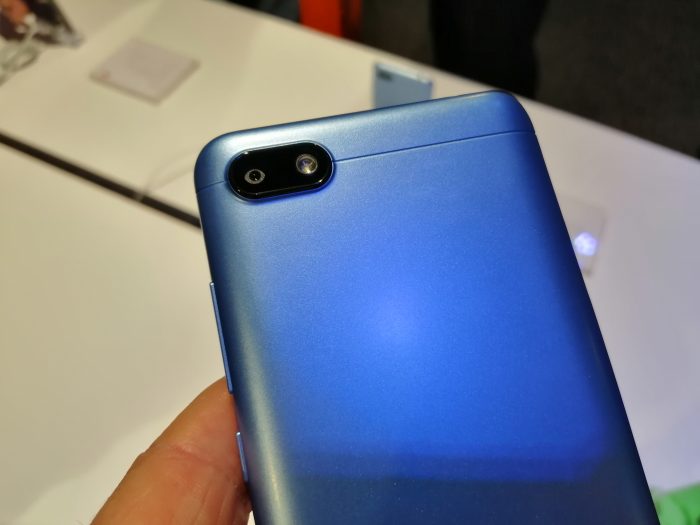 Wait a minute though, because Xiaomi had a big suprise for us. Sure, the Mi 8 and the Redmi 6A, we were expecting them, but…
Meet the Mi 8 Pro.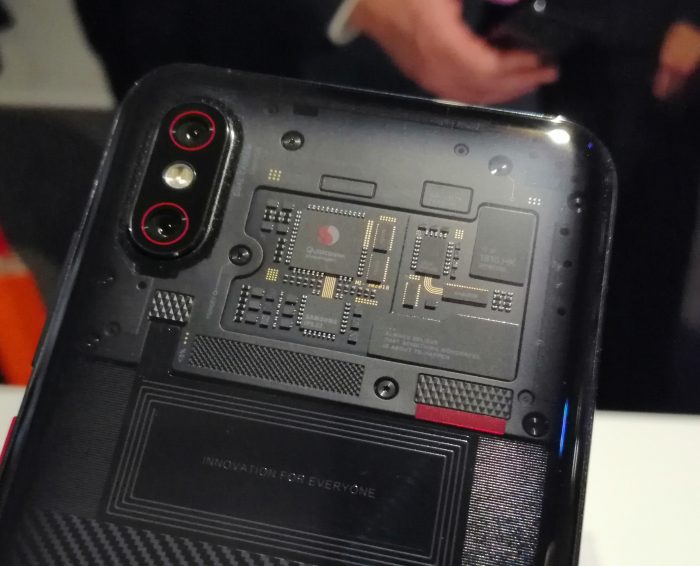 It's here in the UK and marks a global debut. The UK will be the first country outside of China to get this. The most unique thing, according to Xiaomi, is the design. It's got a sleek, industrial look to it – with an on-screen fingerprint sensor, rounded corners and rear cameras in the corner. The "notch" packs infrared for face unlock – even in the dark. It looks a lot like the Mi 8 and indeed packs a lot of the same tech (cameras, CPU, style, screen etc) but it comes with a transparent back and the fingerprint sensor has been ditched in favour of an on-screen fingerprint system.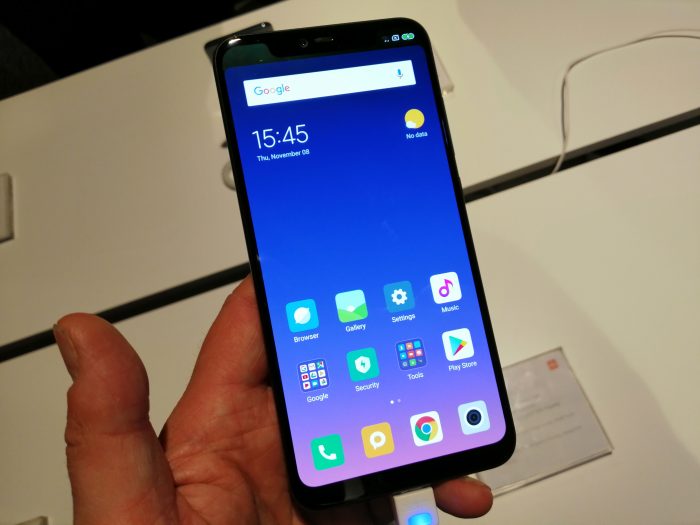 That transparent rear has a titanium colourant – believe me, you'll be staring at that quite a bit. I found it amazing that you could see into phone. It drew you in. Made from an aluminium frame, it has a 4-sided curved glass arc design, making it easy to hold in your hand.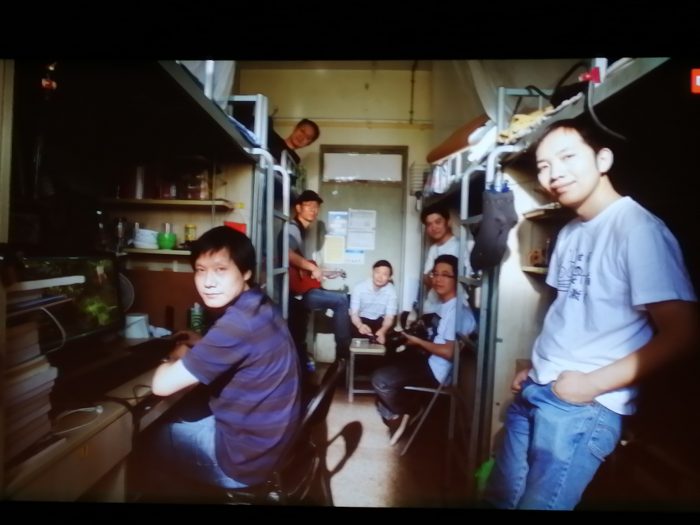 The guys behind this… you get a sense of their passion for this company and the products they create. They showed us their university photos. They showed us the endless tests they'd done to get the camera setup just right. They've even stamped the hexadecimal representation for the launch date of the Mi 1 – 132DDEO.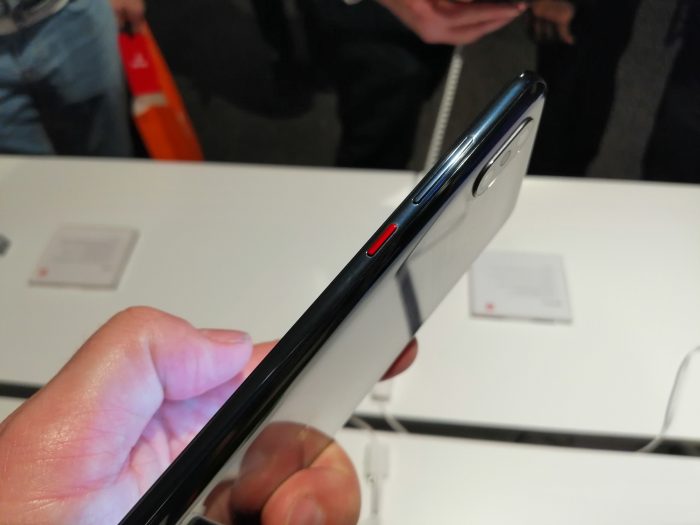 The Mi 8 Pro is their milestone product. I was very impressed with the thing. The 6.21″ AMOLED display has 2.5D Corning Gorilla Glass with always-on tech an that in-display fingerprint sensor.
The rear dual camera setup is "one of the world's best cameras" according to the company, and you're getting this same setup on the Mi 8 that you can buy from Three. It has a 12 megapixel Samsung camera for telephoto and a 12 megapixel Sony sensor below. It comes with 1.4 micron pixels – these are massive, 25% larger than other phones to allow for more light. Not only this, but the Dual Pixel Autofocus means that it'll focus far quicker – quicker even than the iPhone XS can focus. A video showed the length of time that both took to switch focus from an object that was close and one that was further away. It's faster and more accurate.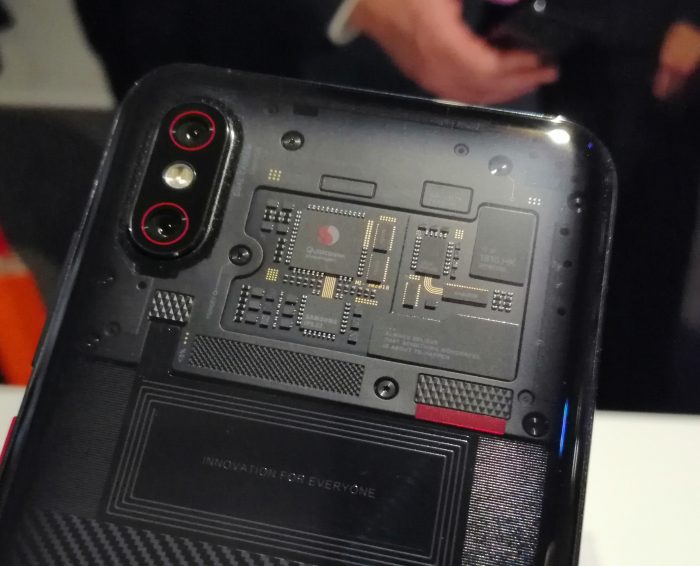 The cameras also have 4-axis stabilisation and, after a huge amount of testing, they've received a DXO score of 105 – making it one of the worlds highest-ranking cameras. The DXO review states that the camera stands "shoulder-to-shoulder with some of the best smartphone cameras we've ever tested".
There's AI scene detection, which we've seen in handsets like the Huawei and Honor handsets.
Meanwhile, up front, a 20 megapixel camera with "super pixels". These are create when 4 pixels are combined into one to let in more light.
It has the same Snapdragon 845 CPU in the Pro, but the one on the stand also had 8GB RAM with the 128GB of storage. There's also Qualcomm's most advanced Quick CHarge Protocol. NFC, WiFi, dual-frequency GPS too – that'll reduce interfernce from buildings etc.
But how much is the Mi8 Pro? Here in the UK you can pick it up for £499.
That's a flat-out amazing price. AMAZING.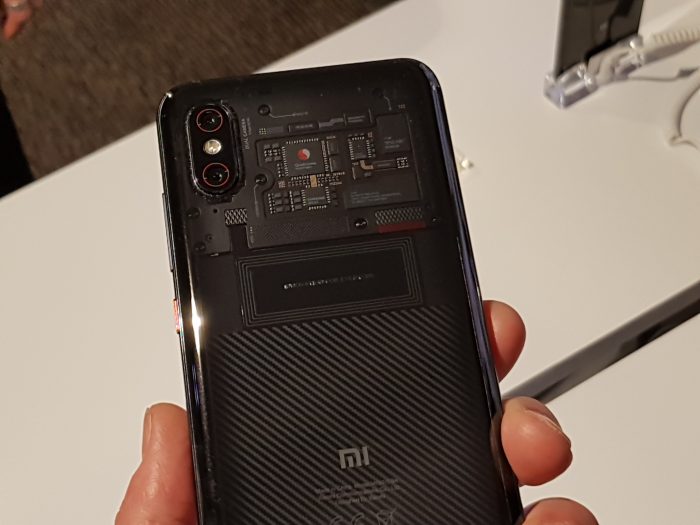 But it's not all about phones. Now we have to take a look at the wearable that is going to be given away with a lot of Xiaomi handsets. It's cheap too.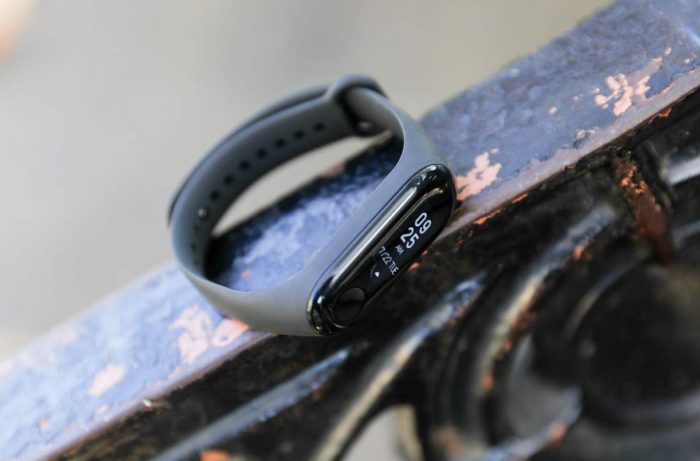 The Band 3 has a curved, seamless design and weighs just 20 grams. It has a hypo-allergenic durable silicon strap and the whole screen can be navigated. That screen is a 0.78″ OLED display with the ability to see notifications, decline calls and you can swim up to 50 metres. The battery life is up to 20 days. It'll track your heart rate, your sleep, your activity – all pushed into the Mi Fit app on your phone. You can set goals, monitor your heart, track your workout and check your sleep.
The Band also lets you find your phone, set an alarm etc. All this for just £26.99. Again, that's an amazing price.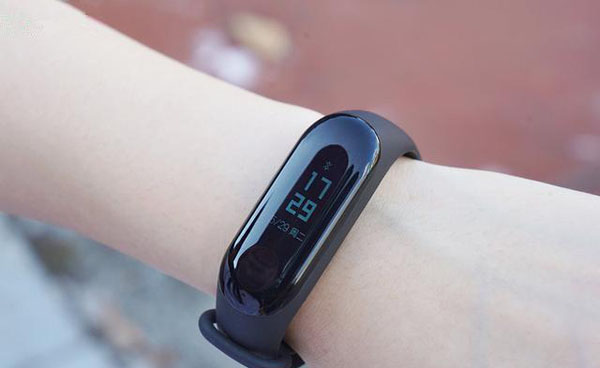 OK, true, this is the sort of price that those who've bought from China are familiar with, but in the UK – from a UK store- it's amazing.
Even better, if you get yours before November 23rd and you're one of the first 10,000, you can get it for just £19.99. There's even a limited-edition UK strap.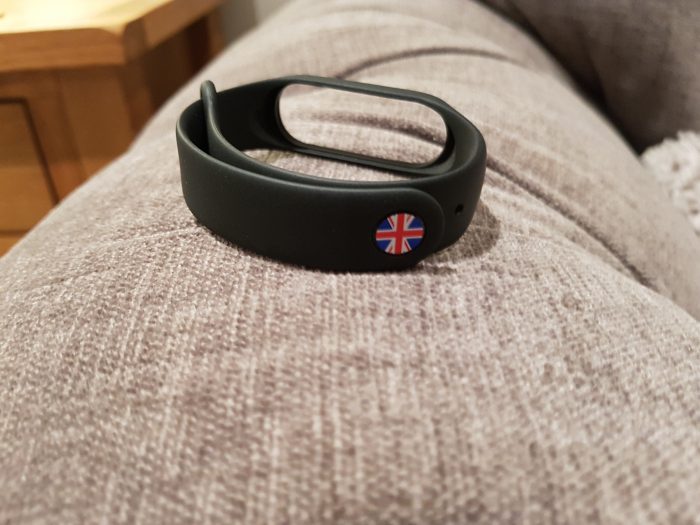 Full press release details below. Xiaomi are also releasing a lot more kit – robotic vacuums, lamps and more. We'll be bringing you more details over the coming days.
OK… now I know I've included this shot at least four times but, here it is again 🙂