If you want to see more about the new Huawei Mate 20 Pro, look no further than our video hands-on..
It'll be on sale on October 26th, but you can pre-order it already. First of all, Sky Mobile (who use O2 masts) have announced prices, which start at £40 per month on their Swap24 plans. That'll get you 1GB of data and unlimited everything else. Plus, if you pre-order, you get to claim a Huawei Watch GT and a Huawei Wireless Charger, worth £259, at no additional cost. Not bad that. Head to sky.com/phones for more information. The 128GB handset is £34 per month just for the device and then you either stick the 1GB / £6 plan on (which makes it the £40 mentioned) or you can add a 3GB / £12 plan (£46 p/m total), a 8GB / £15 plan (£49) or a 20GB / 15GB offering (£54 total).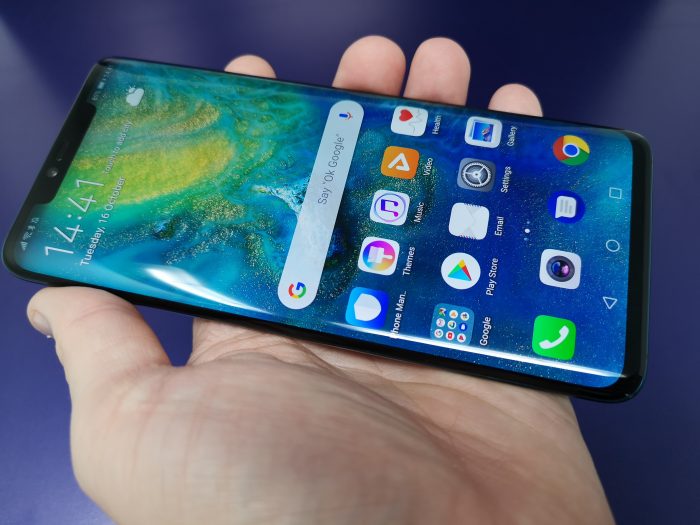 The handset, as we're learned earlier, has a new Leica Triple Camera with AI Cinema Mode (ultra-wide 21:9 aspect ratio) which is the same used by cinemas worldwide..
Vodafone are also doing the same deal on pre-orders, and if you buy through them before October 26th you'll get the same free Huawei Watch GT and Wireless Charger. The phone can be purchased for £57 with a £29 upfront cost on Red Entertainment plans which include 42GB of data and a choice of Amazon Prime Video, Sky Sports Mobile TV, Spotify Premium or a NOW TV Entertainment Pass. A Vodafone Red Extra Plan is also available for £1 less but delivers a massive 100GB of data and included minutes and texts.
Head to www.vodafone.co.uk for more information.
Want more pictures and details? Head to our earlier coverage!