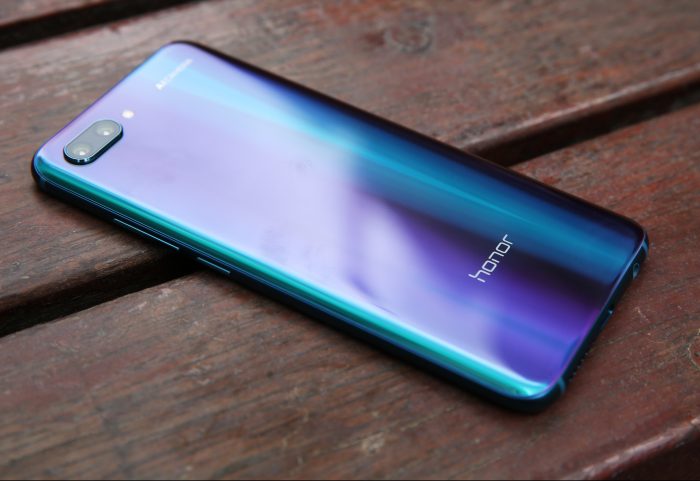 In all honesty we just couldn't afford the train fare to London for this one as we're prioritising the costs of our servers (we're running a donation drive right now if you can help) and we're properly gutted about it. Why? Well, Honor have been rocking the smartphone boat for quite a while now. They deliver phones with a great spec and an equally great price.
I'm currently using a slightly battered Honor 9 so I'm interested to see what Honor had next.
Today, Honor answered.
This is the all-new Honor 10.
It's the big flagship smartphone for Honor in 2018 and they've revealed two major ground-breaking and industry-leading smartphone technologies. The first is a design called "Honor 10 CMF", which stands for "Colour, Manufacturing, Finish". They've used a 3D glass back and a nano-scale optical coating which is composed of 15 layers of shimmering colour. It reminded me of something that HTC did with One handsets.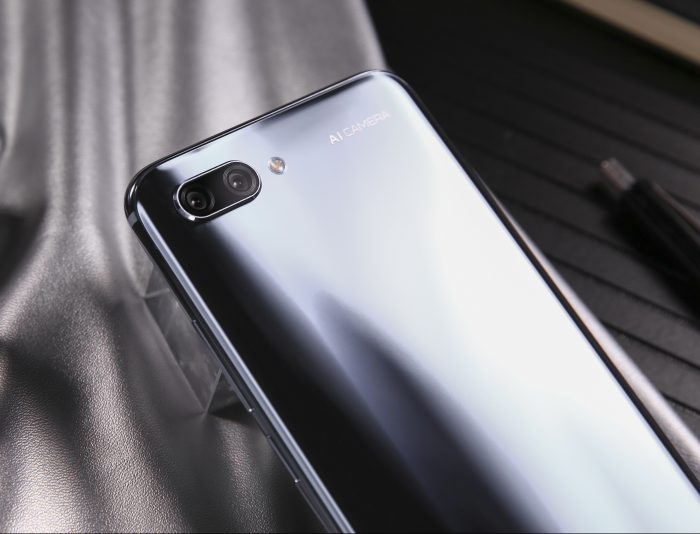 The second notable feature is the AI 2.0 technology, and this is something we're seeing more and more in smartphones of late. This is heavily involved in the camera tech and means that the 24 and 16 megapixel rear camera setup can recognise over 500 scenarios and 22 categories in real time. The rear shooters can spot the sky, plants, people or a waterfall. It can adapt the image to suit, creating a professional-looking shot, and will also identify the location you took the shot.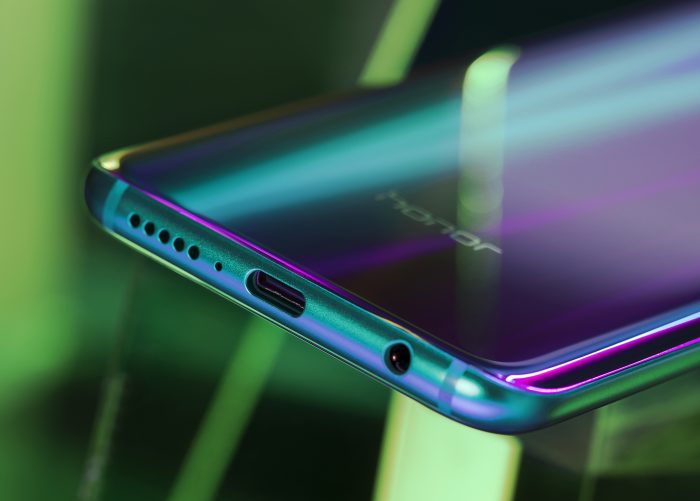 If you want one, Three UK will have an exclusive on it, with plans starting at £31 per month for 4GB of data. You can get 30GB of data for £40 per month, and there's no upfront fee. Find it in stores or online from this Thursday, May 17th.
If you want to buy one direct, it'll be £399.99 from Carphone Warehouse, Argos, Amazon, AO, Very.co.uk, John Lewis and hihonor.com from today!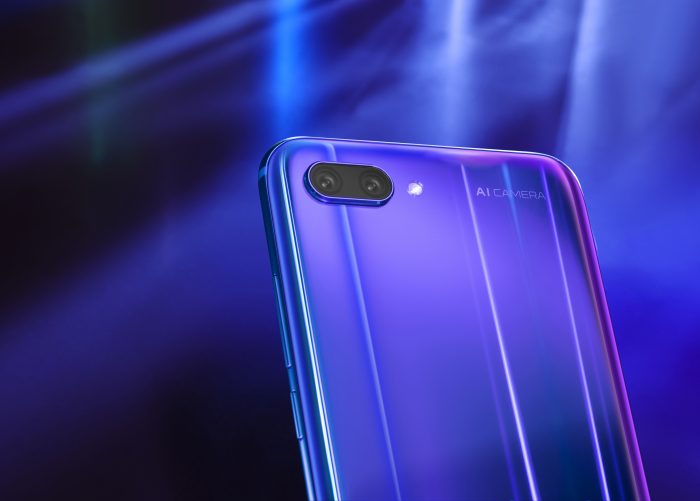 Specs are very decent indeed. It's powered by the Huawei Kirin 970 octa-core CPU (4×2.36 GHz + 4×1.8 GHz), 4GB RAM and a huge 128GB of storage, but no microSD card. It runs Android 8.1 (EMUI 8.1) and has that mirror-like reflective glass back with "aurora gradient glass design".
The display is a 5.84″ 2280p x 1080p Full HD+ display @ 432 PPI and, around back, an ultrasonic fingerprint sensor under the glass. Those rear cameras, as we touch upon earlier, are 24 and 16 megapixels with an F/1.8 wide aperture and "3-in-1 faster focusing". The front camera is no slouch, a 24 megapixel unit with something called "facial lighting compensation". It also has that artificial intelligence working on your selfies too.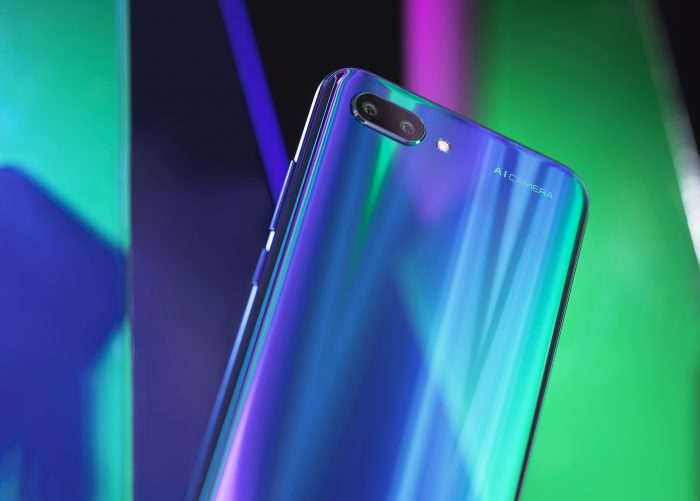 It will be available in four colours – Phantom Blue, Phantom Green, Midnight Black and Glacier Grey. It measures in at 149.6 x 71.2 mm x 7.7 mm and weighs 153g.
Other specs include a USB-C charging point, Bluetooth 4.2, dual-band WiFi, GPS and yes, a 3.5mm audio port.
George Zhao, President of Honor, tells us at the launch that..
We believe the recipe of success is simple – give consumers a really good product! That's what we work hard for everyday at Honor. But we don't just stop at making a good product. We want to co-create a new lifestyle with young people worldwide. We listen to them, we bounce ideas around with them, and we cheer for them. They are our inspiration, and the reason we created the Honor 10, with its AI photography features and exquisite design.
The Honor 10 is powered by an independently built-in NPU processor and has Honor Super Charge, which means that the 3,400mAh battery can recharge to 50% of power in just 25 minutes.
Honor is a Huawei smartphone brand which has pushed the envelope for some time now. At just £399.99, this looks to be continuing that trend.
Update – Thanks to you guys in the comments and on email for pointing out that it does also have NFC.