Story so far then, and during the big mobile madness that is "Mobile World Congress", some silly sausage put the upcoming LG G7 on the LG stand. It was sneaked behind the stand and presumably they thought that the invited guests wouldn't be taking photos of the thing. Pffff.. fail. Here it is..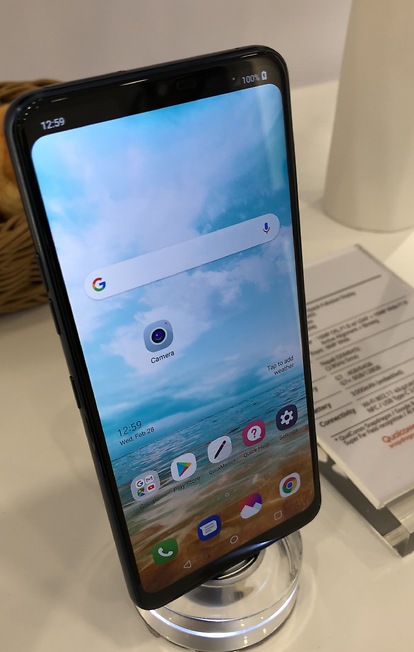 After that, there was a brief period of doubt while people questioned if this could be the real thing. After all, they wouldn't be daft enough to show it months before the actual reveal, would they? Well, after a short while we kinda realised that it was actually the real thing. Notch 'n all.
Now, the actual "proper" reveal is getting closer, and we've got the official name that was expected too – the LG G7 ThinQ.


It'll be unveiled on May 2nd in New York and then on May 3rd in Seoul. It's the first time that the "G series" gets to use the ThinQ name, which basically signifies that there is artificial intelligence under the hood. Have a look at our earlier story on the LG V30S for details on all that cleverness.
Hwang Jeong-hwan, president of LG, tells us..
Now is the time when manufacturers have to pay close attention to what customers actually need and want for their smartphones. With the LG G7 ThinQ, LG is continuing to deliver on its promise to enhance core technologies to meet customers' real life needs by incorporating AI technologies that are more than features, they are part of the user experience.
We'll have more on May 2nd!