One thing we won't be seeing here in Barcelona (and yes, I've made it!) is the all-new LG G7. I've owned quite a few LG handsets – the G6 is a big favourite of mine and I held onto the LG G4 for absolutely ages. Loved that. The modular LG G5? Well, I wasn't so sure.
However, word has it that the LG G7 won't be announced here and will, instead, by appearing at a separate launch after the madness has died down. To be honest, there's something to be said for that. If you choose to announce anything in the next few days it's going to have to fight against several hundred other press releases and announcements.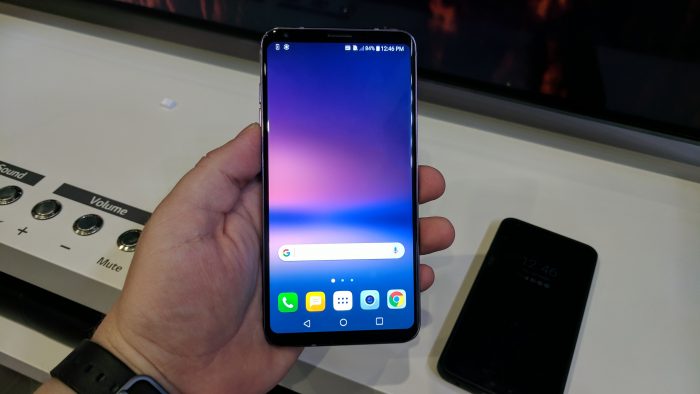 Instead we've got a refreshed LG V30, which is the V30S ThinQ.
The design? Well, it's the same as the LG V30. In fact, just take a look at our previous hands-on if you want to see it "in the flesh". The CPU is the same, the two cameras on the back are the same. The 18:9 screen? Same.
LG tell me that they've uplifted the RAM (it's now 6GB instead of 4GB) and you get either 128GB or 256GB options (compared to 64GB and 128GB previously).
The colours are new too. Here they're offering "New" Platinum Grey and "New" Moroccan Blue.
The big "thing" for LG this year though is their AI integration, and this new LG V30S has it built in. It means that this new version can detect the subject you're taking a picture of and will tweak the camera settings accordingly so that you get the best shot. This is a third-party solution and, although it can connect to the web to update, it'll do all the magic locally on your phone, and you don't need any clever hardware baked in.
Oh, and if you've got an LG V30, good news, you'll be getting a software update soon to enable this camera magic.
Sooo…… we came out of this LG launch a little confused.
Why does the LG V30S need to even exist? It's the same as the LG V30 in almost every way, it even used the same battery. Plus, if the V30 is getting this clever AI integration too, that means you're just getting a slight increase in memory and storage with perhaps a new colour option.
The technology in the camera seemed to work in the setup environment, but there was a slight delay while it decided what the object was. Perhaps not for everyone, but a nice geeky camera enhancement for others.
Get the full details on the LG press release here or read on. Headline specs include that 6″ 18:9 QuadHD+ OLED (2880 x 1440 / 538ppi) display, 16 megapixel dual rear camera, 5 megapixel front cam, Android 8.0 Oreo, IP68 Water and Dust Resistance plus Qualcomm Quick Charge, WiFi, GPS and all the bits mentioned above.