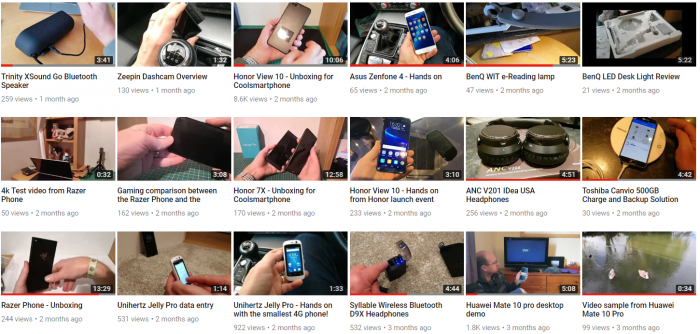 Becoming a well-paid YouTube video star seems to be really high on the list of "wants" for kids in 2018. Many think that they don't need to concentrate at school, because they can merely chuck a few YouTube videos up, get loads of subscribers, then live like a King.
Nah. Sorry. It doesn't work like that folks.
Last year I spent a number of days with a guy called Alex Brooks. You might know him as MarzBarzVlogs. His videos, like a lot of other Vloggers and YouTubers, are punchy and fun. However, to the casual observer it may look like it's been thrown together in a few minutes. Not so, my friends, not so. Each shot, each frame has been thought about and planned. It's carefully crafted, edited and dubbed. It's a skill and takes proper talent.
This week our very own Coolsmartphone YouTube Channel has been having a bit of a "moment" and videos haven't been loading properly on the site. This was because of my considerable lack of talent…. I basically tweaked something in the caching system that made it all go wrong.
So, to recap, here's the videos that you absolutely need to watch. To get more, just head to youtube.com/c/coolsmartphonevlogs or click the link below to subscribe!
---
Yesterday we published the excellent DJI Mavic Air flight test and unboxing. It's a fantastic drone and, if I do say myself, we've filmed a fantastic video. Get watching 🙂
---
I kinda had a bit of a meltdown earlier this week when I saw just how good the Honor 9 Lite was, especially considering the £199.99 price-tag…
---
The Doogee Mix 2 is now crazy cheap at £153.70. Dive into our hands-on below..
https://www.youtube.com/watch?v=2FNxm5GdsDM
---
Have you seen our Xiaomi Redmi 5 Plus unboxing? Come on, you need to..
https://www.youtube.com/watch?v=levTES8VCW0
---
Our podcast! Sure, you can download or stream the audio, but there's the video recording too..
https://youtu.be/o3EtIAyeu-Y
---
Missed our EE Hawk review ? Read the piece here and check out the example video footage, which now works. 🙂
Oh, and yes – the videos above are the ones we've uploaded just in the last week or so.
So, go on, get in on the action…