Just before Christmas, we published a story on the BLU-100 earbuds by Brainwavz which cost £34.50 from Amazon currently.
Design
They arrived in a tidy box, which was a little battered in the Christmas postal service and inside contained a small soft shell case. The case contained the earbuds, three alternative different size earbuds attachments and one set of super soft earbuds. The earbuds themselves are very light and the USB charging port is hidden within the right earbud under a flap.
Towards the right earpiece, there is a volume controller and play/pause button, which are a little on the small side but not impossible to use. The play/pause button acts as the power button and Bluetooth pairing button too, which is a little fiddly. You have to hold the play/pause button until you hear the lady's voice say 'Bluetooth Pairing' otherwise the earbuds are just in a power-on state. There is a little light at the end of the controller but it is very difficult to see.
Sound
You would expect £34.50 not to get you very far but I have used the BLU-100 with my OnePlus Two and Apple MacBook Air and the sound is very good. I found the earbuds delivered a very good range which is what I have come to expect from the wired Brainwavz series. The range featured both bass and treble to give the songs a full breadth of sound and even did a good job of the radio station I listen to called Primordial Radio.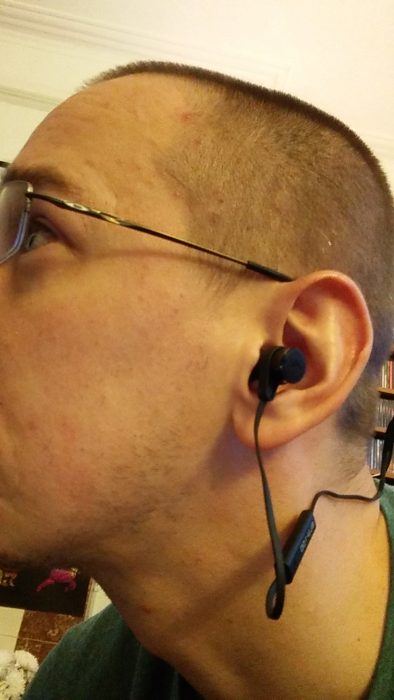 Battery
I have tried to stretch out the usage of the BLU-100 and I have been impressed with the battery life. I have run them once from full to empty in a space of 8 hours of full listening.
Overview
You can't go wrong with the price and the soft shell case makes it easy to carry.
Overview
Design - 75%
Ease of Use - 65%
Sound - 85%
Very good quality Bluetooth earbuds.