Bluetooth headphones do have a bit of a problem.
You need to power the things.
Previously we took a look at the Syllable D900 headphones and you'll see from that review that they sat inside your ears. All good, but the battery life meant that you'd have to take them out of your ears and charge them up when the battery went flat.
Some Bluetooth headphone manufacturers have tried to resolve this by putting the battery pack around your neck on a wire, like this Leophile one. However, if you don't want any wires at all, but you want continual audio entertainment, these Syllable D9X headphones we're reviewing today could be just the thing.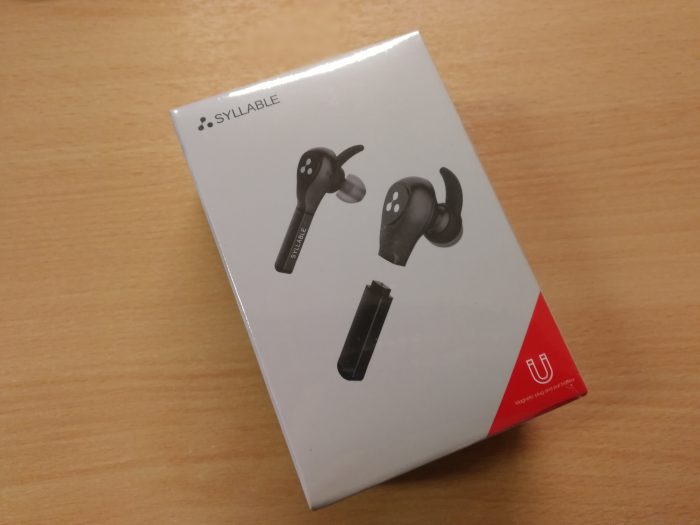 They come in a really nice hard-rubber zip-close case and, when you first take it out of the box, you'll find a microUSB cable in there and various differently-sized ear-tips so that they fit comfortably. There's also a carabiner so that you can attach the case to a bag.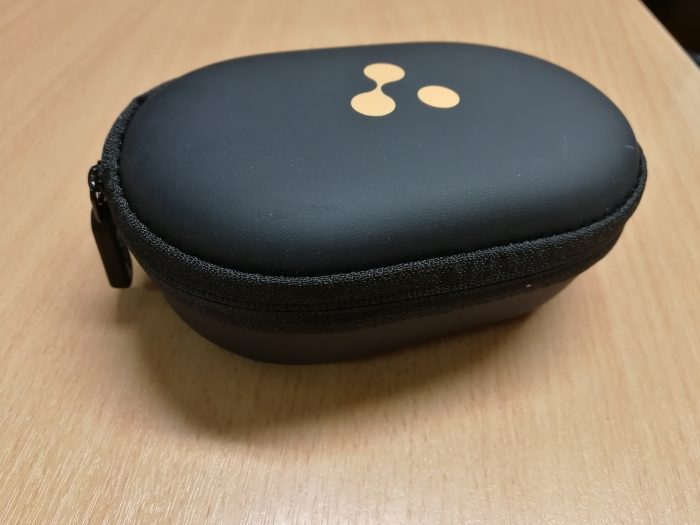 At the bottom of the case you'll find three things. The first, which looks like something from a vaping kit, is the "intelligent charging box". In here are the tiny batteries that power the Bluetooth earphones. Inside the box there's two charging "pods" and two storage "pods".
These batteries are easily stored and easily attached to the bottom of the earphones thanks to the magnets inside. You simply pop them onto the bottom of the earphones and they'll turn on and pair with each other. It's then simply a matter of you pairing with the Syllable D9X Bluetooth name and you're away.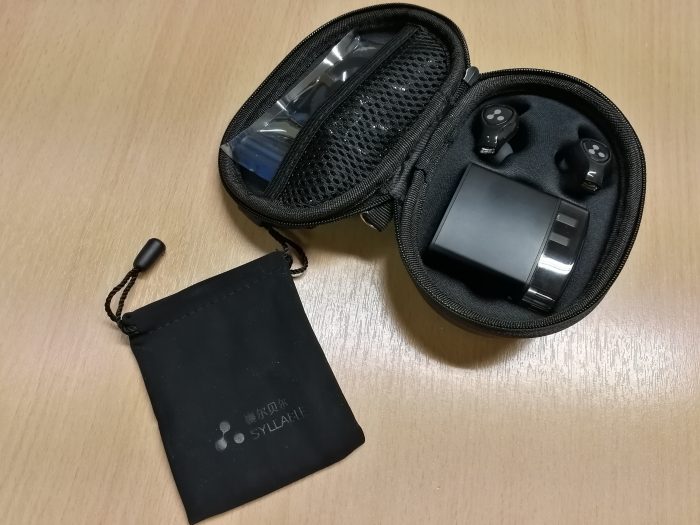 When you're using one set of batteries, simply put the other set into the charging "pods" and they'll charge.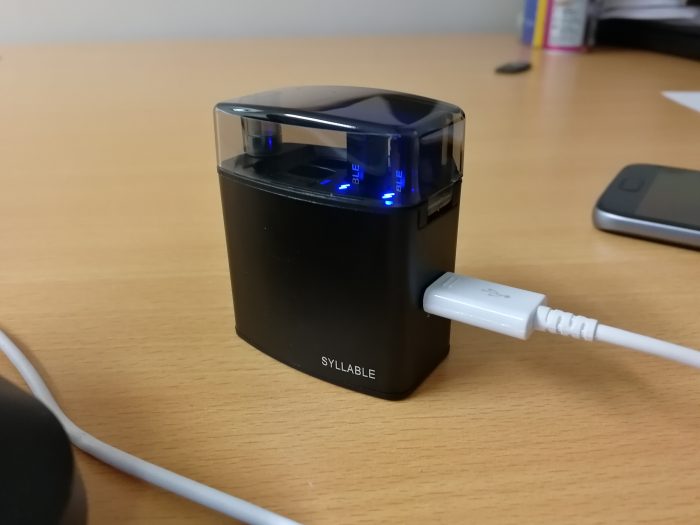 Oh wait.. I know what you're thinking. Sure, that's all well and good if you're sitting at your desk – you can charge those additional batteries whilst the intelligent charging box is plugged in. What if I'm out and about?
Well, this is where it gets even better.
That intelligent charging box has actually got a battery inside of it, so you charge the box when you're near a USB port (with the supplied cable), then you take the box out with you in the case and it'll charge the earphone batteries as you go. Brilliant.
Once those batteries go flat, you just pull them out. You can even do this without taking the earphones out of your ears. There's enough magnetic force to hold them in, and I've gone jogging in these things – they don't fall out – but you can tap them side-ways to release them and then simply get the ready-charged replacement batteries out of that clever charging box. Even without using your eyes you can locate and "stick" the batteries back onto the earphones via that strong magnetic force.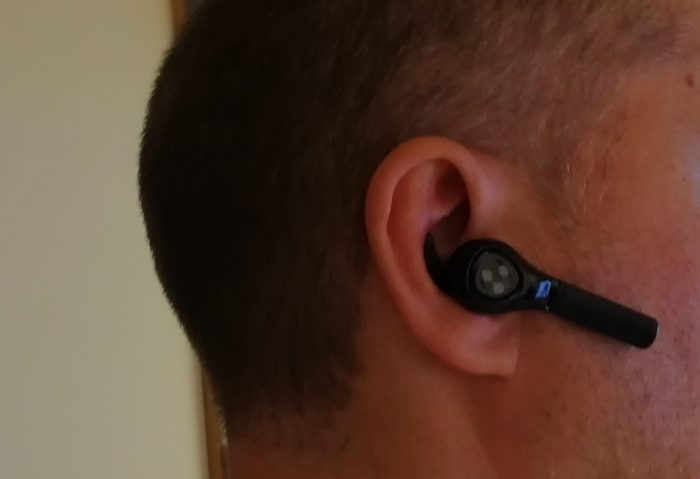 When you do this, the headphones will automatically power up. Obviously, when you take the old batteries off they'll power down. You can also press and hold for 5 seconds to power them off if you want to keep the batteries attached.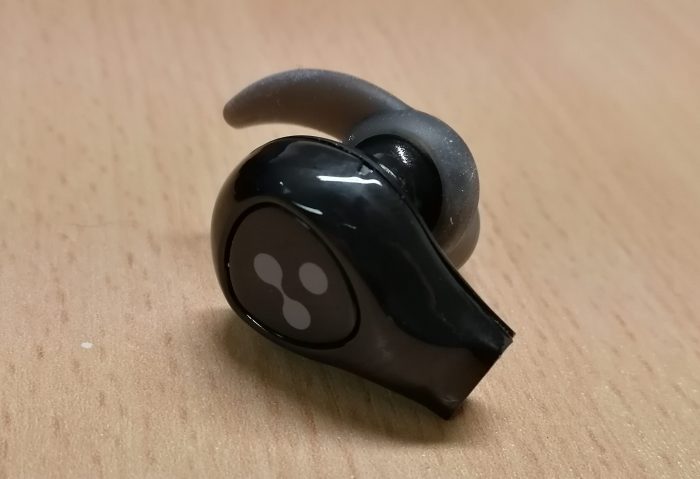 The earphones also have a button each. Press the Syllable logo and you can dial, answer calls or double-tap to reject calls. You can also control play and pause and, again by double-pressing, you can skip tracks.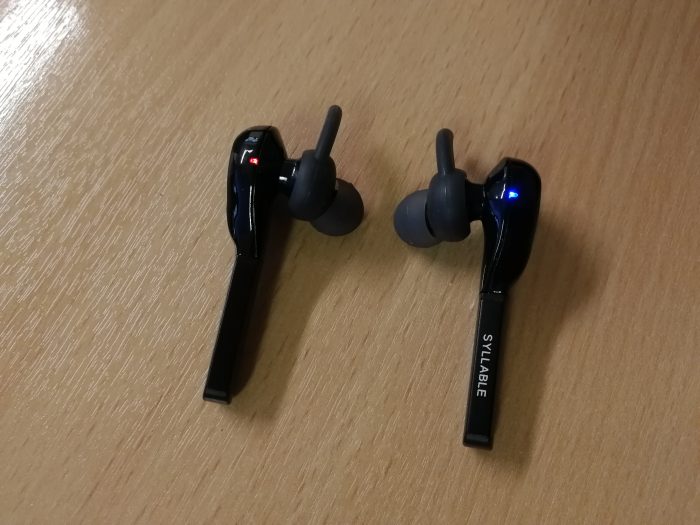 That charging box takes around 2 hours to charge, and thanks to those 4 batteries you can rotate the two batteries around and listen to your tunes endlessly. The box itself, once that has charged fully, can be carried around and will supply 4 to 6 recharges of your batteries, meaning an all-day listening experience is a definite possibility as each set of batteries will last around 2 hours. I've had more than this as it varies depending on your volume setting.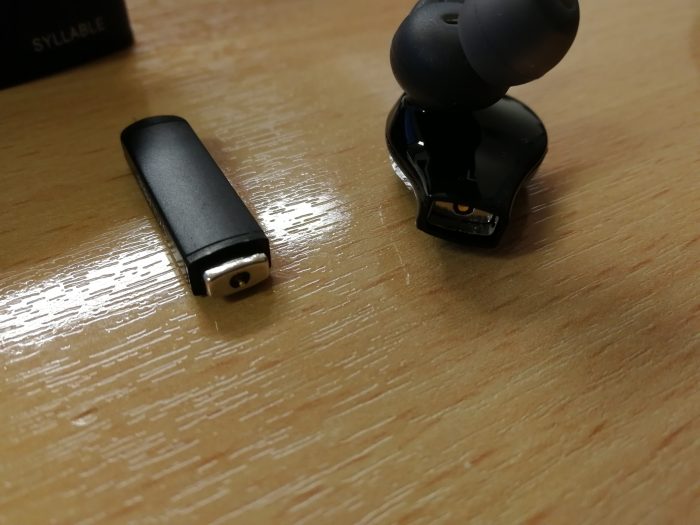 You can also, if you're in an office environment, just use one earpiece if you still want to hear your colleagues.
One other thing I should mention is that these are noise cancelling, and I can definitely vouch for the noise cancelling abilities as I missed two calls on my home phone whilst using them on a fairly low volume. Sound wise, again – these are Bluetooth and they're designed to be lightweight. There was enough bass but it's not earth shattering. There's a definite quality and clearness about the sound.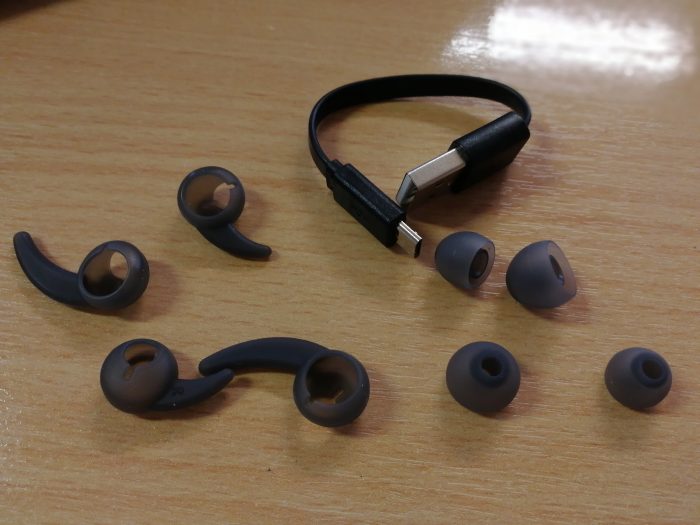 Above you can see that you have a range of hooks and earbuds to make sure it's comfortable. Wait a minute! We've got this far down without a hands-on video demonstration! Here's a look at how it works.
Overall, I'd definitely recommend these. I did have a few instances where I knocked the batteries as they were in my ears. They didn't fall out, but they did momentarily break the connection to the power and it was a bit annoying. I had to teach myself not to fiddle too much and they it was fine.
Sound-wise, there's just enough bass and a very good audio reproduction. They're not going to replace the over-ear headphones but they do sit solidly in your ears and the battery technology, which works brilliantly in this setup, is an absolutely fantastic idea.
Yes, £59.99 might sound a bit much, but for a completely wireless experience, these are really very good indeed. Get them from Amazon.
Syllable D9X Wireless Bluetooth Headphones Review
Value for money - 88%
Audio quality - 87%
Build quality - 92%
A great way to listen to music for many hours on end, without any cables or additional weight on your ears. Nicely done, great audio quality. Recommended!