Vodafone kindly invited me to go play some mini golf, eat some food and meet up with some great people from the tech scene…..Oh and to show off the Motorola Z2 Play of course!
Those of you who have been following the site for a while might remember a that I was lucky enough to cover the original Motorola Z Play, plus some of the Moto Mod attachments which are perhaps the most unique part of the Z range.
Whereas LG may have got it wrong with the G5 Mod idea, Motorola have got things spot on with their version. Mainly due to the ease of use.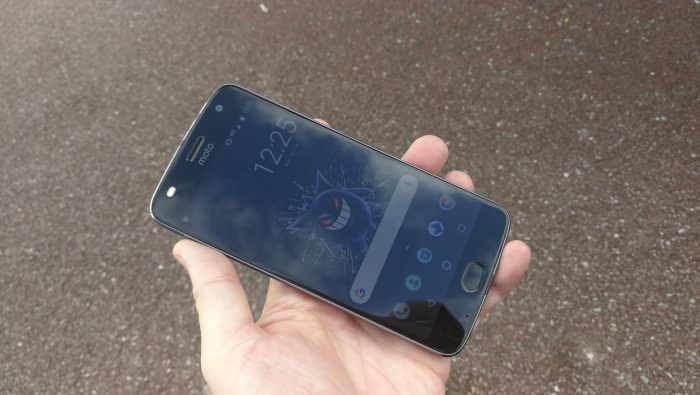 Hardware
The front of the Z Play has what looks like the "2017 standard". A large touchscreen with a front-facing camera plus a small fingerprint reader at the bottom.
Where Motorola make a difference is over on the back and their extra MotoMod connectivity.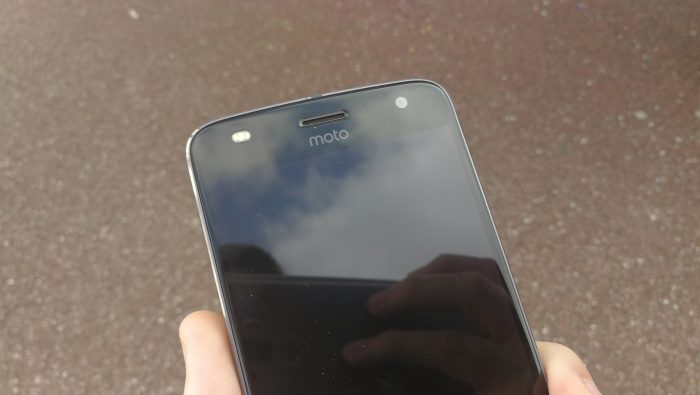 The camera up top is a 5-megapixel lens and can capture 1080p video for mobile vlogging or if you just fancy making a video call.
Here though, if it's dark, you also get a front facing camera flash to help illuminate you.
Other phones tend to brighten the screen to take selfie photos, but the Z Play has a dedicated flash which is REALLY bright and fantastic to use when in poorly-lit conditions.
That screen is a 5.5″ Super AMOLED panel with a 1080p resolution. It delivers 403 ppi. It's a great screen to use even though it's not 2k resolution.
The fingerprint sensor at the bottom is square and right in the middle. In actual fact, it is actually NOT a button, it's just a fingerprint reader that you can use to unlock the device or use for mobile payments on Android Pay.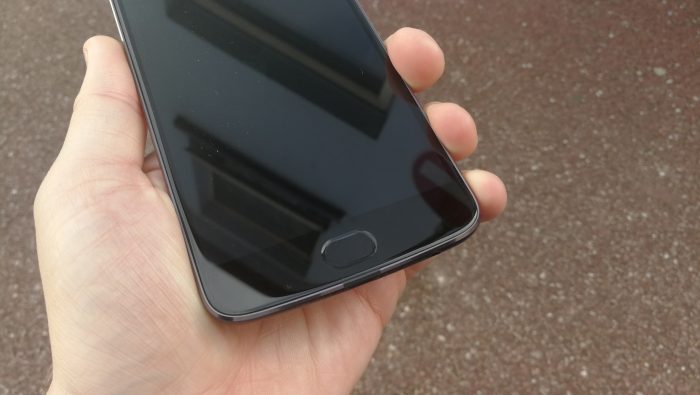 Turn over to the back and you have a strange design, mainly because this is where the mods come into play.
Up top you find the 12 megapixel camera with dual tone LED flash, this is a drop from the 16 megapixel shooter on the previous model, but they have improved the aperture from f2.0 to f1.7 which will help improve low light photography.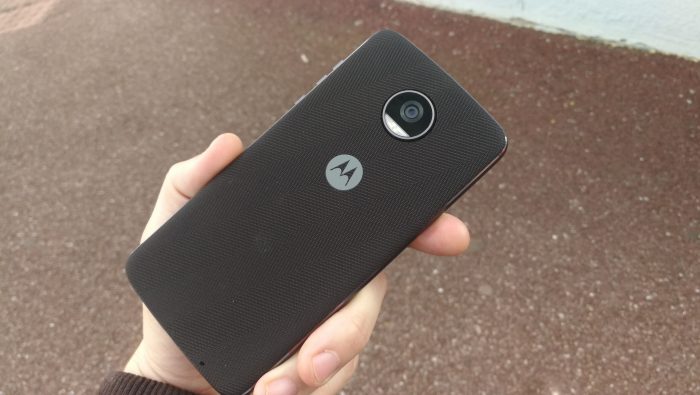 Right in the middle is the now famous 'M' logo, which obviously stands for Motorola.
Below this is a strange array of gold connector pins. These are used for attaching the Mods to the Z2 Play. Connect up and it'll kick into action.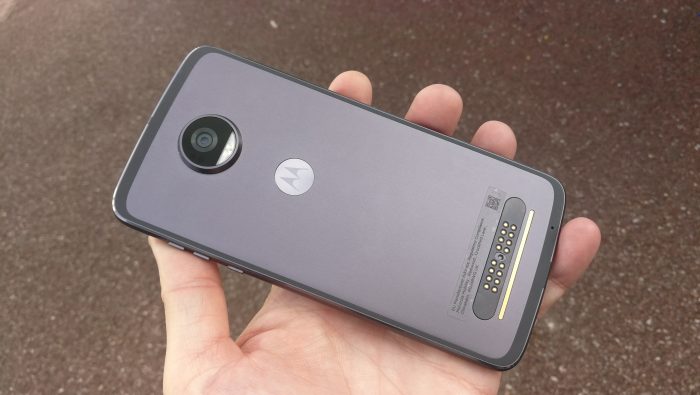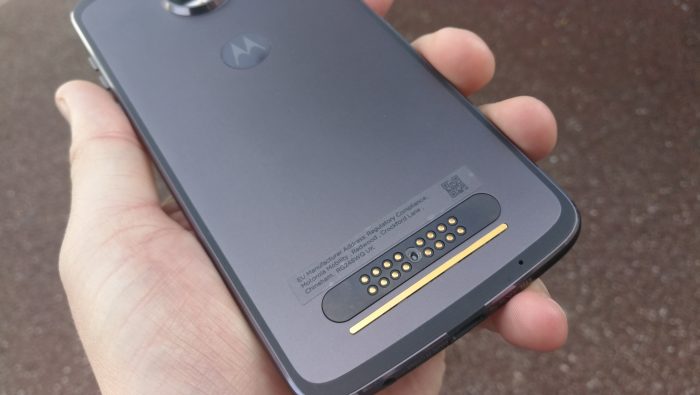 The back is one of the only parts Motorola changed from the original Z Play device, moving from a slippy glass back to a metal unibody. A welcome change. It looks better, feels better and just adds a more premium feel overall.
The left side of the Moto Z Play is completely plain with no buttons or switches. These are all positioned on the right side instead.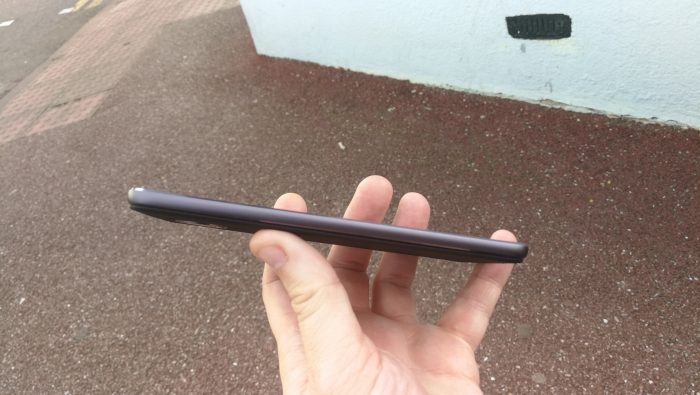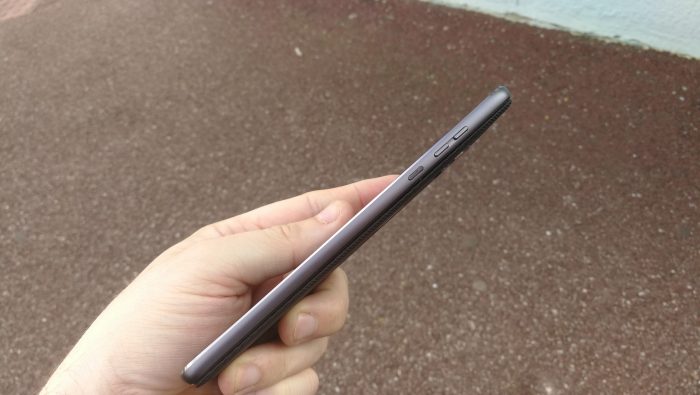 Flip over to that right side and you'll find the volume controls. These are normal flat keys but the power button has ridges on it, so you can easily identify it without looking.
At the top of the Moto Z Play is a built-in microphone and the SIM tray. When opened you can insert a Nano SIM on one side and a microSD card on the other to expand storage.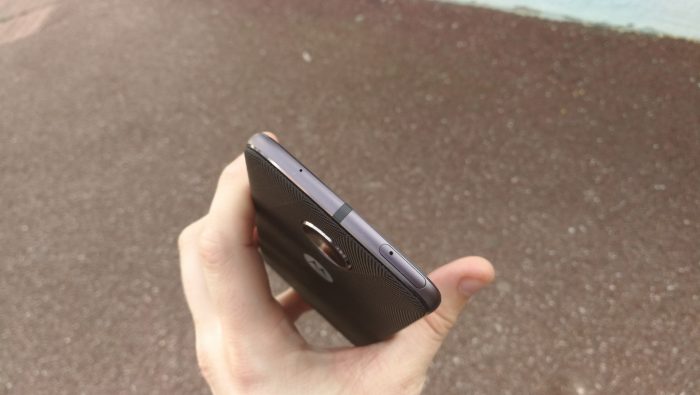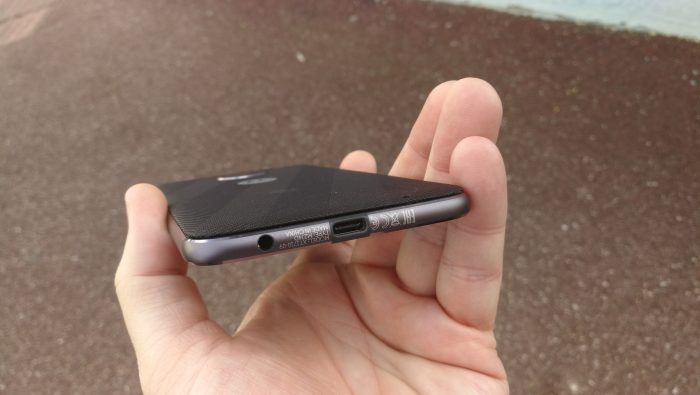 The bottom houses a 3.5mm headset jack. It might not be the standard for some people, but for many they'll be pleased to see it.
Charging however is via a newer USB-C connection. It might annoy people who prefer their older micro USB standard that they have chargers to fit, but with USB-C being a new standard it is time to move on. The best news is the speedy 'turbocharging', giving 9 hours of use in just 15 minutes. Plus, of course, this plug works no matter which way round you insert it.
In my testing, the built-in 3000mAh battery was more than enough for daily use, and never ran out before the evening. This is something a lot of phones struggle with but down from the 3500mAh on the older model.
Performance-wise, you get a Snapdragon 626 octa-core processor clocked at 2.2ghz. This is paired with 4GB of RAM which is plenty for multitasking, multimedia and gaming if you want to play on the go.
Storage comes in at 64 GB with the option to add expandable memory via a microSD card. This slots in behind the SIM card in the tray.
Camera
The camera on the back is a 12-megapixel snapper with f1.7 aperture. This will give you some decent everyday photos in good lighting and variable quality if you use the built-in flash, and as with the front facing camera the megapixel count has dropped from 16 to 12.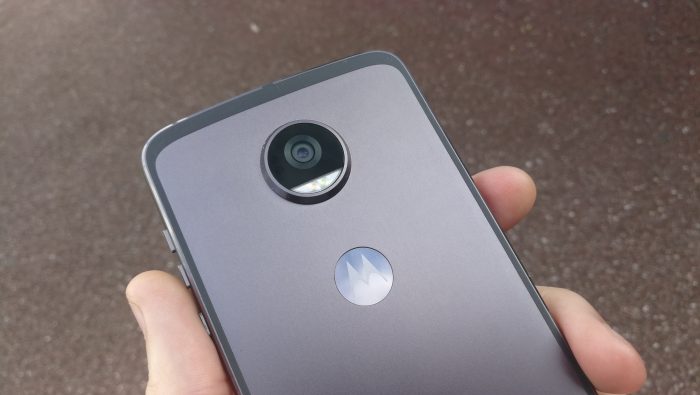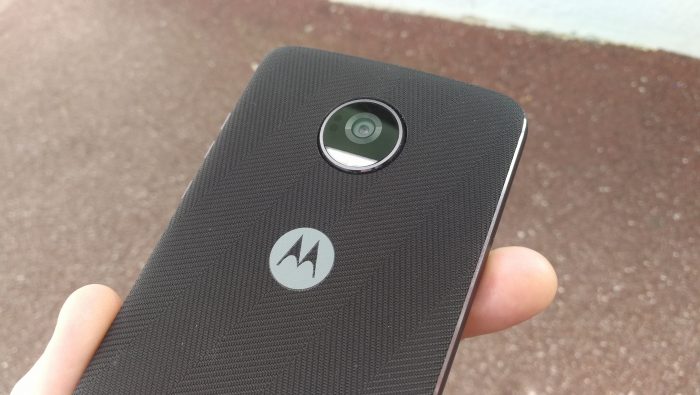 The video mode is 4K, which is expected in a device with a 12-megapixel camera. Quality is…well… OK. It does lack a 'wow' factor and seems to struggle with any type of movement as it did with the older model, where the video really stands out is the Moto 360 camera attachment I will talk about later on.
Software
Ever since the days of Google-owned Motorola, software on their new smartphones is as close to "stock" as you can get without buying a Nexus or Pixel directly made by Google.
Thankfully this has rolled over to the Lenovo purchase and software is snappy. It's speedy and includes some great enhancements.
Twist your wrist twice and the camera loads. The Z2 Play will also listen to your voice even when the screen is off and you can also see notifications on the lock screen without needing to wake your phone.
Oh and best of all, do a double karate chop and on comes the torch!
There are a whole load more of Moto specific movements and commands available on the Z2 Play, and that makes this a very interesting device to play with.
MotoMod – JBL Speaker 2
This was the Mod that impressed me the most. As someone who loves watching YouTube, listening to music and watching Netflix, the super clear and loud sound that this mod produces really is outstanding, especially as there is a little kickstand on the back.
You really have to hear the quality for yourself to really appreciate it.
The built-in speaker is OK for occasional use, but if you are really into your audio this is a definite purchase if you are not lucky enough to get a free one.
And something I have to mention which is handy, the Mod is water resistant too. Great for putting by the pool on holiday, or great getting ready for a night out.
MotoMod – Moto 360 Camera
At a hefty price tag of £219, the 360 Camera is for someone who is really serious about 306 degree footage.
Quality is quite good considering it is a separate attachment to the phone, and watching back 360 degree video is rather cool. However you have to be recording something of interest, like a concert or football match to be worth actually using. I doubt you'd take a snap at the local supermarket with this.
Whilst using it is a breeze, the thick back panel with large camera sticking up top might be a little annoying for some people, but it is a good unique feature from Motorola which I give credit too.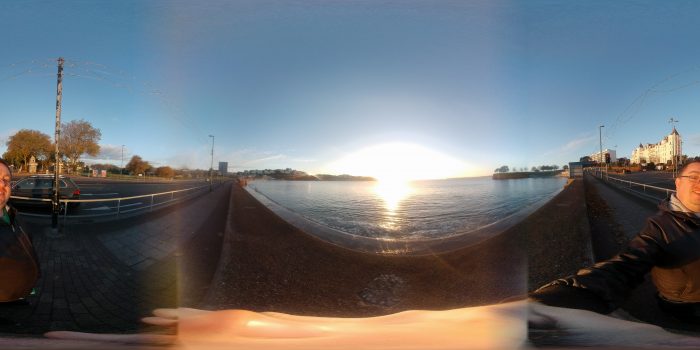 The 360 camera also takes still photos, on this review they look strange as you cannot see an image in 360 here, but on the phone you can appreciate them better.
Conclusions
Having used the original Moto Z Play a while ago, I was really able to consider the main differences between the older and the newer more expensive version.
In my testing I used the Moto Z2 Play as my main device. I regularly accessed 2 email accounts, Twitter, Facebook and watched 25 minutes of Netflix at lunch, then I listened to another 15 minutes worth of music on the way home from work and this was mostly connected to the Vodafone 4G network.
As with the previous model, the Z2 Play fairs well with the camera thanks to the f1.7 12 megapixel camera with LED flash. However it's not up there with the flagships. That said, it is quite decent when used in good conditions and more than enough for social media use.
Starting at £28 a month direct from Vodafone at time of writing you also get the JBL speaker thrown in free or charge. This is a very handy saving and great for multimedia lovers on the move.
Smartphones these days are getting better and better, including the mid-range thanks to some key players like Huawei and OnePlus.
Where Motorola will stand out is not what you buy out of the box, but with what you can do after by adding on the mod's to get a more flexible package.
The JBL speaker included is great for music lovers, and if you watch video, the kickstand at the back is great to stand the Z2 play on a table, it would have been nice though to make the stand go back further as sometimes it is not always at the best angle.
Older Mods still work such as the battery pack and the range of back plates so customise to your style, but the new Moto 360 camera Mod is very addictive and fun to use, even if the overall quality is not on par with the normal camera…. oh and it costs an extra £219 from Motorola.
The other new Mod worth looking at is the gaming pad. This lets you use your device as the screen, and have the normal gaming buttons and additional battery to help.  At £79 this is a great option for the hardcore gaming fan.
This is a modular phone done the right way……once again!
Oh and something to point out if you are thinking 'this review sounds a lot like the one you did on the Z Play'. Well, you are right and I did that on purpose, this is because apart from a few tiny changes, this looks and runs pretty much like the older model, it is not a massive upgrade in any shape or form.
Find out more on the Vodafone site.
Moto Z2 Play
Design - 80%
Build Quality - 85%
Camera - 85%
Battery - 85%
A small upgrade to the original but keeps the key selling points for upgrading customers