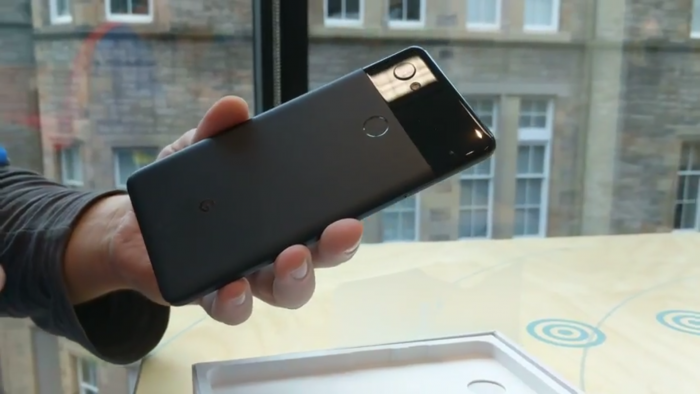 Fancy the Pixel 2 or the Pixel 2 XL? Well, if it's size you want, the Google Pixel 2 XL has a bigger 6″ screen and a higher price-tag t'boot. £799 will get you a 64GB version, and it's £899 for the 128GB model.
It's got a pOLED (18:9) always-on screen which is QHD+ (2880 x 1440) but everything else is the same as the 5″ Pixel 2. There's a water-resistant metal unibody, a Qualcomm Snapdragon 835 CPU (plus 4GB RAM) and it runs Android 8.0 Oreo.
Camera-wise, you'll get a 12.2 megapixel rear shooter with dual-pixel autofocus and an f/1.8 aperture. There's an 8 megapixel camera up-front and it's available in those crazy colour-names – Just Black, Clearly White, Kinda Blue and Black & White. There's front stereo speakers, a 3520 mAh battery (on the 2XL at least), WiFi, Bluetooth 5.0, "Active Edge" and a USB-C charging port.
But you knew all about that from our previous article didn't you? So.. just for the hell of it, we didn't just unbox the thing. Oh no. We got Superman Matteo to unbox it!
What did he think? Did he spot any pOLED weirdness ? Well, head on down to find out! 🙂
https://www.youtube.com/watch?v=97oa7c07Hew