Head to Tech21.com and you'll find a range of cases for the iPhone plus LG, Sony, HTC and Motorola handsets. There's lots of designs and types to choose from, but one thing in common you'll find is the fact that they're properly drop tested. Today we're looking at their new Galaxy S8 cases, but they also do a range for the Samsung Galaxy S8+.
We've got a selection of their cases below and, for most of them, you'll find that they're lightweight and drop-tested from 3 metres, which is 10 feet in old money. They tell me that it's "impact force" that causes the damage, so it's not just the drop that your phone needs protecting from, but also the amount of force. On the cases below there's laboratory testing, with each cases dropped 20 times so that you hopefully don't have to test that yourself.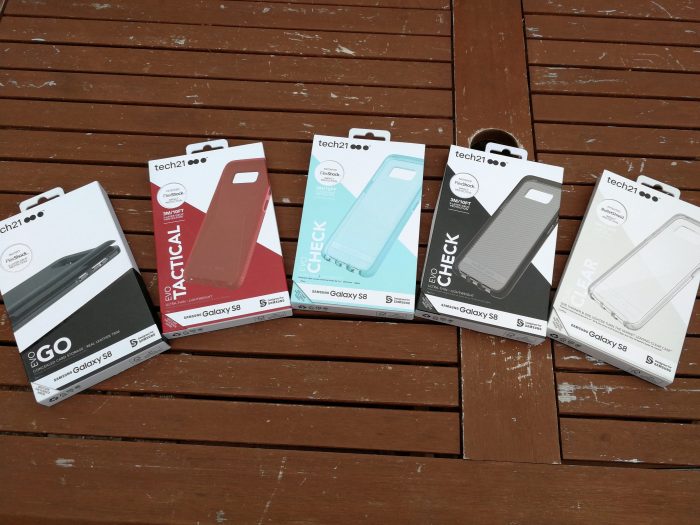 As we've got quite a few here, I'm going to go through them one by one with video reviews, but what I can say about all of them is that they're very high quality and have precisely-positioned buttons that pass through to the keys on the Samsung Galaxy S8. The S8 slips into each case easily and you still get to see those curvy edges of the screen, even if the case does cover them slightly.
All of the cases, apart from the Pure Clear one we're going to start with, have that 3 metre drop-testing and something called FlexShock impact protection. This is the impact-absorbing technology with the ribbed finish inside of the case. Add this to the frame and it'll cushion and absorb impacts.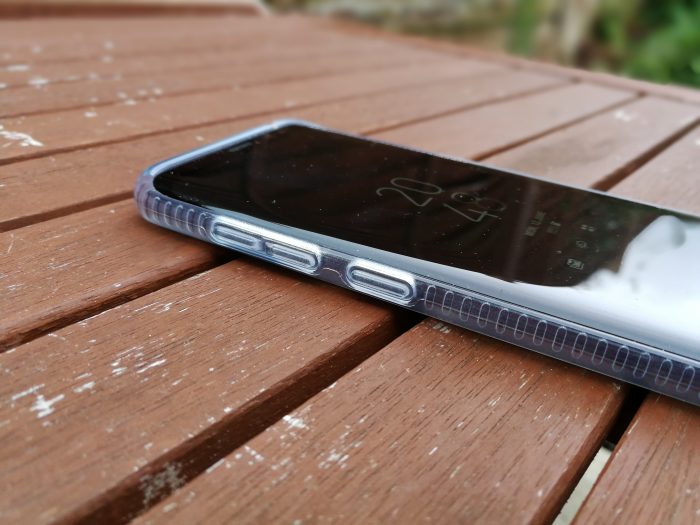 First though, the clear Galaxy S8 Pure Clear case. It's £29.95 and available here and has a 2 metre (6.6 foot) drop protection. Despite this, it's 50% thinner and 50% lighter than the "market leading clear case" according to Tech21. Inside is something called "Bullet Shield" which, with the ribbed construction around the edging, absorbs knocks and drops.
Popping it on is relatively easy and there's a hard outer shell to protect the back. As with all these cases, the cut-outs for the external speaker, audio and charge port plus the microphone up top are perfectly placed. The buttons work well although, and this is one thing I'll say about all of these cases, they may seem a bit hard to press to begin with. This will get easier after a few presses, so don't worry too much.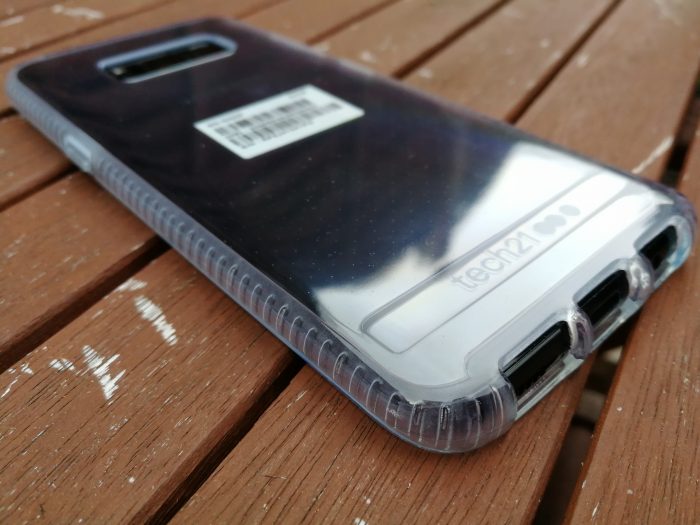 Once on, and again – the same with all of them – there's no wiggle or wobble. It's a solid fitment and it's perfectly tight. This particular case is very slender and clings to the phone nicely. It's scratch resistant and Tech21 promise that this won't go yellow after you've had it for a while (some cheaper cases do this in the sun etc). It's also very easy to remove and place back onto the phone.
For the same amount of cash (£29.95) you can get this Evo Check case above. It's available in both rose, white (clear) and – as you'll see here – blue and black. Head to the Tech21 product page for more information.
These are slightly thicker, but you get more protection from drops – a 3 metre drop protection and that FlexShock protection to ensure that the sides and back of your phone are protected. If your phone falls straight on the screen then it might be worth getting yourself a screen protector.
This is called the "Check" due to the check pattern on the back of the case. It certainly looks rather nice, I'm sure you'll agree. Although it's ever-so-slightly thicker than the Pure Clear, there's still not a great deal to it.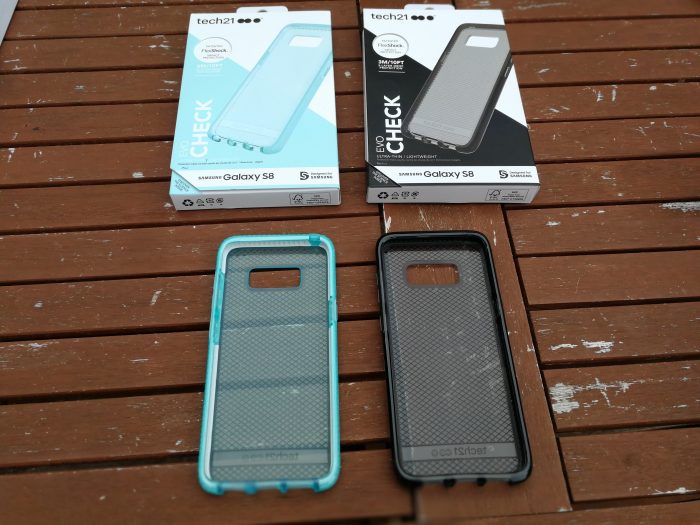 Again, fitting it to your S8 is easy and the keys / holes line up perfectly. The edging looks good and also comes to the right point on the edge of the screen so that you can a fair trade-off between protection and screen usability.
Next up , the Evo Tactical. Again, it's available for £29.95 and comes in red or black. There's another cool design on the back and feels more sturdy this time. It's again very easy to put your S8 in and has that same 3 metre drop protection whilst looking pretty cool.
With your current phone offering a good cash-in value for your next handset, keeping it in the best condition possible is well worth doing, so if you put this onto your S8 it'll definitely mean that you'll have a good trade-in value when you hop up to the next handset.
Finally, and with a definite added thickness, it's the Evo Go, and this one is £59.95 in either black or pink. The Tech21 Evo Go is 13mm thick and has a similar design to the others but with a real leather trim and a small door which opens up to reveal a hidden credit card slot. You can put a couple of cards in here and it'll keep your cards and your phone safe.
Again, all the slots and holes are perfectly cut and easily accessible. Likewise, all the cases have a camera hole which sits flush against the phone with no flapping around.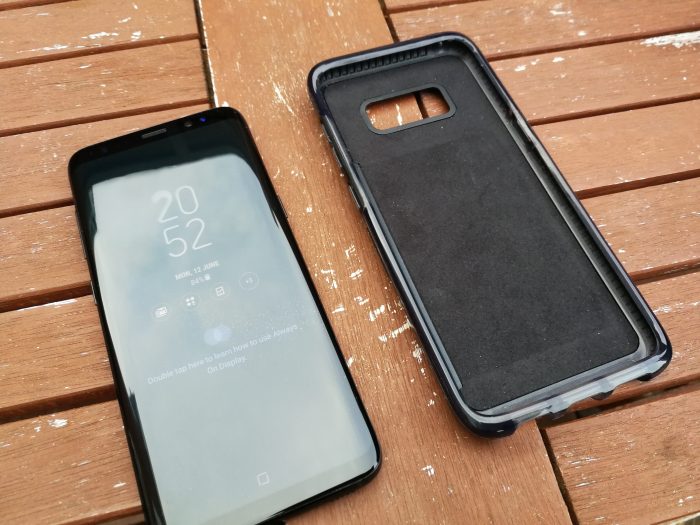 The case also has a smooth inner layer to protect the back of your phone. Again, the 3 metre drop protection is there and it's still pretty lightweight too.
Overall? The Tech21 cases are very well made, well designed and thoroughly tested so, if you do drop your phone, you'll hopefully be able to pick it up and use it again. Pricing? Well, I'll admit, the £29.95 price-tag on most of these did seem a little high, but the quality of just how well each case sat on the S8 was definitely noticeable. The Evo Go one is £59.95 which really is rather pricey, so it's up to you to decide whether it's worth it to store your cards.
Tech21 Samsung Galaxy S8 Cases
Design - 92%
Quality - 94%
Perfectly designed, precisely cut, great fit and easy to apply.