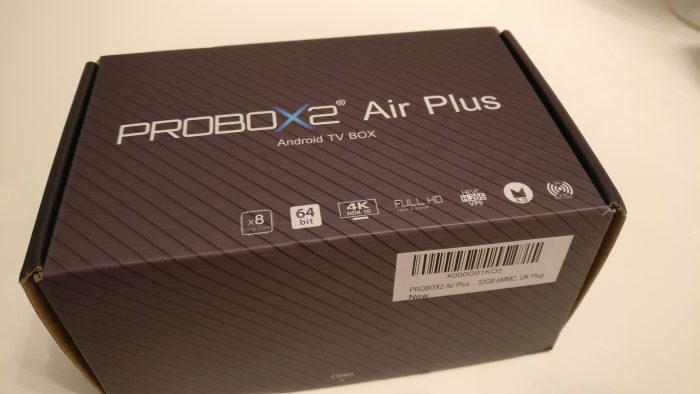 Last year I carried out a review of a new Android TV streaming box called the Probox 2 Air. You can view it here, which in summary, I was truly impressed with.
Well, I've been asked if I wanted to review the latest version of this streaming box – the ProBox 2 Air PLUS. You can buy from Amazon UK for £109 with both the normal and air remotes, or £89.99 with just the normal remote.
Externally there is no difference in the two devices. It still measures in at 99 x 108 x 16. 5 mm. On the connectivity front, there are  2 USB ports, ethernet port, an optical port and a microSD slot.
As the Probox2 runs Android 6.0 it means you can insert an SD card, and through the operating system it's probably best to select to change it to "Adoptable Storage". This means that you can up the storage from the inbuilt 32GB by adding an SD Card.
The updates to this latest device are on the internals and user interface. There is now a clear DCMA copyright warning.  The specs are below, with those of the previous Probox 2 Air in red.
Android 6.0. OS
CPU Amlogic S912 Octa core ARM Cortex-A53 CPU up to 2 GHz

(Quad-Core ARM Cortex-A53 CPU, main frequency up to 2Ghz)

GPU ARM Mali-T820MP3 GPU up to 750MHz
Memory 3 GB DDR4  

(2 GB DDR3)

Storage 32 GB

(16 GB)

Video Output HDMI 2.0b, up to 4K*2K @ 60fps, supports HDR, HDMI-CEC, HDCP 2.2
UHD 4K 60fps HW decoding, supports multiple formats including H.265 10-bit, H.264 and VP9
FHD 1080p 60fps HW encoding, supports H.264
Dolby / DTS (by Kodi) and S/SPDIF (5.1CH, 7.1CH)
HDMI 2.0b, supports HDR10 and HLG HDR processing, (colour and saturation become more clear and prominent).
Streaming (DLNA / Airplay / Miracast)
As I said in my previous review, I was blown-away with the media quality and streaming capabilities of the Probox 2 Air and now the Air PLUS version is even better. The added RAM means the overall experience is smoother, and now with 32 GB of inbuilt storage it means that even more apps can be loaded from the Google Play Store. The only negative I could find with this new updated version of the media box was the air remote which acts as a wireless mouse. I found it didn't seem to be as responsive or smooth as the previous version. This certainly wasn't a deal breaker, more of a background niggle, and will probably be sorted with a software update.
There has been a slight increase in price for this updated version of the ProBox Air 2. It's available from Amazon UK for £109, with both the normal and air remotes, or £89.99 for normal remote version. So. If you're after what is possibly one of the best Android media streaming media boxes out there, check out the ProBox Air 2 PLUS.
Probox 2 Air PLUS
Price - 85%
Ease Of Use. - 90%
Picture Quailt - 100%
Streaming Quality - 98%
Remotes - 80%
Well put together, fast and running a modern version of Android with Google Play on board.