Introduction
Regular readers of the site may remember my adventures and #firstworldproblems in the tablet world. Whether it was using an iPad Mini (many years ago), Windows, convertible devices or a cheap Android slate, I hadn't found a device which satisfied me completely. My Samsung Galaxy Tab S2 8.0 is a great device and I have used it heavily since I've had it. But it's now a year old and though I like its 4:3 ratio, it does mean videos are smaller on this screen. Compare this to the original Tab S which had an 8.4 inch screen at a 16:9 ratio. I now thought that I am a significant minority here, the tablet market has stagnated. Many people are keeping their tablets for longer and longer. Even Samsung has fewer models this year, and a refresh of its Tab S series (the S3) has been postponed to Q1 2017. This meant that this is more of a challenge than in previous years. Frankly, there just aren't new and interesting devices out there.
From now to the Asus Zenpad 3S 10
So whilst I was scouring the internet for Black Friday deals recently, I came across the Asus Zenpad 3S 10. There weren't many reviews, but those that existed seemed quite positive. The pedant in me couldn't stand the name, especially since there is another Zenpad 10 around (the Z300M model from 2015). Seriously when will these manufacturers sort their naming out?
Anyway, here's what's under the hood.
Specs
9.7-inch display
2048 x 1536 resolution @ 4:3 aspect ratio IPS LCD
MediaTek MT8176 processor (2.1 GHz) Hexacore with two ARM Cortex-A72 cores, four ARM Cortex-A53 cores (1.7 GHz)
PowerVR GX6250 graphics (650 MHz)
Android 6.0 Marshmallow with ZenUI
22Wh – 5900 mAh battery
Front mounted fingerprint sensor
Qualcomm Quick Charge 3.0 support
USB-C connector
802.11ac Wi-Fi
Bluetooth 4.2
DTS Audio with support for 24-bit/192 kHz output through the headset jack
32 GB storage (a 64GB version is also available in Taiwan)
4GB RAM
micro SD card slot (up to 128GB)
8 MP rear camera and 5MP front camera
thickness – 7.1 mm
weight – 430 grammes
size – 240.5 x 163.7 x 5.8 mm
Optional Z Stylus pen supported available and compatible (but not included)
Silver or Grey colours
Recommended Retail Price £299
Looking at the specs, a few things need mentioning. The processor isn't one which is common in tablets at the moment. From looking at benchmarks on the internet it seems roughly equivalent to a Snapdragon 652 which is encouraging. The GPU seems a bit weaker than the 652's, but in other respects, it's actually better. Only the 32GB Wi-Fi variant seems to be available internationally; the 64GB variant seems to be Asia-only. Interestingly, while an LTE model was mentioned when the device was launched earlier this year, this never seemed to materialise. The front-mounted fingerprint sensor is a cool addition, I like the added security and convenience it offers. The price is mid-range, not as high as an equivalent Samsung Galaxy Tab S2 9.7 or iPad Pro 9.7.
Hardware
I must say, the hardware is lovely! The Asus Zenpad 3S 10 has an all-metal, diamond-cut, chamfered design which is probably the best looking android slate at the moment. On unboxing, you come across a nice tablet with a USB-C cable and charger. Yes, it gives a very big nod to the design of the iPad Pro, but manages to be lighter and just as svelte with even smaller bezels (at 5.8mm). It's easy to hold for long periods and there is no creak or bend in the chassis that I could discern. I have the space-grey colour and it can be a bit of a fingerprint magnet. On the front of the display, there is a hardware home button a la Samsung's implementation which doubles as a fingerprint sensor. It's quick and works really well. The capacitive buttons are a bit close to the home button, so sometimes you can miss-hit and end up on the home screen. But this is a minor gripe, which I can learn to avoid.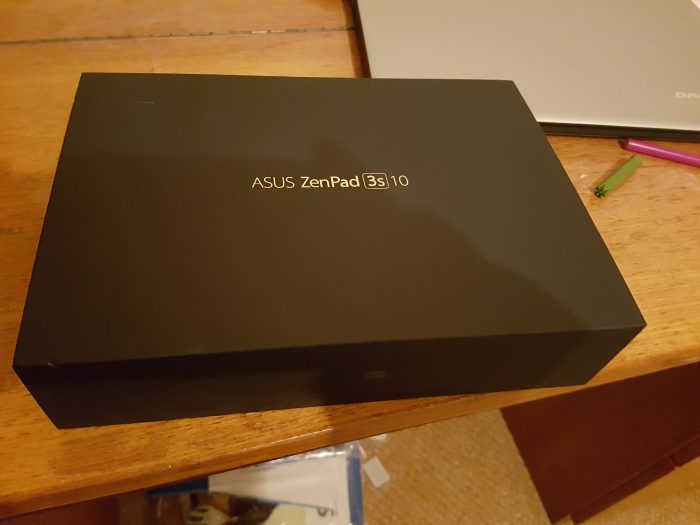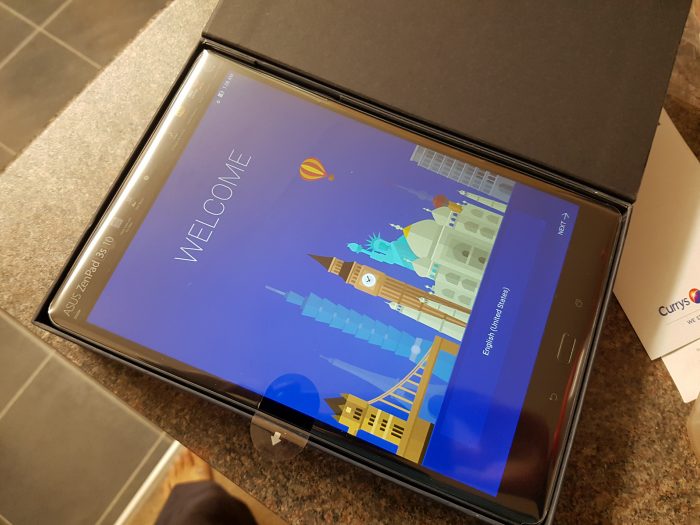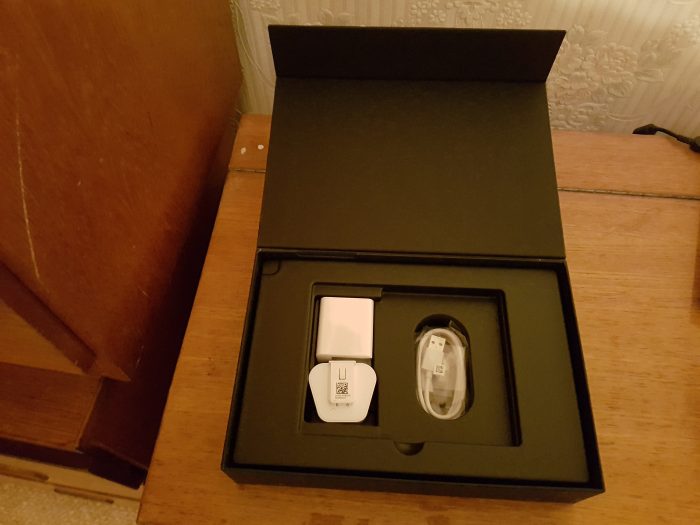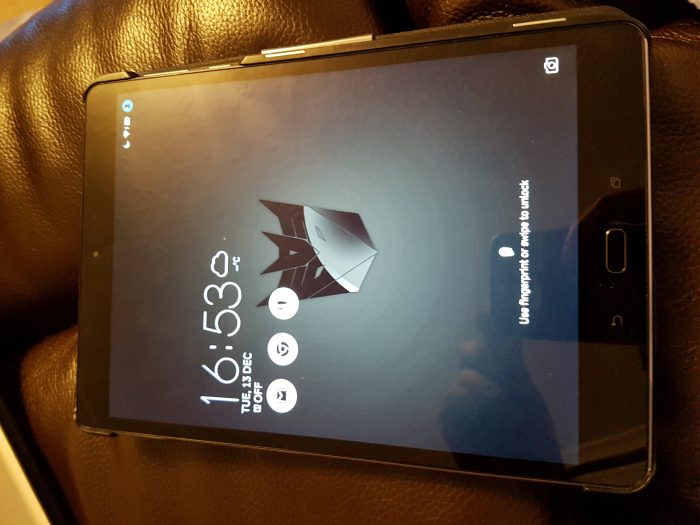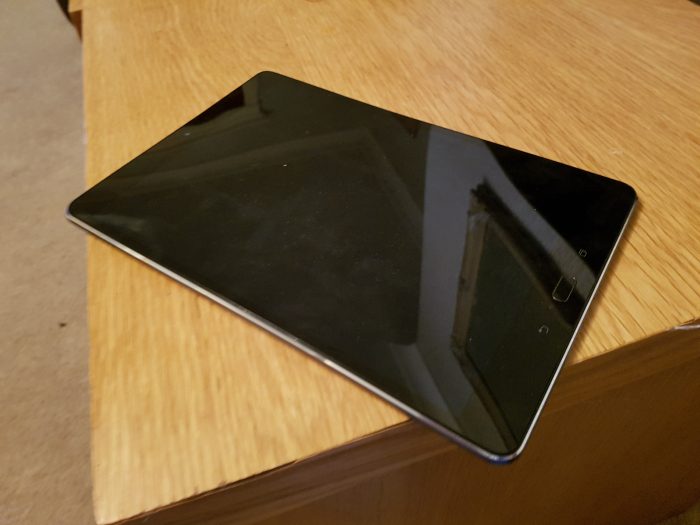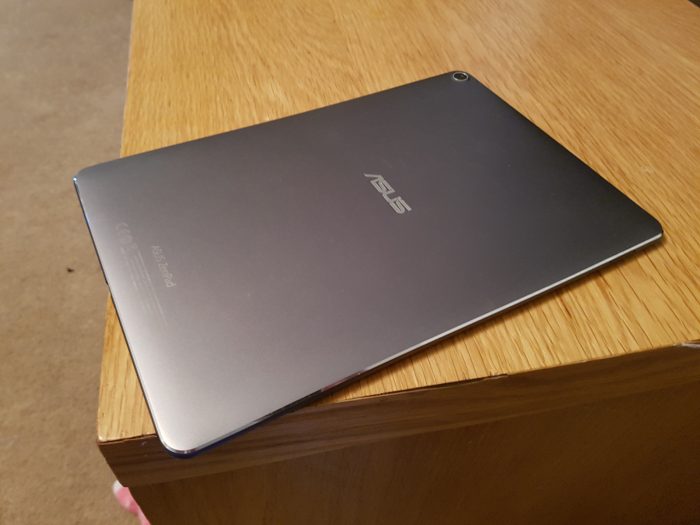 Display
On the front, we have a 9.7in 2K 2048 x 1536 IPS display at a 4:3 ratio. This seems to be the way that tablets are going. Most are now appearing to shun the 16:9 ratio that most Android tablets in the past used to employ. Interestingly the iPad series has always had this aspect ratio. The display itself is sharp and bright, however it isn't as punchy as the AMOLED panel in the Galaxy Tab S2. That's not surprising I suppose, what with the different screen technology employed. As someone who has had a number of Samsung AMOLED devices for a couple of years, I could definitely discern the difference. Also, whilst video content looked superb with the Tru2Life technology, the display on the the Asus Zenpad 3S 10 seemed slightly faded and less sharp when just navigating the stock Asus ZenUI Launcher. This may be a design aesthetic issue or a scaling issue, but it disappeared when I changed over to Nova Launcher.
Software
The Asus Zenpad 3S 10 runs Android 6.0 with the Asus ZenUI skin on top. an Android 7.0 Nougat update is allegedly in the offing, but no timescale has been given. Now, I'm not one of those purists that only loves stock android. Over the years, I have liked nearly every manufacturer skin (TouchWiz, Sense, even EMUI, etc), some more than others. They can give useful features, often they also look nicer. However, this is probably the first time that I have really HATED one. ZenUi does have some good features, but nothing that couldn't be done with few apps and customisation. It looks terrible, with horrible icons and too many cartoonish features. It has needless customisation when none was required (the lock screen for example). There was also the display issue I've mentioned above. I very quickly changed my launcher to Nova. This isn't something I do lightly, but it just looked horrible!
Additions
Asus also have preloaded a lot of apps on the Asus Zenpad 3S 10. Some of these I'd probably download anyway, like Google's Apps suite (Docs, Sheets etc), or Facebook. But then there a few apps which just do not make any sense. For example, Instagram. I mean really? On a tablet? There is a theme store to customise the launcher, but even those seem quite cartoonish.
Some of Asus' own apps though are quite functional. Supernote seems the best, which is an app for using a stylus to make notes etc. Now there is such a thing as the Asus Z Stylus. However, it isn't included with the Asus Zenpad 3S 10, and I have yet to buy it so can't pass comment. Some of these apps aren't very good – the File Manager app is especially weak. I mean, even Samsungs stock one is better, and it does look hideous to me.
Also, the keyboard seems hideous, and there is a theme store for this too. But alas, I genuinely didn't find a good one. I quickly went to Swiftkey.
It's not all bad. There are a few quick shortcuts which are useful. Holding down the recent apps button for a screenshot is one example. The customisations to clear apps in the recent apps tray too is a neat addition. But I feel that Asus really needs to sort out the aesthetics overall.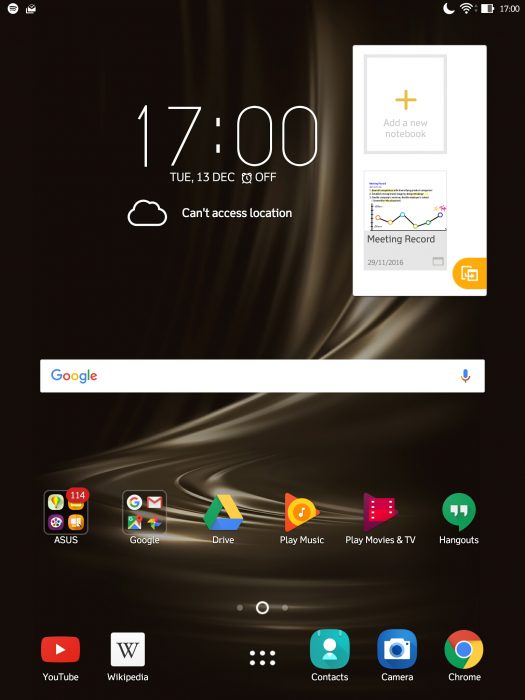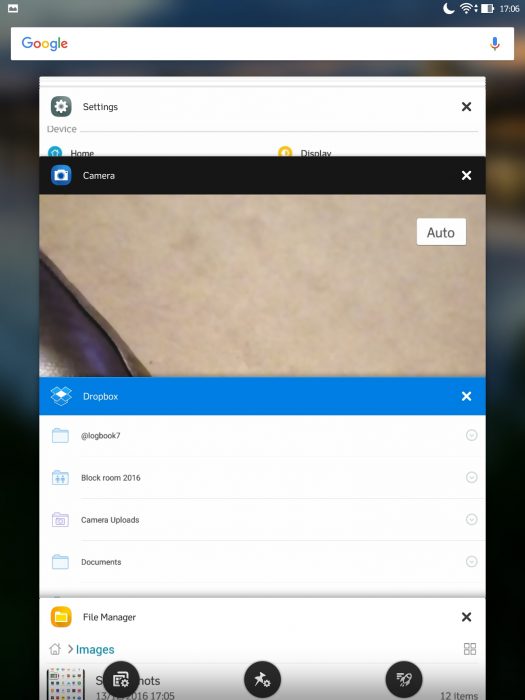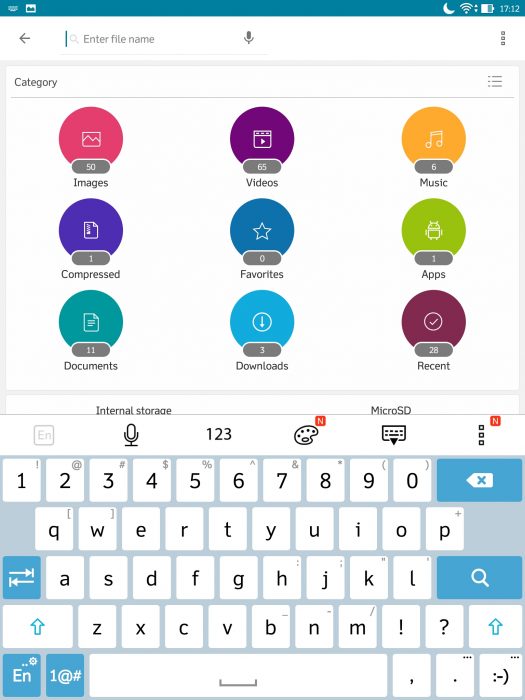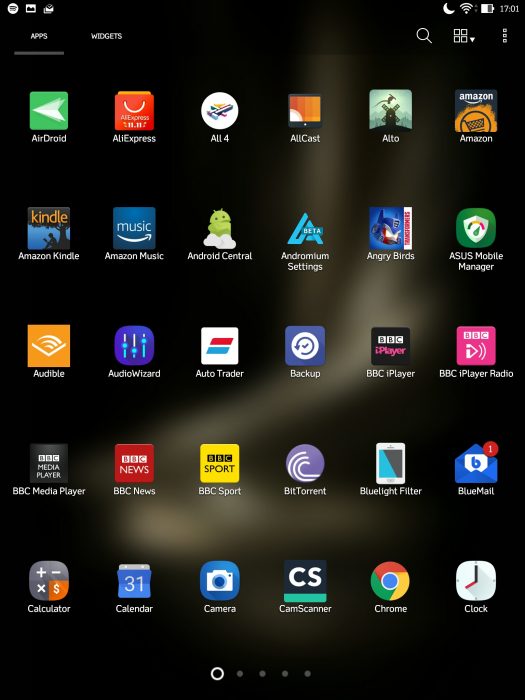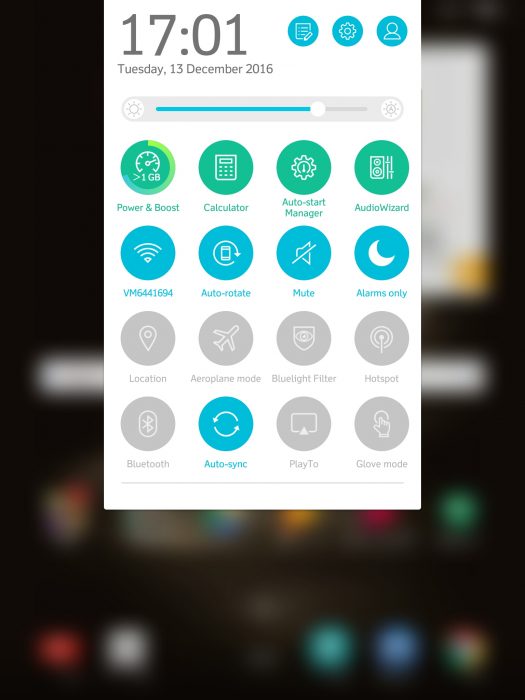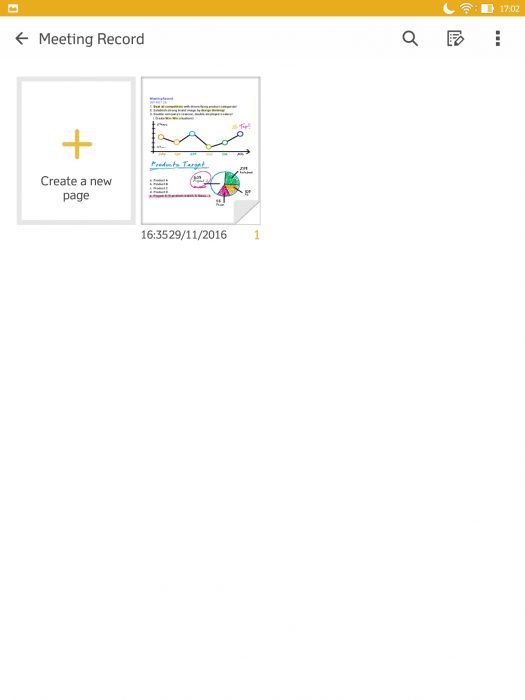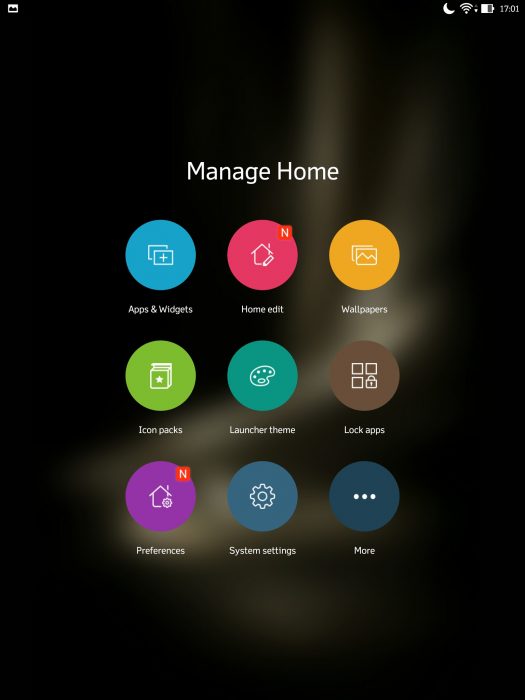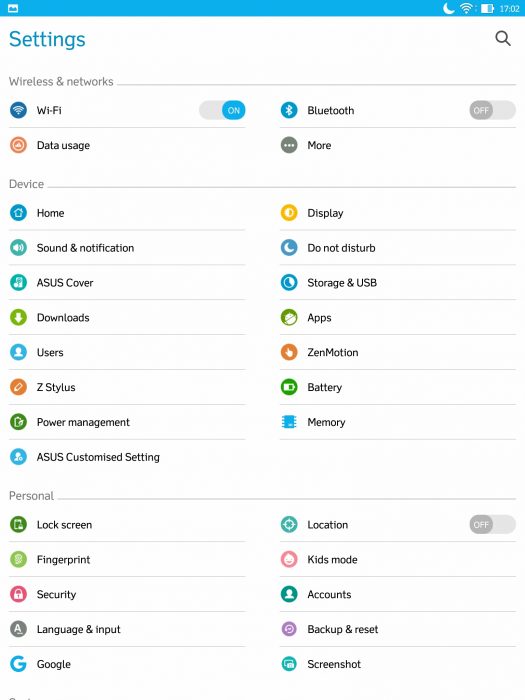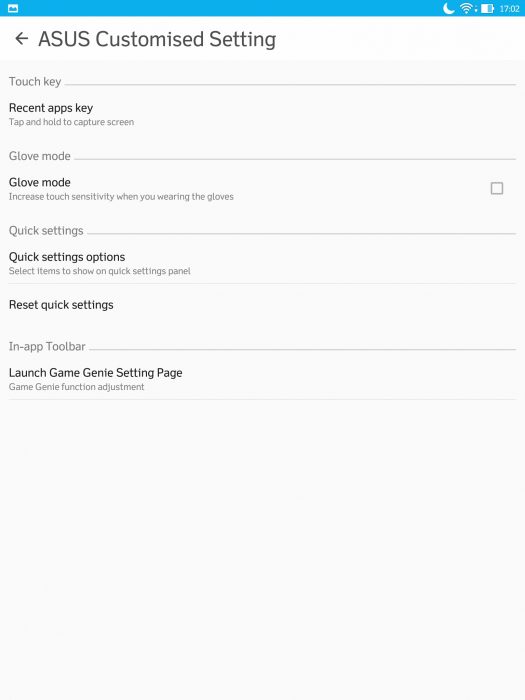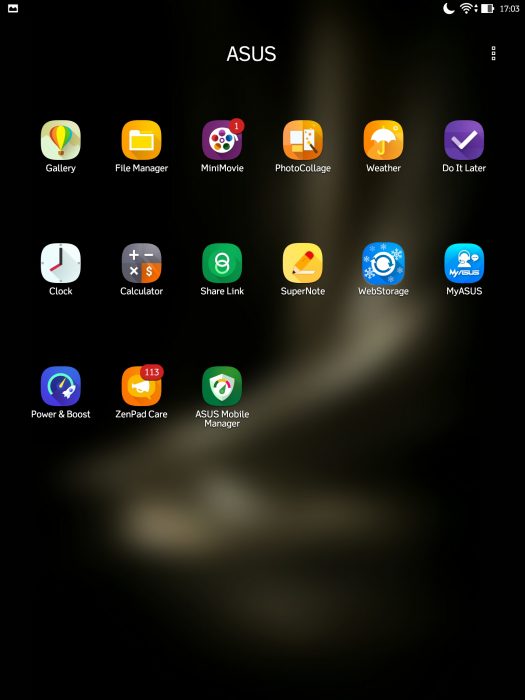 Now, after a bit of Nova customisation….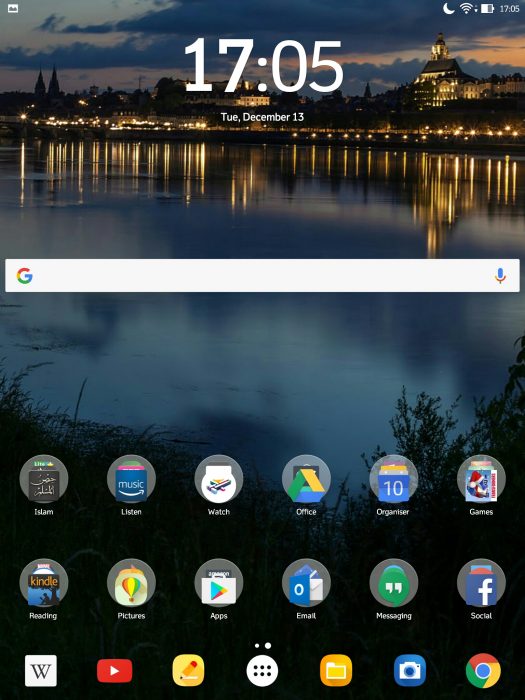 PERFORMANCE
The MediaTek processor in the Asus Zenpad 3S 10 seems plenty capable from the apps I have used when coupled with the 4GB of RAM. It isn't spectacular, but I've not seen a stutter when multitasking or playing heavy games. Some of the latest titles may struggle with the GPU. For day-to-day 'tablet-y' activities, it seems to work well if unspectacular. There was the occasional lag in the interface, but I think that is a software issue as it mostly disappeared after installing Nova. Wi-Fi connectivity seems a bit hit-and-miss. Whilst it has the latest 802.11ac standard, I found it often dropped my fibre optic broadband connection. This is something I've never noticed on any of my other mobile devices. I have noticed dropouts with my Linux laptop, so I wonder if it is a kernel issue that needs optimising by Asus. Certainly, the other android devices I've had haven't had this issue.
AUDIO
Normally, tablet audio isn't anything to write home about. But DTS audio and five-magnet stereo speakers dotted around have full support for high-res audio. It also includes what Asus calls a 'Smart AMP' to polish the sound up to suit the speakers. They get really loud and have good range. Yes, it can get tinny at highest volumes, but it's still much better than many others out there. Watching video is great and the listening to songs is also brilliant. If you attach headphones (through that strange thing known as a 3.5mm jack!) then there are some further optimisations that Asus does to optimise the sound. I am not an audiophile, but it sounded good to me!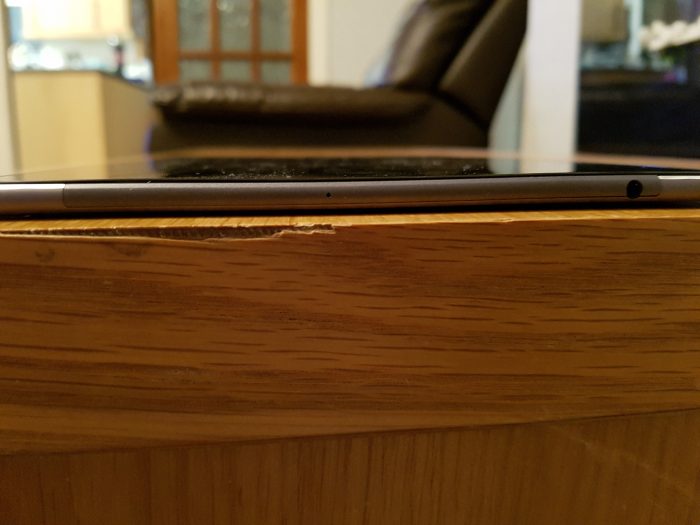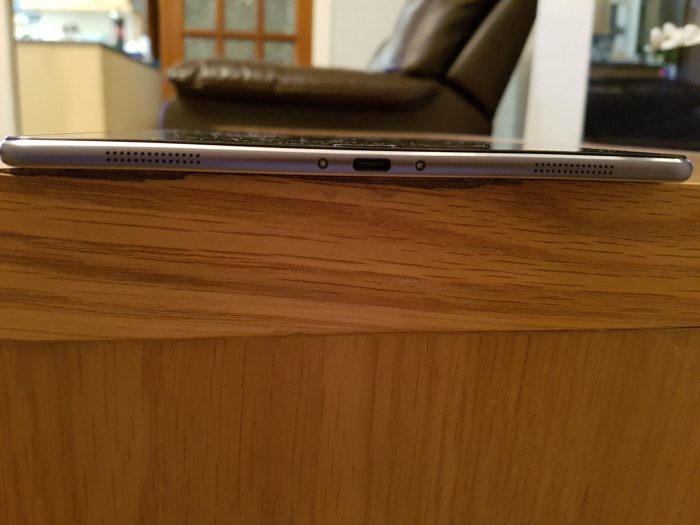 Video
As mentioned earlier, the display is gorgeous. Even though the 4:3 ratio means some black bars on the screen, videos are plenty big with good colour reproduction. As a multimedia device, the Asus Zenpad 3S 10 is right up there with the Galaxy Tab S2 9.7 and iPad Pro 9.7.
Cameras
Frankly, the less said about these, the better. First, don't be that guy that uses a tablet as their camera. Secondly, especially don't use this one. Seriously. Its supposed to be 8 MP, but the pictures look rubbish. They're washed out and blurry, with an imprecise focus. The selfie camera is also rubbish. Asus have put different modes etc. but it doesn't change the fact that it just isn't very good.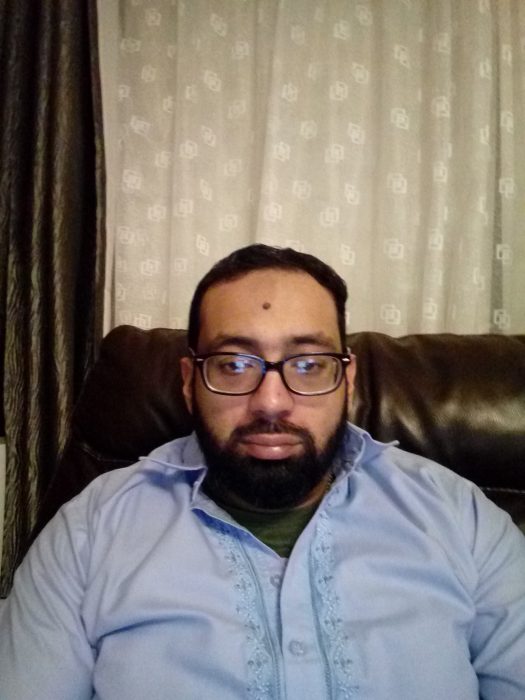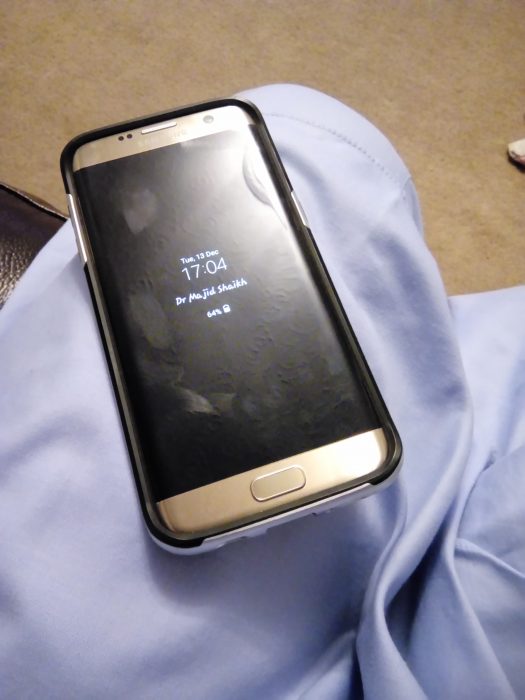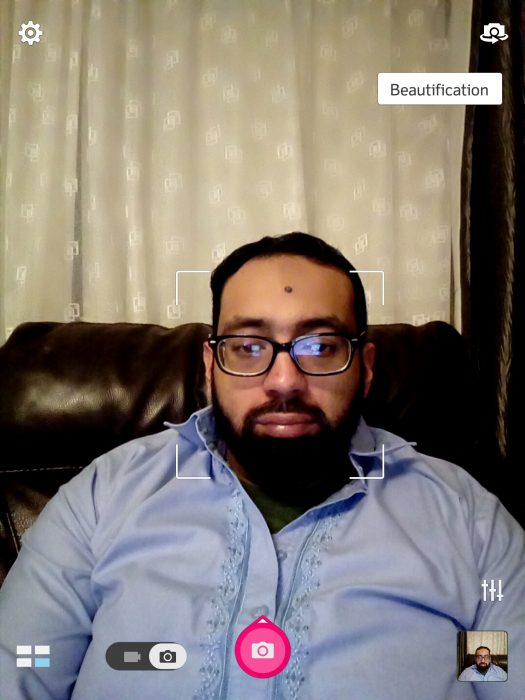 BATTERY
Battery
Hmm, I was surprised by this. Even though there is 5900mA battery in the Asus Zenpad 3S 10, I didn't find battery life particularly fantastic. I am not a big fan of battery benchmarks for tablets, as peoples' use of them vary so much. But on average, we are looking at about 8 hours screen on time. This in comparison to the Galaxy Tab S2 which gives about 12 hours. It's not a dealbreaker by any means. On the whole it was adequate, but more often then not I found that even whilst it had just been sat there on my table, it had drained significantly.
CONCLUSION
Overall, I think this is a great device at a good price point. The higher-end android tablet segment has seen stagnation due to the different dynamics of the tablet market as discussed above. However, the Asus Zenpad 3S 10 is probably one of the best tablets out there. As a multimedia device, it does everything well. Yes, I don't like ZenUI. It offends much more than TouchWiz ever did, but with a different launcher and the SwiftKey keyboard, I've dealt with that. Yes the Galaxy Tab S2 would probably just edge it out overall, but it is a year-old and still significantly more expensive. For me, I really like the Asus Zenpad 3S 10, and I think I may have finally found what I have been looking for.