Part 2 – The Lenovo Miix 3 Review
(Read Part 1 here)
Which Device?
So, the scene having been set, how did I proceed? There were a variety of other options. First the size issue, 8 inch or 10 inch. There were 8 inch tablets by Linx, Lenovo and Dell for very cheap prices (coming up to Black Friday some could be had for as low as £50) . However, having had a Nexus 7 2013 and an iPad Mini in the past, I thought 8 inch would be too small for actual work, after all this was going to be a mobile laptop replacement. it also seemed that most of the 8 inch devices were designed to be used in portrait, whilst the the 10 inch devices were more suited to landscape use. Therefore 10 inches it was.
I had thought of going for the Linx Tablet 10 inch. It was only £129, and came with a keyboard cover as well. The Miix 3 however had a few features that made me choose it. I have got really used to high-density displays. I have a 2K smartphone (Galaxy S6), a 2K Android Tablet (Galaxy Tab S2), and a 4K TV. I really notice the difference in quality when I have any display less than 1080p display (yes I know #firstworldproblems). The Miix 3 has a 1080p display as opposed to the 720p display on the Linx device. The Keyboard cover also seemed to have some interesting other features over the one with the Linx, all for a tenner more. Decision made… Miix 3 it was!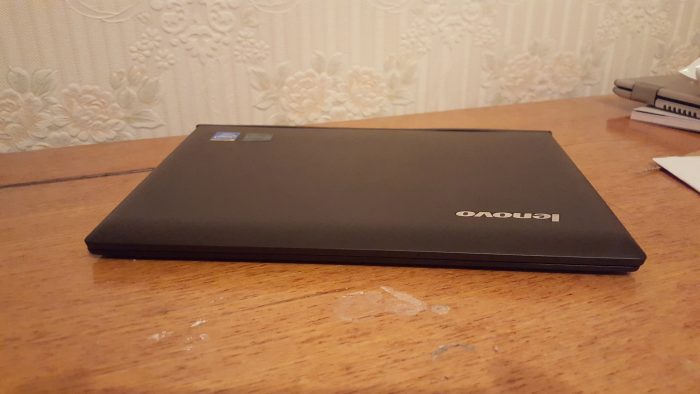 Here are the full specs of the device : –
GENERAL
Release date February 2015
Weight (g) 374.5
Colour Black
DISPLAY
Screen size (inches) 10.1
Resolution 1920×1200 pixels IPS
Touch-Screen 5-point Multi Touch
HARDWARE
Processor Intel Atom Processor Z3735F @ 1.33GHz
RAM 2GB
Internal storage 32GB
Expandable storage Yes
Expandable storage type microSD
Expandable storage up to (GB) 64
CAMERA
Rear camera No
Flash No
Front camera 2-megapixel
SOFTWARE
Operating System Windows 8.1 with free upgrade to Windows 10
Office Office 365 subscription for a year + 1TB Storage
CONNECTIVITY
Wi-Fi Yes
Wi-Fi standards supported 802.11 b/ g/ n
GPS No
Bluetooth v 4.0
NFC No
Infrared No
Wi-Fi Direct No
MHL Out No
Mini-HDMI Yes
Headphones 3.5mm
SENSORS
Compass/ Magnetometer No
Proximity sensor Yes
Accelerometer Yes
Ambient light sensor No
Gyroscope Yes
Barometer No
Temperature sensor No
INCLUDED EXTRAS
Keyboard Dock
Office 365 Licence
Micro-USB charger
If you compare to other similar devices in this price range, you see that this is fairly typical, with an Intel Atom, 2GB RAM and 32GB SSD with expandable microSD storage. If you delve into the full specs, you see there is quite a few things missing. No cellular version, no 802.11ac Wi-Fi. However remember, the price-point necessitates some compromises and I think these are sensible ones.
Hardware 
Utilitarian, functional, discreet, words that can be used to say that the Miix 3 isn't spectacular in its design. Premium it is not, its decidedly plastic and a bit on the heavy side when used as a tablet. However it's perfectly usable and remember that price point! you could get 2 of these for the price of an iPad Mini.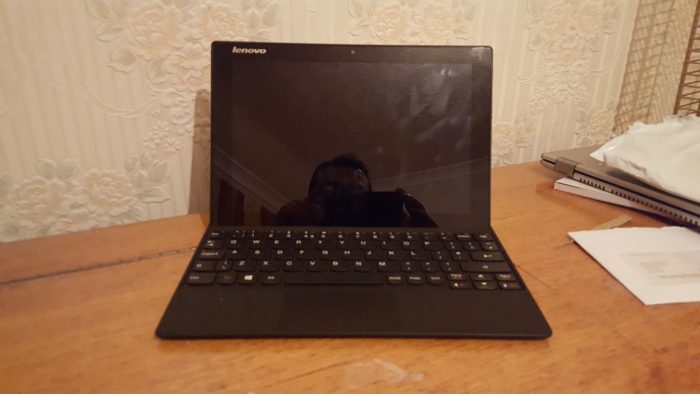 The Keyboard dock is a mixed bag. It has a very similar plastic look and feel to the tablet which is a good thing as the whole package gels well. It connects to the tablet via magnets with which it pairs reasonably reliably. The tablet fits into it in 3 different ways. It can be as a traditional laptop-style dock. It can be a stand, or it can be as a second base. The photos below I show these different modes.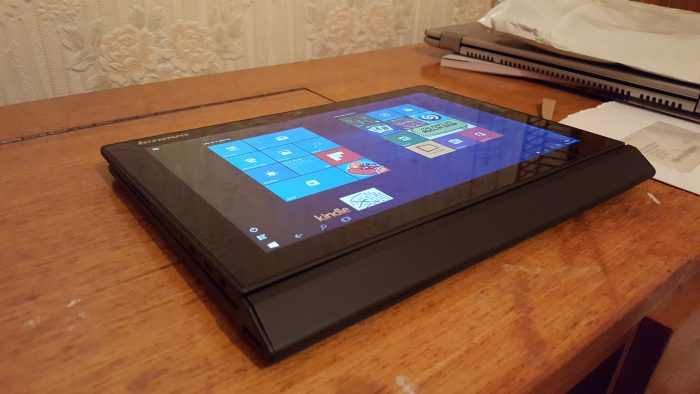 All of this is really good, the problem comes with the keyboard. Its Accutype which is either a pro or con depending which side of the fence you're on. For me, I like the concave Lenovo keys even though the slightly-different-sized keys do mean the odd mistake. However there is a lot of give and flex in the keyboard, so much so it distracts whilst typing. Secondly the touchpad has a habit of missing clicks, taps and at times seems to forget a right-click even exists. It's workable, but not enjoyable typing experience, which is very disappointing from Lenovo, a company that really touts its Accutype keyboards. Gestures apparently exist, but were hit-and-miss, frankly it's easier to scroll by touch instead.
Another point to note is that the device is top-heavy when the keyboard dock is attached. The tablet is definitely heavier than the keyboard dock, something a colleague of mine didn't anticipate, and he ended up dropping it on a hard floor! It is however reasonable sturdy and apart from a few scuffs and a slight knock to the keyboard dock, it was ok.
The Tablet has a mini-hdmi port, a 3.5mm jack a microSD slot and (incredibly usefully) two USB ports. A nice touch also is the Micro-USB charging, makes life a lot easier when out and about and battery was low.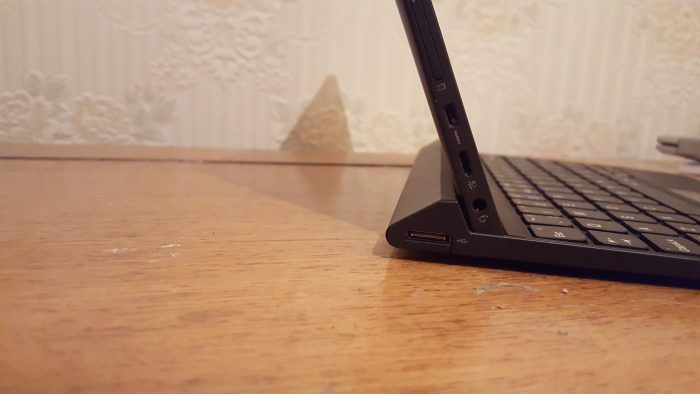 The Miix 3 only has a front-facing camera, as opposed to other devices such as the Linx which as a rear-facing unit too. I've always thought that cameras on Tablets are useless except for document scanning so this was a deal I was happy to take. It's adequate for Skype/Hangout calls, but probably not much more.
Wi-fi has been mentioned above and worked most of the time, I did find it would sometimes be a bit slow to pick a signal after being in Sleep mode for a while though. Bluetooth v4 is a nice touch.
Display
I chose this device over the others in this class because I wanted a 1080p screen. It's decent though not particularly impressive. The resolution is good (224 PPI), and viewing angles are good too. However the brightness is sub-par and the colours often looked washed out. Its also very reflective, you could use it as a mirror in an emergency! All in all, adequate, but nowt special.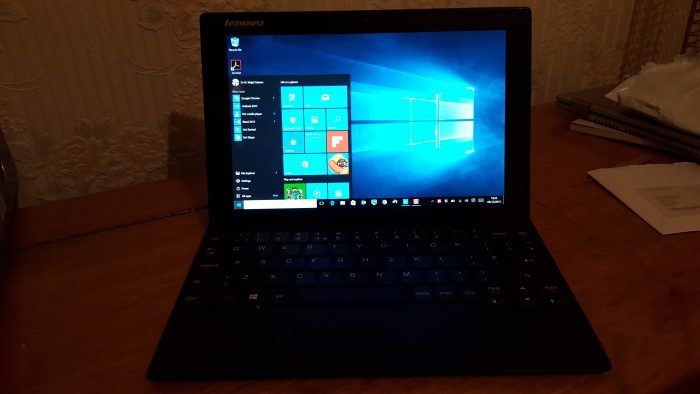 Sound
It might be that I'm deaf. It might be that I am used to higher quality speakers. However the speaker is pretty terrible. Its got reasonable range, but its just too quiet for prolonged movie watching. My Galaxy S6 outperforms its easily.
Battery
Battery life was good, getting around 7 hours. However it took an age to charge, one to definitely leave overnight on a charger!
Software
The device comes with Windows 8.1 which almost immediately updates to Windows 10. Windows 10 has been generally well received and we have covered it here on Coolsmartphone so I don't want to cover old ground. However, there a few points I'd like to make. I personally think that Windows 8.1 was a better tablet OS then the standard Windows 10 desktop (controversial I know). I think it's just too difficult to use and manage by touch alone. Microsoft seem to have understood this with "Tablet Mode" which kicks in if you disconnect it from the keyboard. It gives a similar interface to 8.1 and, if you stick to Modern/Metro/Universal/whatever-they-are-called-nowadays apps, then the touch interface is fine. I recall James Pearce (formerly of this Parish) used to complain about devices which are not 10-point Multi-Touch. I think I see his point when it comes to this device. It has 5 point Multi Touch and there are times using the on-screen keyboard is a bit hit-and-miss.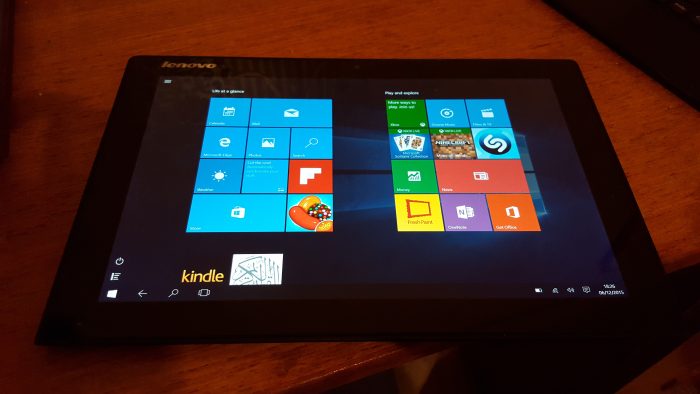 Also of note is the bundled Office 365. It is included free for the first year (about £70) and 1TB of OneDrive storage. If you factor those in, then the price point gets even better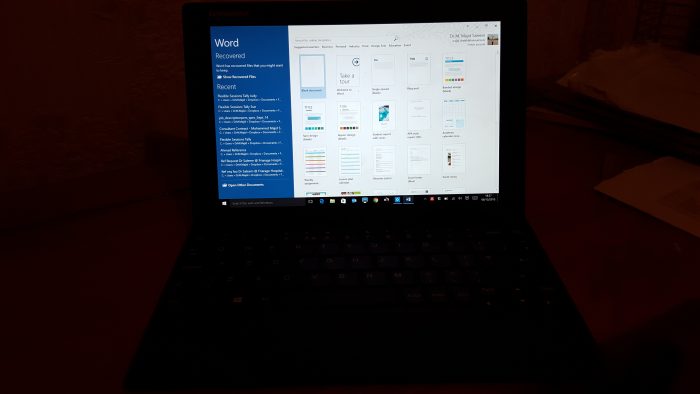 Performance
This is where it gets interesting. There are benchmarks around which show that the Intel Atom here isn't the most powerful chip, and frankly we have more RAM in our smartphones then in this device. I think the real world performance is more important. When you think of the modest needs this device is likely to be used for (web browsing, emails, document/spreadsheet creation, multimedia consumption etc) it does the job competently. Sure heavy multi-tasking, gaming and video editing are out, but it boots quickly and I could have a couple of chrome tabs open, my email client, and an Excel document and it worked fine. There were some stutters if I decided to watch a movie too, but it was a competent performer.
My Use
So what have I been using it for? Well I have used it predominantly as a laptop. I've put a 64GB card with my media to maximise storage. I have on occasion used it as a Tablet (for reading my Kindle Books) and a bit of web browsing. I have also used it in stand mode whenever I watch some video. But most of the time it's been emails, documents, presentations, letters etc. Boring office-work. In that scenario it was done the job adequately. The Keyboard gets annoying if you are doing prolonged work. I started these articles on the device, but quickly moved back to my desktop. Corners have to be trimmed to keep to this price point and I understand that.
In amidst all of that usual use though, I did have another interesting experience. I wanted to sell my old LG G2, I'd bought this off eBay and it had already been rooted and G3 ROM had been flashed by the previous owner. I didn't mind this having modded previous devices I had owned and had got a good deal. However now, it was basically superfluous to requirements and I thought I'd make a quick buck selling it (more of my cheapskated-ness showing here!). I thought it best selling it with a stock LG Lollipop ROM. Lets try the Miix 3 I thought. It worked absolutely fine! Using the Miix 3 I was able to download drivers, flash the ROM and unroot the device with the G2 connected to the Miix 3 via the USB ports on the keyboard dock. I thought that was pretty cool for a tablet, can you do that iPad Air 2?
Answer the bloody question!
So after all of these words of writing, what do I think to the Miix 3? From a tablet point of view I will harp back to this old chestnut. Whilst the idea of a convergent device with different laptop and tablet modes is great. The app ecosystem on Windows 10 simply isn't there. Therefore using the tablet as a tablet is full of compromises. Using the tablet with a full desktop (rather than Tablet Mode) is frankly annoying and has you searching for the keyboard dock again. And if you are going for media consumption, than the average display and poor speakers will have you reaching for your iPad/Android Tablet. (Once I got so annoyed with it whilst watching a TV show, I actually used it to prop up my my Galaxy S6 and watched it on that instead!).
As a laptop however, it doesn't fare too badly. Yes it's underpowered, but for modest use-cases it does the job. What about for my use-case? I wanted a cheap work laptop. It does the job that I need it to do. Frankly I don't NEED anything more from such a device. It does what I want, competently enough. The fact that it's a full Windows 10 means that I can do the odd more esoteric things (like messing with rooting and flashing) once in awhile.
So can the Miix 3 replace your laptop? I think yes it CAN, but you probably wouldn't WANT to. If you have modest needs, using it for occasional or a specific use-case, a tight budget or are permanently living in the doghouse because your wife is fed up with your relentless tech spending, then it would easily do most things you need. However, when you start going beyond modest use, the compromises and limitations of the hardware and build come to the fore. It'd be good as a secondary device but would be difficult to recommend as a primary device. It isn't the most pleasant of experiences at times and for any kind of heavy use, you find yourself grabbing another device. Coming back to myself, I think if I didn't have my home desktop, I'd struggle to fulfill all my computing needs with this. It has however been a good secondary device for me and I think it would however be a good first "proper" computing device for my kids.
Maybe though the price will be the killer feature.  It is remarkably good value for money, especially when you factor Office 365 in. £139 is almost a "disposable" price-point and as such, I think I can cautiously recommend it. It aint the best tablet, it ain't the best laptop, but it'll do the job well enough and save you a helluva lot of money!
Anybody have any similar experiences? or any questions? Sound off in the comments below!