Hmmm… A roaming service that lets you use your phone abroad for no additional fee? Just as if you were in the UK? We've totally never heard of that before, and it's in no way similar to anything any other network is doing…
Today EE, who got the jump on other networks by rolling out their Superfast 4G first, unveiled a new three-tier pricing structure for new and upgrading EE customers. There's obvious similarities with Three and Vodafone (with their Sky Sports offering) on the first tier, which is…
·         4GEE MAX – These plans combine the largest data bundles, the UK's fastest 4G speeds, and inclusive access to the BT Sport App for the duration of the plan. If you're on this plan then you can use your full, text and data allowance to 'roam like home' when abroad in the EU.
Yes… Just the EU guys. Remember the EU? That thing we're actually still part of, but the place where our money is now worth a lot less? I'm saying nothing. Either way, at present, there's 28 member states in the EU. Three have quite a few additional countries on their "Feel at Home" service – which we tested just a few days ago actually.
Also while I'm here, it's worth pointing out that (if we'd stayed in the EU) there'd be no roaming fees at all from June 15th next year. So EVERY NETWORK would operate like "Feel at Home" in Europe. Now you're effectively having to pay more for the "MAX" plans to get this functionality. Doah.
In addition there's also..
·         4GEE plans. These will offer unlimited UK minutes and texts, "generous" data allowances and 4G speeds that are as fast as fibre broadband (up to 60Mbps) when users are out and about. If you're going abroad then you get unlimited minutes, texts and 500MB of data a month. Again though, this is only in the EU.
This again isn't quite as good as the Three offering, which offers 42 countries including America. They also include your entire allowance for no additional cost on every plan.
If you just want speed, check out their new Essentials plans ..
·         4GEE Essential plans, offer access to 4G speeds of up to 20Mbps on the UK's best network, with a handset from as little as £16.99
Visit www.ee.co.uk for more info, but we've also got a table that shows you the pricing for each plan on offer, or if it won't fit on your screen you can click this thumbnail to see them in glorious Technicolor..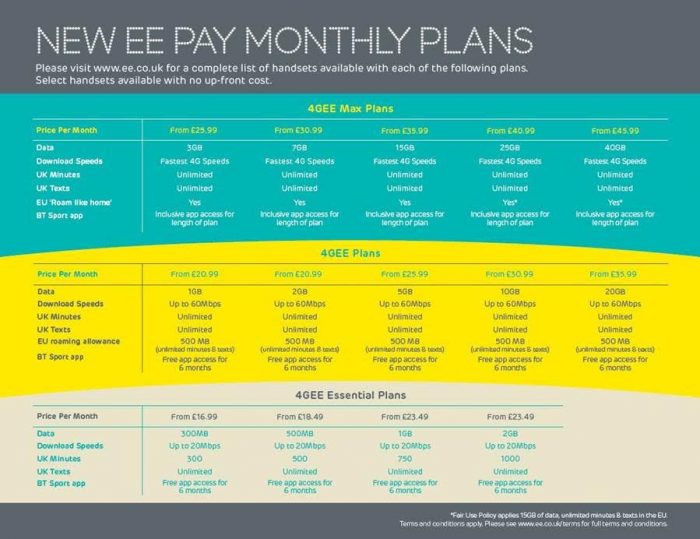 4GEE Max plans
Price per month
From £25.99
From £30.99
From £35.99
From £40.99
From £45.99
Data
3GB
7GB
15GB
25GB
40GB
Download speeds
Fastest 4G Speeds
Fastest 4G Speeds
Fastest 4G Speeds
Fastest 4G Speeds
Fastest 4G Speeds
Minutes
Unlimited
Unlimited
Unlimited
Unlimited
Unlimited
Texts
Unlimited
Unlimited
Unlimited
Unlimited
Unlimited
EU roam like home
Yes
Yes
Yes
Yes **
Yes**
BT Sport
Inclusive app access for length of plan
Inclusive app access for length of plan
Inclusive app access for length of plan
Inclusive app access for length of plan
Inclusive app access for length of plan
4GEE plans
Price per month
From £20.99
From £20.99
From £25.99
From £30.99
From £35.99
Data
1GB
2GB
5GB
10GB
20GB
Download speeds
Up to 60Mbps
Up to 60Mbps
Up to 60Mbps
Up to 60Mbps
Up to 60Mbps
Minutes
Unlimited
Unlimited
Unlimited
Unlimited
Unlimited
Texts
Unlimited
Unlimited
Unlimited
Unlimited
Unlimited
EU roaming allowance
500MB of data (unlimited minutes & texts)
500MB of data (unlimited minutes & texts)
500MB of data (unlimited minutes & texts)
500MB of data (unlimited minutes & texts)
500MB of data (unlimited minutes & texts)
BT Sport
Free app access for 6 months
Free app access for 6 months
Free app access for 6 months
Free app access for 6 months
Free app access for 6 months
4GEE Essential plans
Price per month
From £16.99
From £18.49
From £23.49
From £23.49
Data
300MB
500MB
1GB
2GB
Download speeds
Up to 20Mbps
Up to 20Mbps
Up to 20Mbps
Up to 20Mbps
Minutes
300
500
750
1000
Texts
Unlimited
Unlimited
Unlimited
Unlimited
BT Sport
Free app access for 6 months
Free app access for 6 months
Free app access for 6 months
Free app access for 6 months