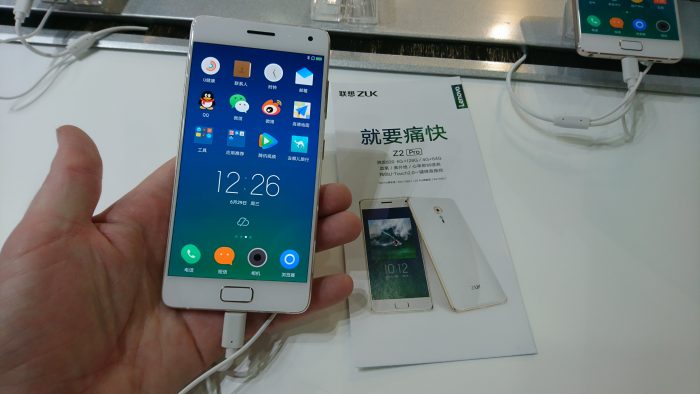 Some of you more ardent fans may have heard of us mentioning the ZUK brand before. It's a sub-brand of mega corporation Lenovo. Well, while I was roaming the halls of MWC Shanghai I came across the Z2 Pro and I was very keen to see what it was all about.
Unfortunately, the staff on the stand were nothing more than eye candy for Chinese businessmen, so were not much help. However – fear not – I was able to garner some of the specs from a rare find at the event …. an English Specs sheet.
Here is a video going through the phone.
The phone itself feels really well built and it's nice and light. It also looks amazing in the white and gold trim that is on show here – and so it should as this is the brand's flagship product. It has more than enough in the terms of specs to warrant that position as well, as we can see from the list below.
CPU: Qualcomm Snapdragon 820 14nm Kryo Quad-Core 64 bit Processer, 2.15GHz
GPU: Adreno™ 530 3D 624MHz
RAM 4GB/8GB,LPDDR4 Dual Channel 1866MHz
Storage 64GB/128GB,UFS 2.0(Gear3)5.8Gbps
OS: ZUI 2 Based on Android 6.0.1
Screen: Corning Gorilla Glass Touch Screen,1920*1080 Super AMOLED, 424 PP
Size:  5.2 Inch
Visible Angle: 178°
Resolution: 1920*1080 Super AMOLED, 424 PP
Dual Camera: 8.0M front camera and 13.0M Back Camera, support Auto Focus and OIS/EIS
Ports: USB Type C, 3.5mm jack
Navigation     GPS+GLONASS Navigator
Sim Card: Dual Nano SIM card
Service Provide: Unlocked
Band:-TDD-LTE Band 38, 39, 40, 41  FDD-LTE Band 1,2, 3,4,5,7,8,20  TD-SCDMA Band  34, 39  WCDMA 850, 900, 1900, 2100 MHz  CDMA2000 ( 800 MHz)  GSM/EDGE( 850, 900, 1800, 1900 MHz)  CDMA( 800MHz)
WiFi: 802.11 a/b/g/n/ac Support 2.4 GHz and 5 GHz
One thing that stands out here is that this phone has been designed as a world phone and it has borne the UK in mind as it looks like there is going to be support for the main bands that our networks operate on.
According to the official looking ZUK website the phone will retail for around £290. This makes it a cracking bargain, especially with the price increase that is about to hit the current low-cost flagship champion the OnePlus 3
Unfortunately, we have been hearing some stories circulating the interwebs that this phone will never make it to our shores in an official capacity. However, like most of the devices I was able to see at MWC Shanghai it can be purchased through import agents. This is a massive shame as the phone looks like it good make some serious waves in the industry.
We will try and secure a review unit for the site and keep you updated on the progress of that, in the mean-time here are some more pictures of the device.