Imagine having a smartphone made of metal and glass, beautiful design, a great quality 16 megapixel camera, 2K resolution display and a fast fingerprint reader on the back.
Now think what a device like that might cost you?
£400? £450………..
Well, what if I said you can have all that, plus expandable storage, a large battery and a great VR experience for just £300 on PAYG?
Before now there have been a few different tiers of device offered by Vodafone, these often get yearly upgrades such as you may have seen on the Prime 7.
However we now have a new top tier taking over from the Ultra. This is a high end, premium-tier phone that, whilst it costs a bit more, doesn't hold back on premium materials or the overall experience.
This is a review on the latest and greatest from the red network – the Vodafone Smart Platinum 7!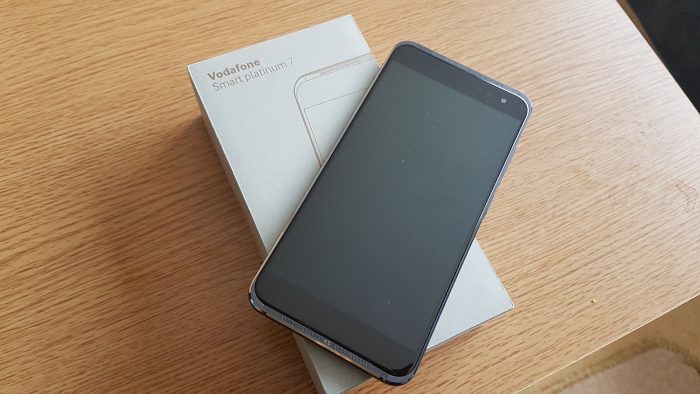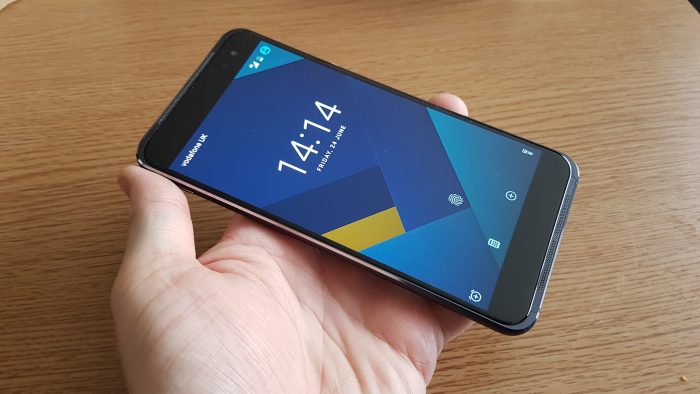 On the front is a beautiful 2K resolution AMOLED screen which is up there with the best of them. It produces stunning colours and deep blacks and is easily one of the best displays on a smartphone today.
With a resolution of 1440 x 2560 pixels, the 5.5″ screen has a huge 534 PPI. The resulting screen shows off your content just as it wants to be. It's great for web browsing and even better for streaming HD movies or taking photos on the impressive camera.
When it comes to your smartphone, the screen is one of the major things you look for as it is the part of the phone that gets the most use. With the Platinum 7, Vodafone have done a great job at putting in the best.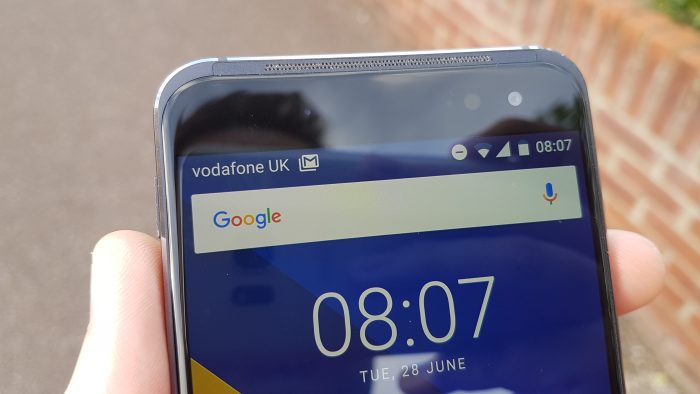 Above the screen is where you will find the light sensor which adjusts your phones brightness based on your lighting conditions, this not only helps save battery but also gets used to put the screen on standby when you raise the phone to your ear in a call.
Next to this is the impressive 8 megapixel 'selfie' camera which most people will use for apps such as Snapchat and for taking those all important selfie photos however, with an 8 megapixel sensor this will also produce impressive results for video conferencing too.
Whilst you might be thinking that's all you get up top, if you look closely you'll find one of the twin front-facing speakers which make up the frame. When on full volume they are both loud, very clear and ideal for watching video playback.
Below the screen you will notice no buttons at all, not even touch sensitive ones, this is because all navigation is done via the touchscreen options instead.
What you do get below though is the other front facing speaker which, as I have mentioned earlier, is very impressive in both volume and sound quality.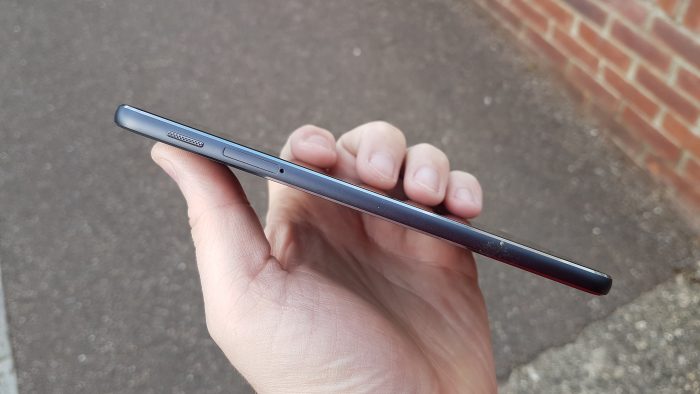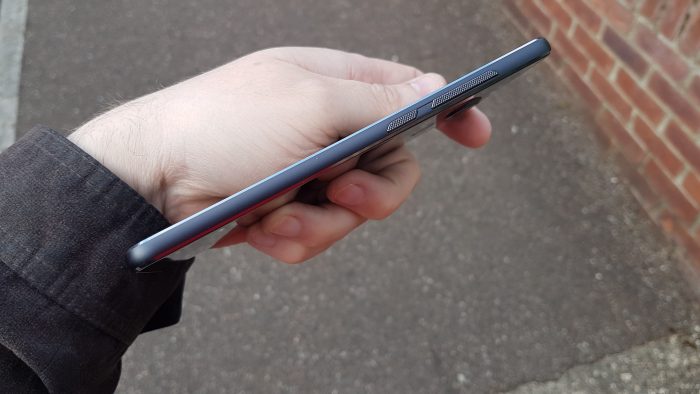 On the left side you find a single button at the top and a pin hole to eject the Nano SIM tray which also takes a microSD card if you want to expand the storage.
This single button up top is actually a dedicated camera button, something we do not see a lot of these days as a lot of manufacturers miss this out and instead use the volume button for taking photos.
Whilst this is nice to see included, just watch your positioning of your fingers when taking a photo as you might accidentally block the camera.
Over on the right side you get the more traditional button layout with volume up and down at the top with a single button below for power and putting into standby mode.
All the buttons are really well made, feel great and have a texture to them so you do not even need to look at the phone to know you are pressing them.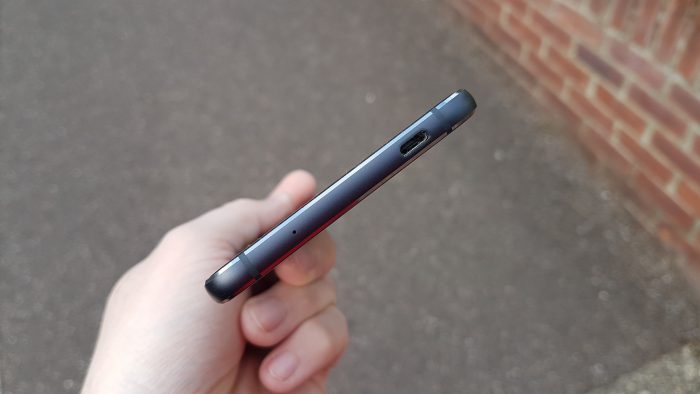 At the bottom you have one of the microphones on the left hand side with a microUSB port moved over to the right side instead of in the middle.
Whilst USB Type-C is becoming more popular in 2016, it is nice to see the older, more popular standard included here, especially if you have other chargers at home or work when you need to top up the battery.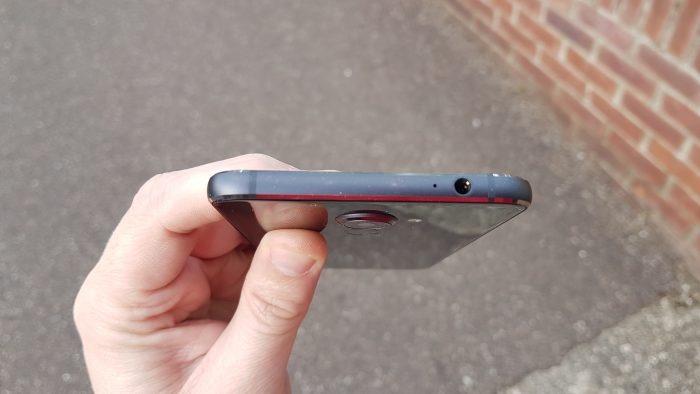 Up top is where you have the other microphone for noise cancellation as well as the standard 3.5mm headset jack. This will allow you to use either your own set or the supplied one in the box.
The one you get included is OK for music on the go, but serious fans of music will want to get a better quality set and use higher quality audio to get the best experience possible.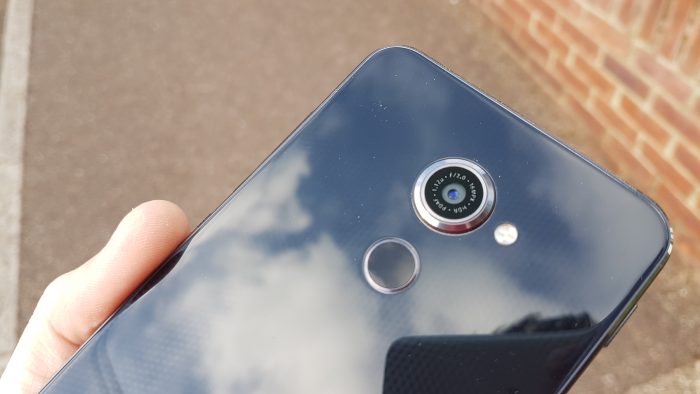 The camera on your smartphone is a very personal piece of equipment.
For some it may be their only camera so they want to make sure any photos taken on it are good enough quality to share on social media, or print, which a lot of people still like to do and keep the memory in a frame somewhere.
The Platinum  7 packs an impressive 16 megapixel back camera with 8 megapixel front facing for video calls or selfies, in reality you are not going to be beating the flagship quality from the Samsung S7, just remember that is a near £600 smartphone.
What you do get though is a very good quality camera that in the right light can impress even the high-end camera enthusiasts with phase detection auto-focus keeping everything in check and a bright LED flash to help boost the lighting in even pitch black conditions.
The software for the camera has a few of the options you would expect, such as panorama mode and HDR as well as a manual mode allowing you to control all options from shutter speed to focus levels, there really is a lot you can do with this camera.
Video recording makes full use of the large camera sensor and allows you to record a maximum resolution of 4K, and whilst not everyone will want to record in this, it does allow you to have more control over editing if you were using some fancy computer software to put together some content.
The video quality is decent as is the audio recording quality also recorded and on par with a lot of mid to high end devices in 2016 – nice to see.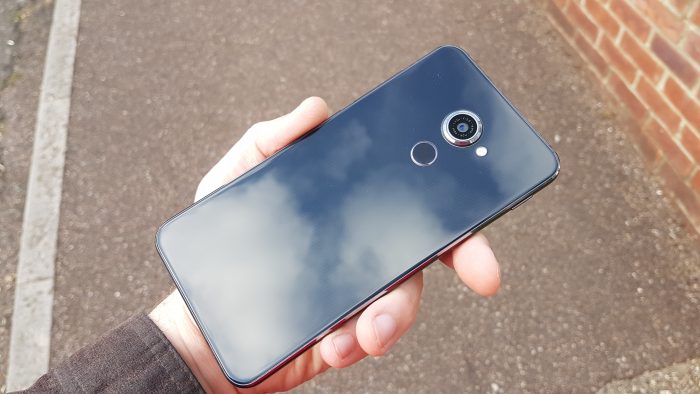 The back of the Platinum 7 is all glass and looks fantastic. It is also a bit of a fingerprint magnet, so make sure you have a cleaning cloth with you if you hate that sort of thing.
The camera is raised thanks to a large surrounding ring, I would imagine the camera sensor is large at 16 megapixels so it needed to be like this or make the whole phone thicker instead.
You also have the single LED flash which is ideal as a flashlight using the built in option and it is VERY bright indeed, just do not shine in anyone's face by accident!
Below the camera is something new for a Vodafone branded device, and that is a fingerprint scanner placed in a small circle which sits flat to the rest of the smartphone.
This scanner is a quick way of not only unlocking your device, but a lot of apps now allow fingerprint ID to authorise logins or purchases. This will even work well with Android Pay which is now available in the UK.
The battery comes in at a large 3000mAh in capacity, which was more than enough to get me through a day of standard use. For me this is some music in the morning, 20 minutes of Netflix over lunch, 30 minutes of music on the way home as well as 2 Gmail accounts and social networking.
With 3GB of RAM and a Snapdragon 652 Quad-Core processor you are not getting the top of the range 820 power, but on a device like this you are getting more than you will need and it won't have a big impact on battery performance.
Storage comes in at 32GB built-in, which is very good considering devices like the iPhone 6s still start at a base 16GB and they're not expandable. With the Platinum 7 you do also get microSD card support for even more space, should you need it of course.
As expected you get all the standard tech – WiFi, Bluetooth, NFC plus of course 2G/3G/4G, however on the Platinum 7 you also get support for LTE-Advanced which Vodafone are branding as 4G+
LTE Advanced is a new network upgrade that works on certain devices (you might see this as Cat6 LTE) but it allows the phone to connect to a network supporting 300Mbps speeds by pairing the signals together.
Forgetting the technical terms this gives you real world speeds of around 100Mbps on the go if in a covered area, and in London on a different 4G+ device I even reached speeds of 180Mbps on the phone.
The Platinum 7 comes with the latest version of Android out of the box which is Marshmallow (Android 6). This is of course not including the beta versions of the new 'N' version due later in the year. This gives the Platinum 7 access to some great power-saving techniques such as 'Doze' and gives the customer better battery life with no input needed and I noticed this in action.
SmartVR Accessory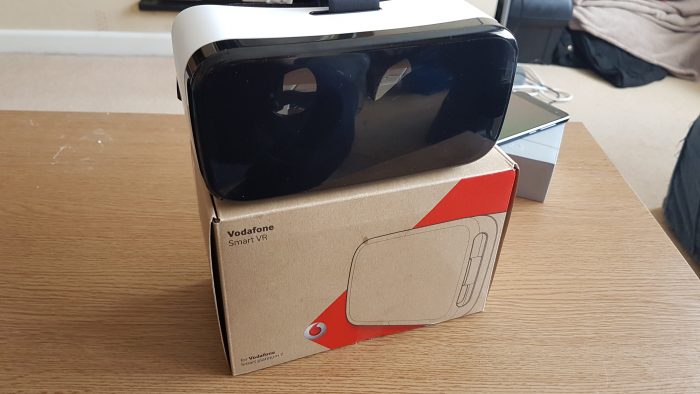 If you are keeping up with the world of Virtual Reality then you will have seen lots of content hitting the internet. This will let you feel like you're involved in a video or world – like you are there – not just watching on your smartphone.
Samsung are a big player with their Gear VR system. This has been very popular in opening users eyes to a new world of content.
Vodafone are also getting in this arena with their own headset –  the Vodafone SmartVR. Amazingly this extra piece of technology comes free for a limited time to anyone who purchases a Platinum 7!
I was extremely lucky in being allowed to take away to borrow. There's only a handful of headsets in the country and this was before launch.
The design is very basic but you simply pair the Platinum 7 to your SmartVR and download the Google Cardboard application – this is the tool to open all the VR content.
Simply download the apps you want, slide the handset into the holder and place the device over your head using the supplied adjustable straps.
Whilst the Android content is not as detailed or as rich an experience as the Oculus and the GearVR from Samsung, no other network is offering a package like this, at this price to customers to get them into the world of VR.
With a 2K screen you get a great feel for being in the moment and not just sitting in your living room with a headset placed over your head, if you have not used VR before you really should try it.
As a bit of a horror movie fan I tried the Insidious 3 VR app and was impressed with the overall experience I had.
There is no real way to show the experience in photos as you really need the device on and moving around to feel for yourself so if you want to check out VR either check out Samsung with their S7 or see if Vodafone have a VR demo to try in store.
Final Thoughts
In a recent review of the Vodafone Prime 7 I said that you no longer need to have a major manufacturer device such as from Samsung and LG to have a powerful and top of the line smartphon.. The Platinum 7 confirmed this statement and then some.
Whilst most network-branded devices are around the £100-£150 mark, the Platinum 7 (at double that) is a costly investment, but you really do get the quality you deserve in a high end smartphone from design to the materials used.
The battery was great in performance and easily lasted me the day, even with quite a lot of multimedia use and some social networking, the 3000mAh battery paired with Android 6.0 really helps in this department.
Just like with my recent experience on the Prime 7 (also made by Vodafone), I especially loved the built-in Message+ application for SMS. This allowed me to leave the phone on the desk and lay on the bed with my laptop and able to send and receive my messages whilst watching Netflix or typing up a review (this one included). A bit like WhatsApp Web using my phone number.
Not everyone will have £300 to pay outright for a smartphone, and there are obvious rivals at this price point especially the One Plus, but with a large 2K screen, 16 megapixel camera, fingerprint sensor and 4G+ networking support you will find it hard to beat the Platinum 7.
Get more details on the Vodafone Smart Platinum 7 on the Vodafone website. It's available on Pay As You Go for £295 and on Pay Monthly starting at £32 a month including a Smart VR headset worth £49.
Vodafone Smart Platinum 7
Build - 97%
Camera - 90%
Software - 90%
Battery - 90%
Value - 90%
An amazing experience at a great price and with VR included the big boys need to watch out