The great thing about the Android operating system is manufacturers in all shapes and sizes can produce some decent hardware at a low price. This is enabling networks to jump on board too, and they're making some of their own branded phones.
Network-branded smartphones are not a new thing, however the quality you can expect is much higher now. Compare these phones to those you were getting just a year ago and they're far better. Plus, with data taking off like crazy, it's a great opportunity for a customer to get a smartphone for less without having to compromise on design or quality.
Vodafone are a great example of a network that spotted this opportunity and have created a range of devices called First, Speed, Prime and Ultra allowing different set of specs and prices to suit all customer types.
This is a review on the latest offering – the Vodafone Smart Prime 7. It will cost you just £75 on PAYG or as little as £16 a month on a contract.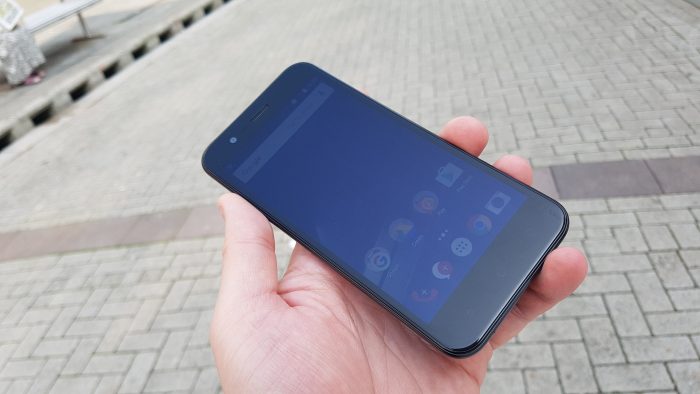 On the front is a reasonable 5 inch IPS LCD display and has great colour accuracy but can struggle in sunlight even with the brightness all the way to 100%.
With a resolution of 720 x1280 pixels paired with a 293 PPI, you get a screen that is ok for some uses but you really can start to see the difference in quality between 1080p displays found on some competition.
With a lot of people using their phone for multimedia, web browsing, gaming and more you can see the difference with this screen over some others, but let's not forget for £75 you are getting a decent smartphone for your money still.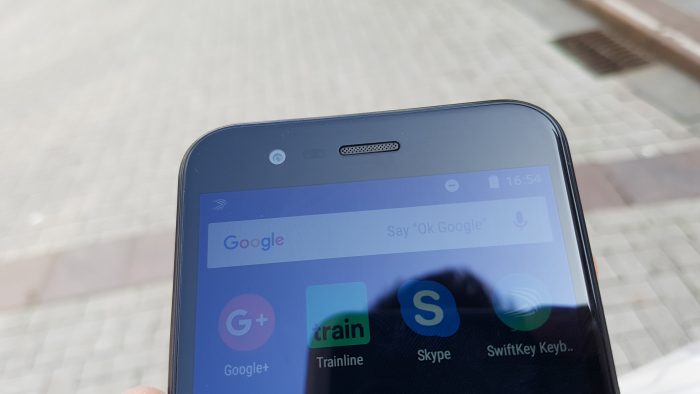 Just above the screen is a reasonable 5 megapixel camera which is ok for selfies and Snapchat / Skype use, but with no flash feature and a small lens you will not really be taking many photos on a night out.
In-between the camera and the earpiece is where you find the light sensors. These will turn the screen brightness down when it's dark. It'll also get used to put the screen to sleep when in a voice call to prevent pressing the buttons by accident.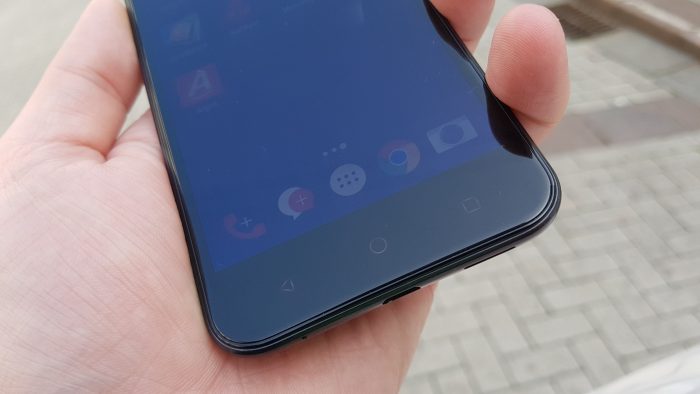 Below the screen you have the capacitive touch buttons. These let you navigate back a screen or for getting back to the home screen. There's also one for opening up the list of apps you have running in the background.
These buttons only light up when are needed and I often found I was looking for on screen buttons instead as these do not stand out much. It's easy to forget they're there, especially with the black border around the top and bottom.
When it comes to buttons you only have a few, all which are along the right hand side of the phone. These are your typical volume up/down buttons at the top with the power button located just below it near the middle
No dedicated camera buttons here, which is something we are seeing missing from many smartphones these days. However you have the option of pressing volume up when in camera mode to take a photo instead, which I guess is a good enough alternative.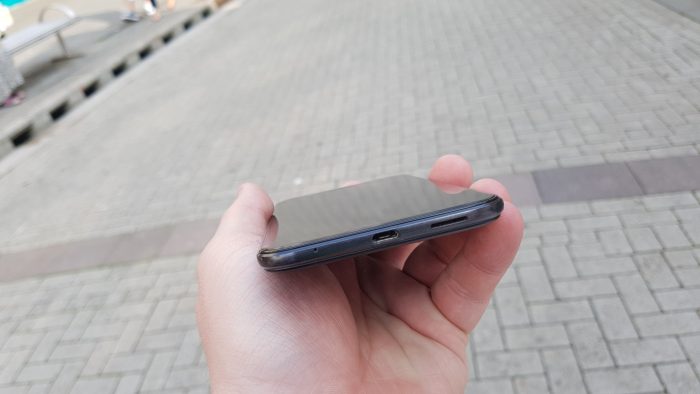 At the bottom you have the MicroUSB port, a small hole which is used for recording audio in video, and the loudspeaker.
Quality is ok but starts to get a little tinny when cranked up to maximum and the volume also lacks a little compared to some rivals, but for voice calls over this quality is fine.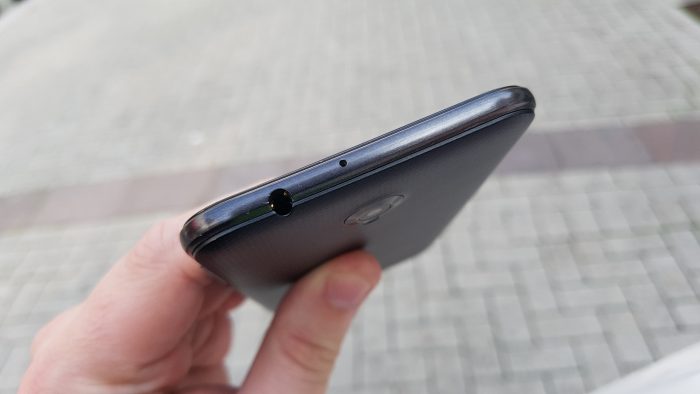 Up top is where you have the other microphone for noise cancelation as well as the standard 3.5mm headset jack which will allow you to use either your own set or the supplied one in the box.
The one you get included is ok for music on the go, but serious fans of music will want to get a better quality set and use higher quality audio to get the best experience possible.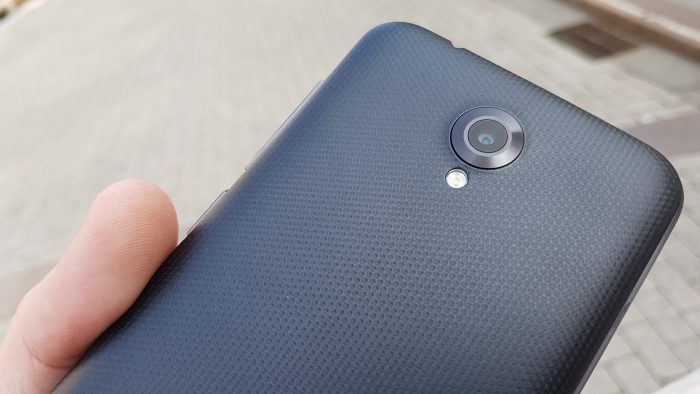 The camera is what can really make or break a purchase for customers. Many people move away from owning a digital camera and just use their phone – myself for example, I have not owned a digital camera for at least 2 years now, instead just using my smartphone… whatever that might be.
There is so much focus on the amount of megapixels that many think the more megapixels the better the photo, in truth that just means you get a larger image overall.
The Prime 7 packs a 8 megapixel back camera with 5 megapixel front facing for video calls or selfies, in reality you are not going to be beating the flagships that cost £500+ due to their lens quality, but for sharing on social media then the Prime 7 will be adequate.
The software for the camera has a few of the options you would expect, such as panorama mode and HDR. This does help produce some nice photos which can be shared on social media, which lets face it this will be the main reason you use this camera.
Video on the Prime 7 has a maximum recording resolution of 720p. This does lack quite a bit considering this is a 2016 smartphone. Phones these days need at least 1080p to be accepted as at least reasonable quality but the Prime 7 will at least grab footage of your days out and about.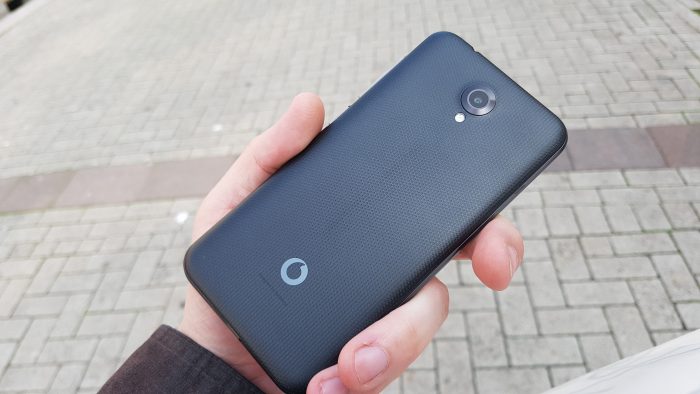 The back of the Prime 7 has the 8 megapixel camera and single LED flash used to help brighten photos in low light conditions. This can also be used as a flashlight, very handy when walking home or finding something dropped on the floor at night.
The camera is slightly raised to lift off the surface and prevents scratching of the glass. Once this is scratched it'll impact overall photo quality, something no one wants to happen.
Apart from the camera and flash on the back the only other thing to see is the Vodafone logo near the bottom to show off the network of choice.
Any smartphone these days needs a decent size battery to keep everything ticking over. What's the point of having a nice new smartphone and then not able to make that urgent call after work? The Prime 7 has a 2540mAh battery which, in testing, did seem decent enough to get me through a day of workin. This typically started with me leaving the house at 8am, then a bus ride with mecatching up on some YouTube videos, 30 minutes of Netflix at lunch and some music on the way home at the end of the day.
Also with the above use came the standard 2 email accounts both on Google with push email, some social media using the official Facebook and Twitter apps, and the odd text through the day…all pretty standard stuff.
With 1GB of RAM and a Snapdragon 210 processor you are not getting a massive amount of processing power to play with, so the best bet is use the multitasking window to close apps you no longer want open in the background. This will help speed up any smartphone – even the most powerful. It'll also have better impact on your all-important battery performance.
Storage comes in at 8GB built in, which is ok for some owners. However a MicroSD card is highly recommended for anyone who wants to use video or take a large amount of photos. This is because apps are getting even larger than before and Facebook can be one that loves eating your storage.
The Prime 7 comes with the latest version of Android out of the box which is Marshmallow. This is of course not including the beta versions of the new 'N' version due later in the year. This gives the Prime 7 access to some great power-saving techniques such as 'Doze' and gives the customer better battery life with no input needed.
You also get the latest security updates on this latest version, you should also be fairly quick at getting future software updates, however as with all devices not part of the Nexus offering, this can change at any time.
Final Thoughts
The days of needing to head to a big manufacturer for your latest new phone seems to be coming to an end thanks to some great network branded devices such as the Smart Prime 7. For £75 you are getting a near stock version of Android, a 5 inch 1080p display with an 8 megapixel camera on the back and a 5 megapixel front-facing shooter.
Sure, you're not getting the fancy 2K display, 13 megapixel camera or 4K video recording, but for the price you are getting a very reasonable smartphone indeed. Pair that with a network offer that will be hard to beat elsewhere and is a low-priced alternative to the very expensive higher-end smartphones.
I found the battery was more than enough to last me through the working day, putting it on charge on returning home just to make sure you are not running out for that all important conversation. The camera was reasonable considering it 8 megapixel and was fine for sharing on social media and printing if you wanted, you really do not need massive megapixels to get a decent photo.
I especially loved the built in Message+ application for SMS. This allowed me to leave the phone on the desk and lay on the bed with my laptop and able to send and receive my messages whilst watching Netflix or typing up a review (this one included). A bit like WhatsApp Web.
All in all I was impressed with what Vodafone has brought to the table with the Prime 7, they took an award winning smartphone in the older Prime 6, added a few bits and bobs and produced one of the bargains of the year so far.
Get more details on the Vodafone Smart Prime 7 on the Vodafone website. It's available on Pay As You Go for just £75. Do also take a look at the video walkthrough and further pictures that Gears posted earlier.
Vodafone Smart Prime 7
Build - 75%
Camera - 75%
Software - 85%
Battery - 80%
Value for money - 95%
A decent spec network branded phone for 2016