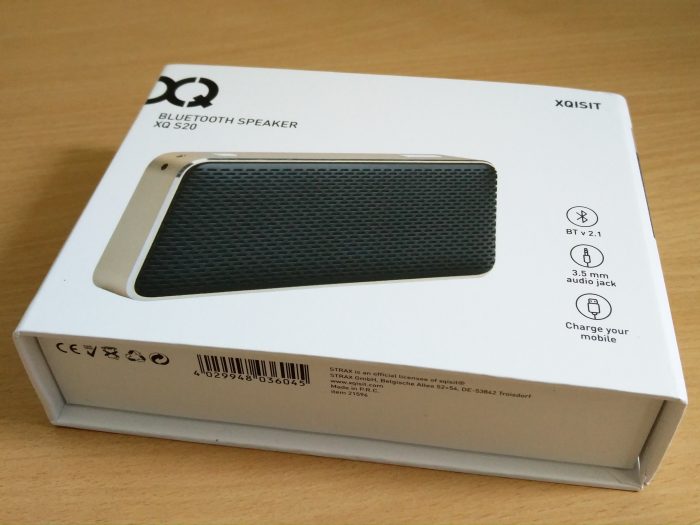 The Bluetooth speaker market is flooded with different devices – if you don't believe me, just do a quick search on either Amazon or eBay and it will take about a week to trawl though all the offerings. Prices range from just a couple of pounds, through to the hundreds.
So how do you decide which is the best one for you? Well, you can go and try one in a store, but remember it won't sound the same in a large retail store as it does in your kitchen. Either that, or you can read the reviews and then make your mind up.
Following on from my review of the XQISIT iE200 headset, I have been sent through the XQISIT XQ S20 Bluetooth speaker for review.
Specs:
2 x 3 W HD stereo sound.
Bluetooth 2.1 + EDR.
Integrated Li-Ion battery with 2500 mAh.
Up to 10 hours of play time with only 4 hours charging time.
Inbuilt microphone.
150 – 18 kHz frequency range.
4 ohms impedance.
Charging cable included.
3.5 mm line-in.
Dimensions: 6.65 x 2.5 x 14.4 cm.
Weight: 262 g.
Good Points:
Well-designed.
Speakerphone function.
Long battery life.
Available in 3 colours.
Can be used a powerbank.
Bad Points:
A little easy to scratch the metal casing.
Bass could be a bit stronger/deeper.
Supplied 3.5 mm audio cable a little short.
In Use:
Upon opening the box, I was greeted with the XQISIT XQ S20 speaker itself, a 3.5 mm to 3.5 mm audio cable, a micro USB charging cable and a leather wrist strap. On to the speaker; well first impressions are it looks very premium with a metal chassis (gold for the review unit I was sent through, but other colour options are silver and black). The edge of the speaker has a nicely designed chamfered edge. This, coupled with the enclosed wrist strap means that XQISIT wants the speaker to be held, and to be honest with the size that it is the speaker, is in fact a pleasure to hold.
On the top of the speaker is the power button and volume + / – rocker, and on the side are the micro USB charging port, the 3.5 mm audio jack in, and the USB A output. On the opposite corner you'll find the holes to connect the wrist strap. Connecting the speaker was the norm for any Bluetooth device theses days, being a simple pairing and away you go.
Inside this aesthetically pleasing package is a built-in 2500 mAh rechargeable Li-Ion battery, which offers hours of music, and is charged by USB cable. In this day and age, battery life is everything and I found that I could get well over 11 hours of music during testing, with a recharge taking just under 5 hours from empty.
After I had fully charged the battery (the battery came almost fully charged so it didn't long to reach 100%), I turned on the XQISIT XQ S20, scanned for Bluetooth devices from my iPad which found the speaker, and connected seamlessly.
I played a few songs from Google Music to test out the sound and quality of the speaker. The sound quality was outstanding. It was much better than I had expected from a speaker of this size and price point.
The speaker was capable of filling my kitchen with sound, and in fact I found that I had to turn it down a couple of notches. Even at the maximum volume there was no distortion whatsoever to the sound quality, although I felt the bass was little lacking. I then listened to podcasts and an audiobook, and my personal opinion it performed even better. I then connected the speaker to my Hudl 2 and OnePlus 2 and found the pairing to be as easy and the performance equally as good.
As a final test, I plugged the speakers into my laptop's audio jack using the audio cable that was included with the device. I found that the audio cable was a little on the short side, which limits the distance from your computer or whatever device you're connecting it to. With that being said, the sound was still excellent.
Battery life: following my initial charge, I have been using the XQISIT XQ S20 for over 7 hours and it's still going strong.
I could only find minor drawbacks with the speaker. As mentioned above the supplied audio cable was a little short, but a replacement one is easily sought. Although the aluminium chassis of the device does give it a nice premium feel, I do feel that it could be easily scratched or chipped as you pop the speaker in your bag (its a portable speaker after all), so it would have been nice to see the inclusion of a carrying pouch or similar, like some manufactures are including.
Conclusion:
Overall I was very pleased with the XQISIT XQ S20 speaker. It gave a decent sound for its size, with good battery life. It feels well made and is easy to carry. It is a currently available from Amazon for £24.99.
XQISIT XQ S20
Design - 90%
Bluid Quality - 90%
Battery Life - 95%
Sound - 85%
Durability - 80%