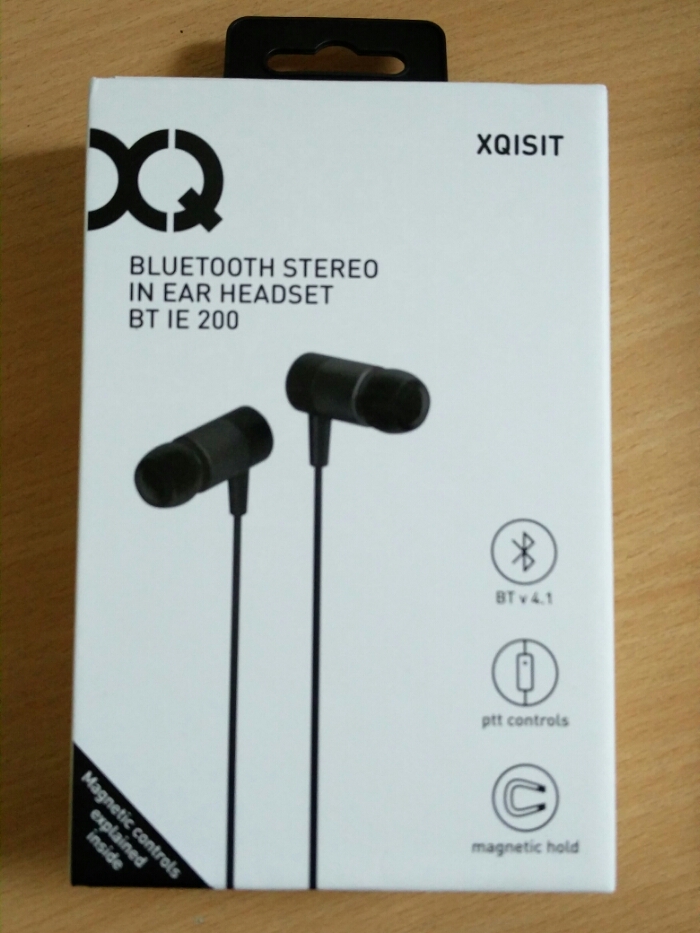 I for one always have some sort of headphones stuck around my head, to be honest, I can't even walk to the shop without popping a set on and listening to a podcast or two (the fantastic coolsmartphone podcast is one I happen to listen to).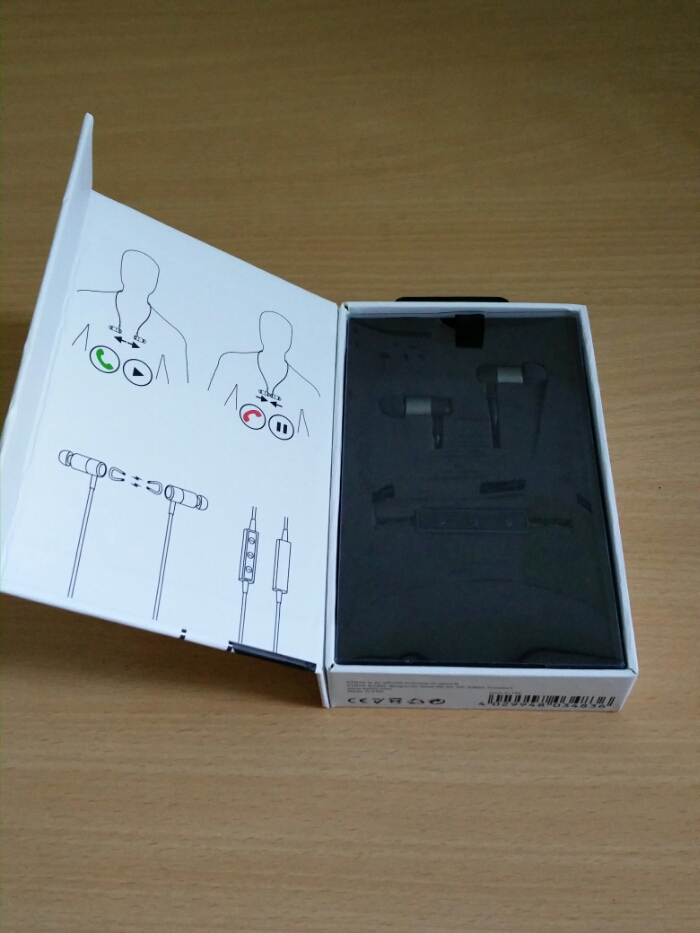 I have been sent the XQISIT iE200 magnetic Bluetooth headset through for a review. 'Who are XQISIT I hear you ask. Well XQISIT is a German company who make everything from phone screen protectors and cases through to headsets and speakers. The company use the strap line 'Simply Good' but following a couple of reviews I've done on XQISIT products they should change this to say "Absolutely Brilliant".
Good Points: 
Well designed
Clever use of magnets
Good sound with deep bass, and high treble
Micro USB charging
Bad Points:
Battery life
Connection Range
Specs:
Bluetooth V4.1
Bluetooth Profiles HSP, HFP, A2DP, AVRCP
Transmission Power Class 2
Operating Range up to 10 Meters
Frequency Range 2.402-2.480 GHz
Battery 3.7V 60mAH Lithium
Charging Voltage DC 4.75-5.25 V
Charging Time Roughly 2 Hours
Playing Time Roughly 3.5 Hours
Talk Time up to 4 Hours
Standby Time up to 150 Hours
Weight Roughly 16 grams
In Use:
The first thing that I noticed when unpacking the headphones was unlike other Bluetooth headphones the overall design was very minimalistic, on one side is your usual volume up, volume down, play, pause configuration. On the other side is a similar sized unit that holds the battery. Both are connected by short lead which is just long enough to go round the back of the head, therefore enabling you to not have excessive wireage dangling around.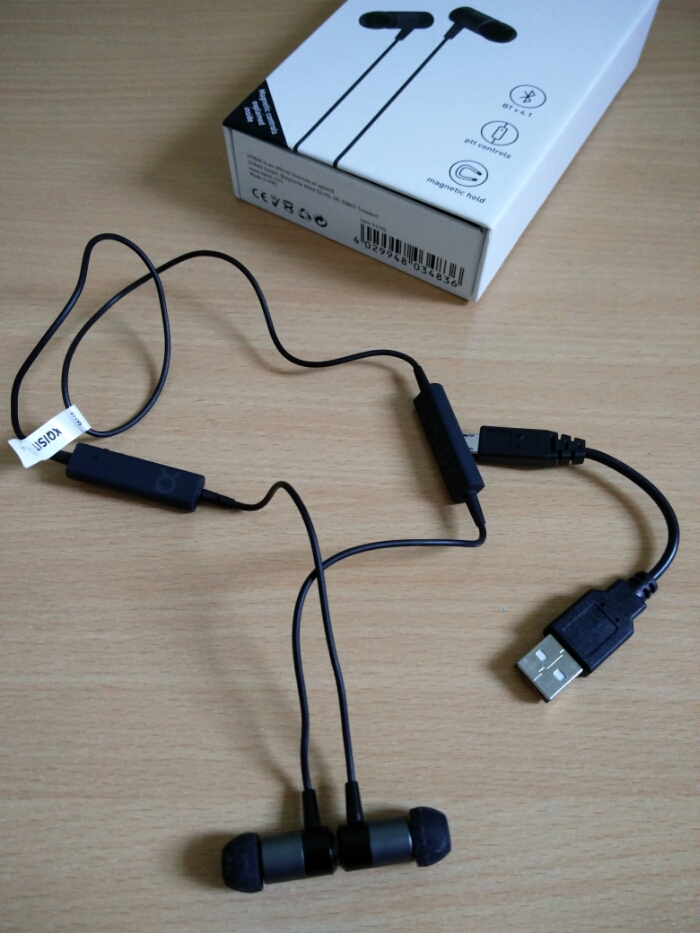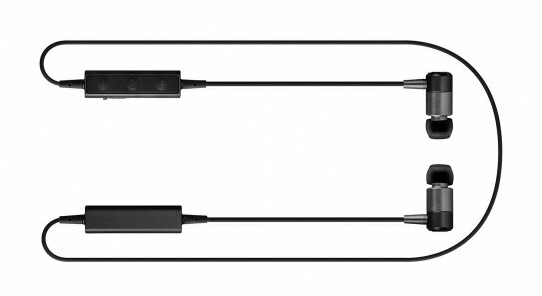 The headphones are charged up using a micro USB port and normally take a couple of hours to charge, also included in the box are the usual different sizes of ear buds. I found that the standard earbuds fitted my ears pretty well, and blocked out most of the ambient noise. The sound of the headset is really good, with deep bass and a good high treble.
The party piece of the XQISIT iE200 headset is the clever use of magnets situated on the back of the headphones. This means you can click the magnets together, forming a full loop around your neck. At that point, you haven't got wires and headsets swinging around so  if you were to receive a phone call unclipping the magnets and popping one or two of the buds in your ears, to answer the call is a doddle. When you're finished, just click the magnets back together to hang up. When you're listening to media, just remove the buds and click them together using the magnets, and hey presto your media pauses. Unclip them and your music or media of choice starts again.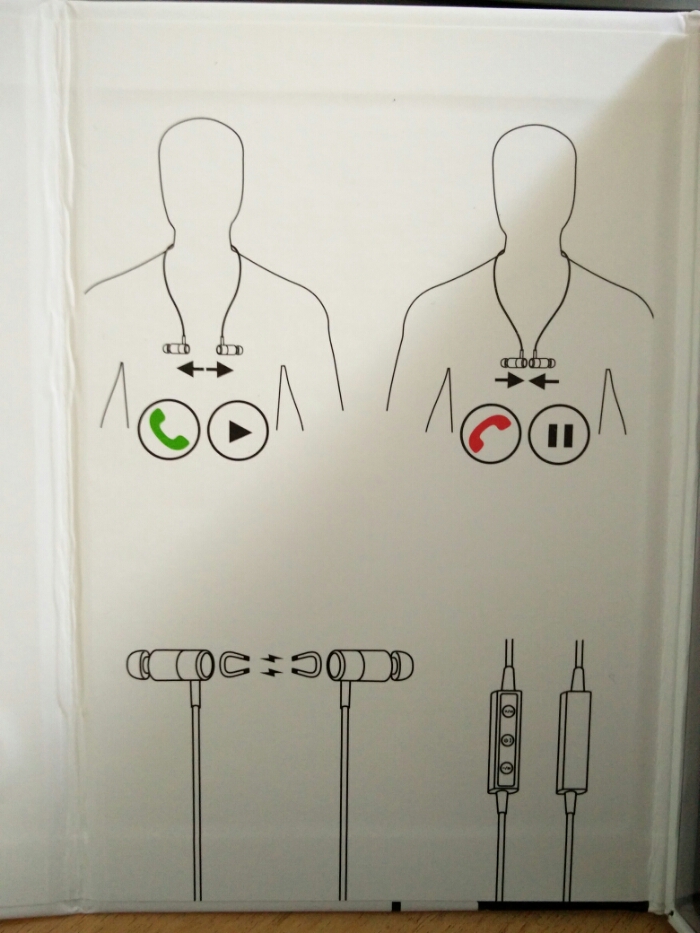 I could only find a couple of down points for that iE200 headset: the battery life isn't great, lasting between 3 and 4 hours of use when listening to media. Also the Bluetooth range seemed a little short, but both of these down points are easily linked to the compact size of the overall design of the headset.
Conclusion
I really enjoyed using the iE200 headphones, and they are perfectly suited to using in the gym. I loved using them under my helmet on my motorcycle. They are currently available from Boots for £49:99, which puts them in the mid-range price  but if you want some minimalist and well-designed Bluetooth headphones they are well worth a look.