My trusty Amazon Fire tablet updated over the air this week and the new version number of FireOS is 5.1.4.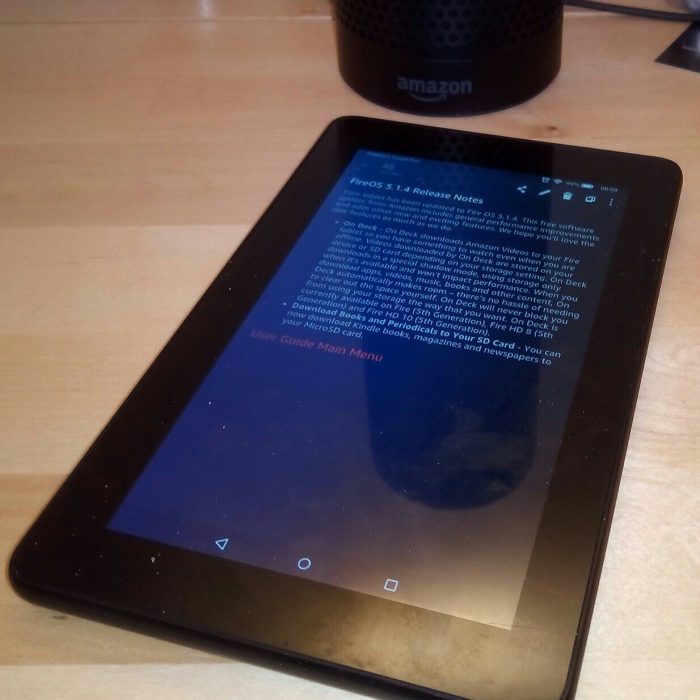 FireOS is Amazon's operating system, based on Android, which is built to run on the range of Amazon Fire tablets. It definitely has a different look and feel to Google's Android experience, but you can still see a lot of Material Design shine through the orange and dark grey UX.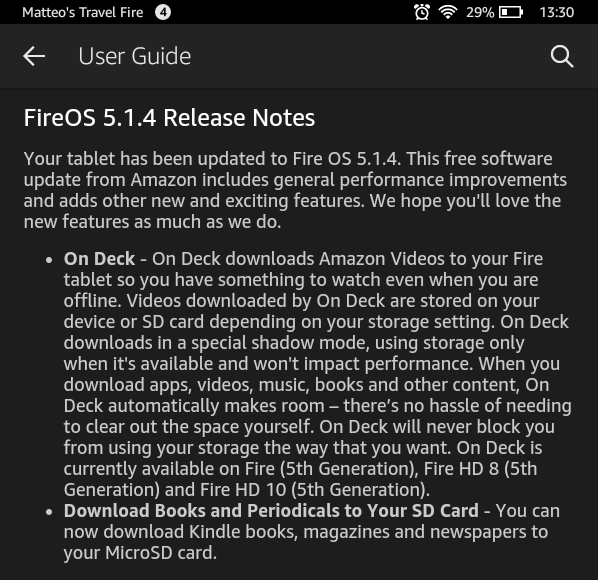 The FireOS 5.1.4 release brings with it two new features for the latest generation of Fire tablets: On Deck and the capability to download books and periodicals to your SD card.
On Deck is a feature which preemptively downloads content to your device: Amazon Videos are downloaded in the background so even when you are offline you can have content to watch. You don't have to do anything, it all runs in the background and saves the content to your preferred storage location (internal memory or MicroSD).
In the release notes Amazon make it clear that On Deck will not affect your experience with your Fire tablet: if you need extra space On Deck will quietly delete its content in the background so as to allow you download your latest Jennifer Paige album or TV Series.
The other feature added with the FireOS 5.1.4 is the ability to save books and magazines to your SD card. With the cumbersome DRM Amazon content ius wrapped in, this was not an option until now.
These two new features make the Fire tablets even better value for money. John and I were raving about how good they are in the latest episode of the Coolsmartphone podcast. Want to hear more? Why not subscribe to the Coolsmartphone Podcast in your preferred podcast app and follow @CSP_Podcast on Twitter.
Do you have a Fire tablet running the latest update? Let us know what you think in the comments.