This is the Coolsmartphone.com review of the Amazon Fire (2015). I've been testing this for a while now, and after many months of heavy use, here is my review of Amazon's inexpensive tablet computer. The device reviewed was purchased with my own pocket money, from Amazon, and has travelled with me many many miles. I almost lost it recently, which spurred me to complete this review and let you know what I think of it.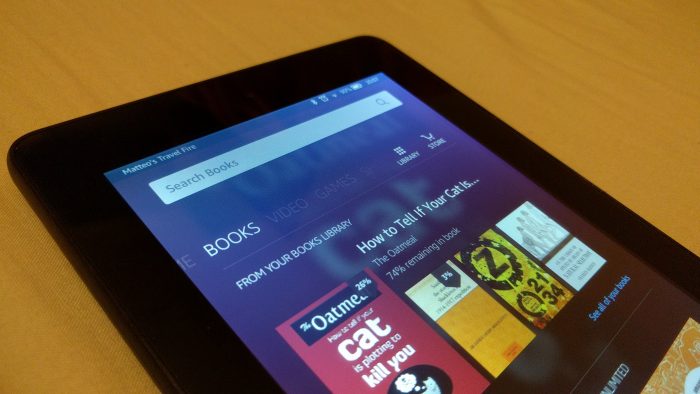 Amazon has been doing Fire tablets for years now. When they released the first one in 2011, the first model was actually called Kindle Fire, but since then the Everything Company has split the Fire tablets and devices away from Kindle and they are now their own product category. The 2015 Amazon Fire is a 7" tablet running on Amazon's Android (AOSP) based Fire OS. Relatively inexpensive, you can purchase one for £49.99 from Amazon.
This review of the Fire tablet is more than just a simple review, as it involves attempting to explain the whole Amazon Fire ecosystem. I'll attempt to do just that, and leave the editorial piece on where Amazon is going to another day.
What does £49.99 get you? It's more than just the specs, so bear with me as we go through this review.
Amazon Fire (2015) specifications:
7" IPS display (1024×600)
Amazon Fire OS 5
1.3 GHz quad-core processor
1GB RAM
8GB internal storage expandable (up to 128GB) via MicroSD
2MP rear-facing camera + VGA front-facing camera
Wi-Fi (single-band) and Bluetooth
Micro USB connectivity for charging and data. 3.5mm audio jack.
So the specifications are nothing exciting in 2015 (or 2016). At that price? Nothing to complain about really.
If you use a recent Amazon Fire tablet you should now be running Fire OS 5. This is Amazon's Android (AOSP) based OS, based on Android 5.x Lollipop, which lacks all Google services. The browser (Silk), email client, Appstore and core apps are all Amazon's own. The Fire 2015 was one of the very first devices to run this version of the OS when it launched last year, and it has since rolled out to some of the older tablets too. Fire OS is closer to AOSP than previous versions and the launcher has moved away from the frustrating carousel to something more similar to a grid. Rather than have everything on a homescreen or in a drawer (like Apple and most Android launchers), apps are organised into categories and mixed with stores with suggestions. This is where it becomes much more obvious what this device actually is: it's an Amazon device to make you use Amazon. Let me be clear, when I say Amazon, I mean Amazon Prime and Audible.
Fire OS is closer to Android 5 on which it is based, and many of the Amazon customisations from previous versions of Fire OS have been toned back. The Fire OS UI has loads of Material Design and is themed with Amazon's black and orange colours. In my opinion it is a much more pleasant UI than the old Fire OS Carousel nonsense.
Fire OS and the Amazon ecosystem
The Amazon Fire tablets and Amazon shoppers are like positive and negative poll magnets: they attract each other, and the closer they get the more difficult it is to separate them. That's essentially what it's like for me: I am an Amazon Prime customer and I subscribe to Audible, the excellent Amazon audiobook service. Being an Amazon Prime subscriber means that as well as having free next day delivery on most products sold by Amazon, I also get Amazon Prime Instant Video (Amazon's Netflix competitor), Amazon Prime Music (Amazon's Spotify competitor), Prime Photos (Amazon's equivalent of Google Photos) and access to the Kindle Owner's Lending Library. Essentially I get a lot out of my Prime subscription and my Audible subscription, and the Fire tablet is the easiest place to consume that content: books, audiobooks, music, video and more. This is where Fire OS excels: making accessing and consuming that content super easy.
Let us get back on track: Hardware
The Fire's hardware is nothing special, and can be summed up simply: black plastic. The back has rounded edges which finish off on the flat screen. When tapped, the Fire sounds quite hollow and can creak when in use. It may not have a premium feel, but in practice allows the device to take quite a battering and live to tell the tale.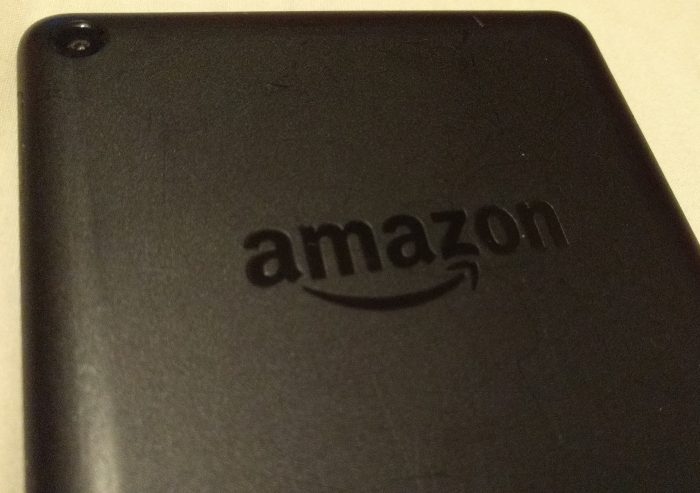 The bottom edge and left side of the device don't have anything on them. Nada.
The right side has a cover which hides the single MicroSD slot. When closed the cover is pretty much flush with the rest of the device casing. You use it once to put in a memory card and then forget about it.


The top side is where all the buttons and ports are: power button, micro USB port, volume rocker and 3.5mm audio jack.
The back of the device is home to the 2MP camera and the mono speaker. Nothing else there other than an Amazon logo embossed in the matte plastic.
The front of the device is home to the 7" 1024×600 display, which is surrounded by half inch bezels all the way around. In the top bezel you'll find the VGA front facing camera. The large bezels around the screen may seem like an abomination by modern tablet standards, but in day to day tablet use avoid you accidentally touching the screen.
The screen of the Amazon Fire is a 1024×600 LCD panel which is apparently an IPS one. Viewing angles are not that good, probably because the screen itself is not close to the surface. Pixel density is OK by my picky standards, but contrast ratio is pretty terrible as is the brightness range. When using it at night Candice often complains about the brightness being too high when dimmed to minimum. In direct sunlight it struggles to be bright enough. Luckily I live in Scotland, so that's almost never a problem.
If you are still reading now, you may think this is going to end as a bad review, but bear with me. At that price? There is nothing to complain about really.
Software and Apps
As mentioned earlier, Fire OS is based on Android but has no Google services. The Amazon Appstore, also known as Amazon Underground serves your app needs, that is if you need apps other than Amazon's own ones.
You'll find all the major social networks and apps in Amazon Underground, including the likes of Facebook, Messenger, Twitter, Tumblr and Skype. No Google Plus. Be warned though: you won't always have the latest version of those apps either: Amazon has an approval process for submitting apps, so releases are less frequent than on the Google Play Store.
The built in apps for Video, Music, Books and Audiobooks are all functional and work well. The tab in the OS surfaces recent and recommended content, while going into your Library gives you a full list of your content in online and offline mode. In Amazon Video, Music and Audiobooks you can download content for offline consumption and opt to save to MicroSD if you find the 8GB built in memory too restricting. For copyright reasons not all content from these services can be stored for offline use and sometimes there are limits to how much you can save.
Silk is Amazon's web browser on the Fire. It does a good job, has a Private Browsing mode and option to save pages to Reading Lists. If you are desperate to use Google services such as Google Plus and Youtube you can use them quite well from within the Silk browser.
One of the uses I use the Fire for most when at home is as a remote control for the Fire TV in the bedroom. If too lazy to get up and find the remote under the cat on the bedside table, I'll use the Fire TV Remote app to open Bloomberg TV+ or start an episode of Vikings. If you have Amazon Prime I recommend you watch Vikings. It's a great show.
Parental controls are great on Amazon Fire OS 5. I don't use them, but they seem to be pretty comprehensive.
At that price? Nothing to complain about really…
Cameras
The cameras are like something from 2005: low resolution, noisy in anything other than bright sunlight and prone to making snaps look like an impressionist took them. If you live in Scotland you might not want to buy this device for the camera.
At that price? Nothing to complain about really…
Battery Life
I've not done any scientific testing of battery life. It is good enough for my use while travelling: whether on the Edinburgh to Glasgow train listening to an audiobook and playing threes, or on a KLM flight somewhere via Amsterdam watching Vikings or some other show, it does a great job. Bluetooth does considerably impact battery life, so wired headphones are advised if you want battery life to last more than three hours.
At that price? Nothing to complain about really…
Conclusion
I love my Amazon Fire. At that price? Nothing to complain about really. My Amazon Fire makes accessing and consuming my Amazon content simple and easy. I can play games and do web browsing from an inexpensive device which has bags of storage expansion space with a 128GB MicroSD card. The battery life is reasonable and the form factor makes fitting the Fire into a jacket pocket easy.
Last month I left my Amazon Fire on plane and realised what had happened not long after disembarking in Amsterdam. It was only then, when faced with the potential loss of my beloved Fire that I realised what a good package it is (for the price). When a technology and a service is good, you only realise how much you enjoy it and use it when isn't available.
I would like to thank Talitha, Anja, Jan and Stef from the KLM Lost & Found Service (also known as Sherlock) for reuniting me with my Amazon Fire.
At that price? Nothing to complain about really. Excellent value device which makes using Amazon services simple and easy. If you're an Amazon Prime subscriber, go buy one. it's a great device. When in stock, you can buy the Fire in 6-packs which make one free.
At that price? Nothing to complain about really...
Great device for an unbeatable price. Amazon Prime subscriber? Go and buy one! At that price? Nothing to complain about really...