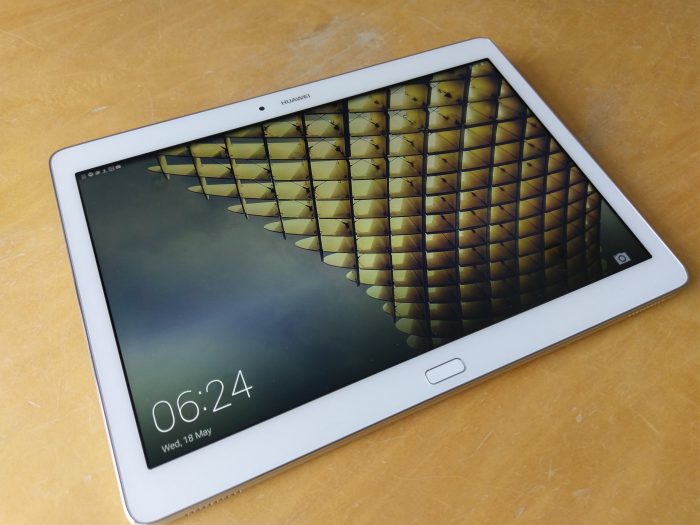 I'm going to take a slightly different approach to this review and note down everything as I unbox the device. First, the specs. This is the Huawei MediaPad M2 10.0 and it's available in either "Luxurious Gold" or in this fine shade – "Moonlight Silver".
It weighs in at 500 grams and measures in at 239.8mm x 172.75mm x 7.35mm. The screen is a 1920X1200 Full HD 10.1″ IPS unit and inside it's powered by a Hisilicon Kirin 930 Octacore CPU running a quad 2.0 GHz and quad 1.5 GHz.
Inside it's also running Android 5.1 with the Huawei EMUI3.1 GUI on top. Not the newest OS, granted, but it zips along. This particular one is the 64GB "Premium edition", so you obviously get 64GB of storage on board. There's also a "Standard version" with 16GB. This "Premium" on also has 3GB of RAM, whereas the "Standard" has 2GB. Both have GSM network connectivity though, and you can get 4G connectivity along with WiFi. Around back there's a 13 megapixel cam with f2.0 and autofocus plus flash. Up front, a 5 megapixel one. There's also a set of four speakers – two of them for the treble and two of them for the bass. These speakers have Harman Kardon audio technology – something which I'm a big fan of. That audio tech apparently gives a "richer, clearer and more immersive acoustic experience".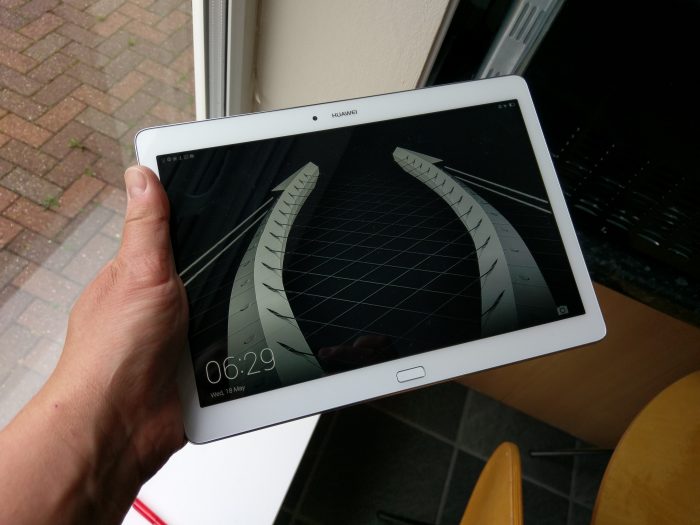 The battery is a 6600mAh unit but again, depending on the version you have, you have different kit in the box. The "Standard" version has the tablet, a charger, quick-start guide and a "needle" for interacting more precisely with the screen. The "Premium" version here has an M-Pen too.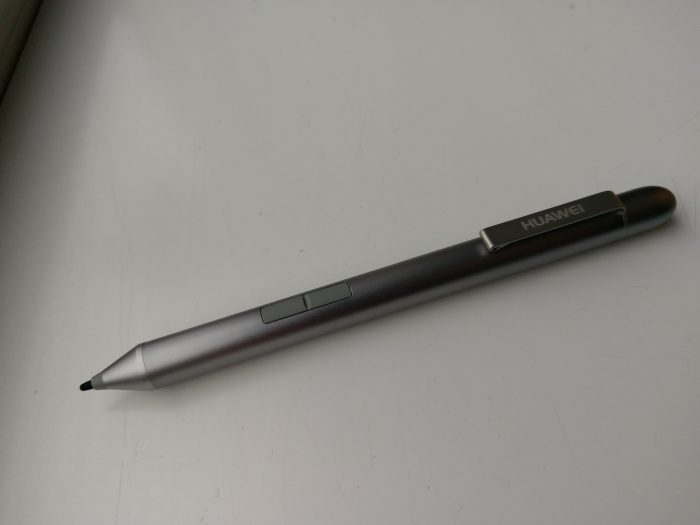 This is great for artists or for those taking notes and it has a pressure sensitivity level of 2048. What that means is that it's really precise and responds better to the level of force you're using. There's a fingerprint sensor too.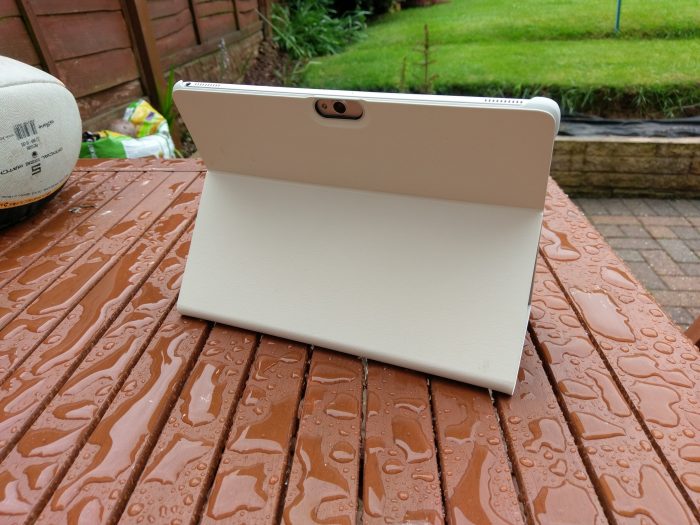 The box feels heavy and you'll notice in this review unit that we have a free case and protector combo. Opening it up actually reveals two boxes. The top box has the protector and the case itself. The case is a folio-style flip-case which has a soft inner and a custom-made inner holder which you clip the tablet into.

The tablet itself is next, and there's a sticker on the front promoting the various features of the device. Ultra Power Saving, that octa-core CPU and those powerful speakers.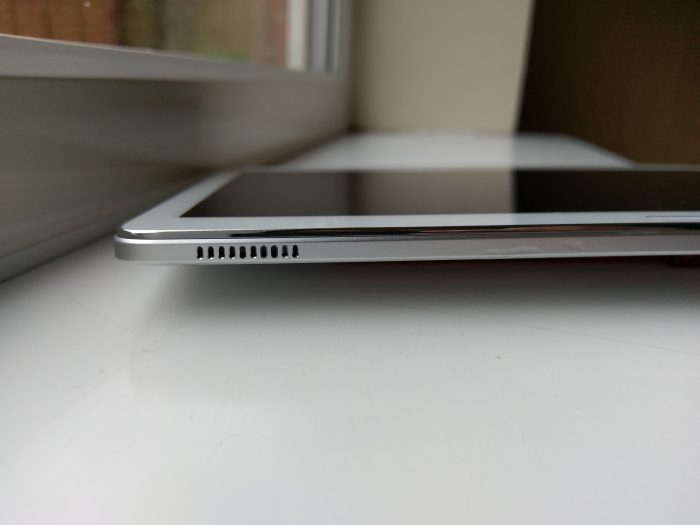 Underneath, that charger, the M-Pen and a very substantial quick start that I touched on before. It's a thick little book and this, along with the cover and second box, actually contributed towards the weighty feel of the device when you first pick it off the shelf in the shops. The clever stylus needs one AAA battery which comes in the box too. You screw the top off the M-Pen and then drop the battery in to get it working. The tablet itself is powered and charged by a microUSB cable which is in the box too.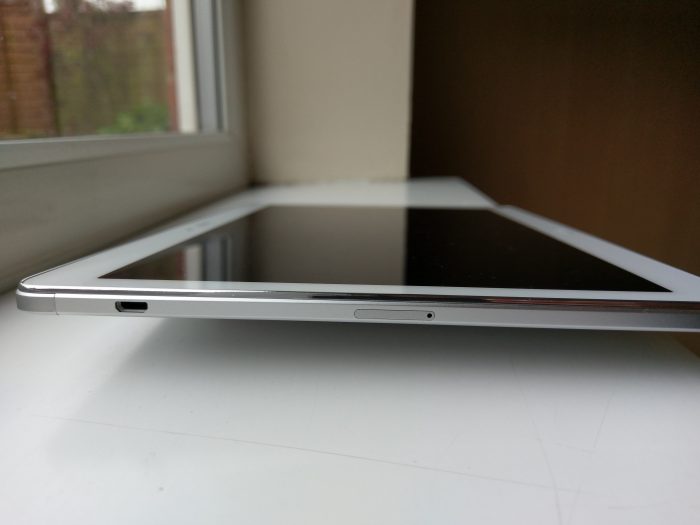 Turning the unit on plays a Huawei animation and you get to hear the sound output which is definitely very powerful indeed. The device itself is quite angular, although there's some curvy corners and a two-tone finish to the tablet, with this one having a polished white front border around the screen. It has a very high-spec and quality feel to it. Under the screen is that fingerprint sensor.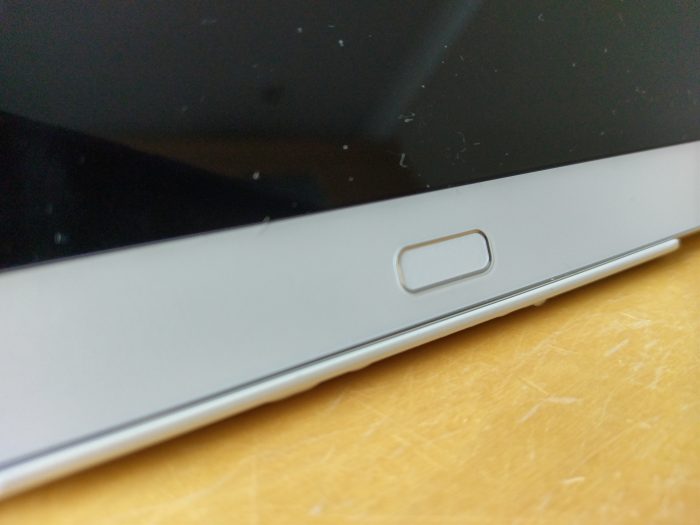 At the bottom, precisely cut holes on the lower edge reveal the bottom speakers which create a "wide acoustic field sound" through technology which helps to give you a sense of direction when you're playing games.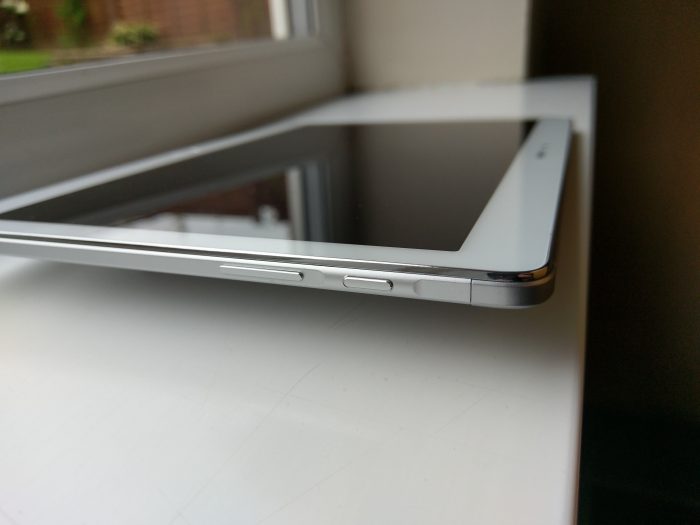 The right edge has the audio controls and power button above – this is on a slight curve and helps you to locate the buttons easily even in low light.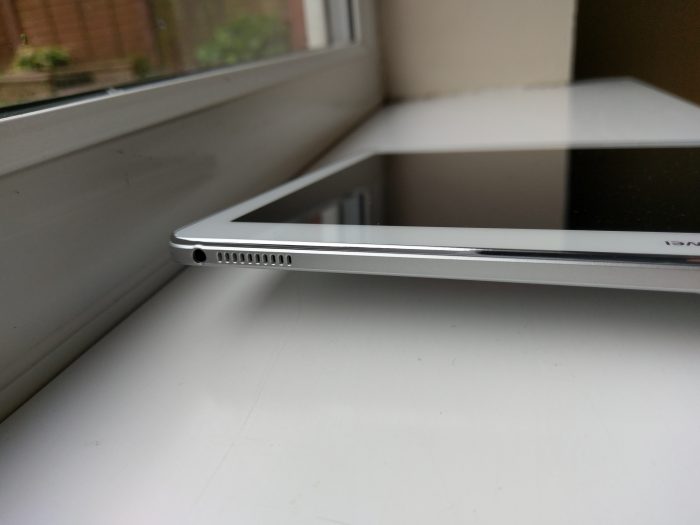 The top edge is similar to the bottom, although the unit does have a dividing strip and a 3.5mm audio plug which you'll need to use your own headphones with as there's none in the box.
The left edge has the microUSB power connector and the tray for the SIM card, which you'll need to pop out with the supplied tool.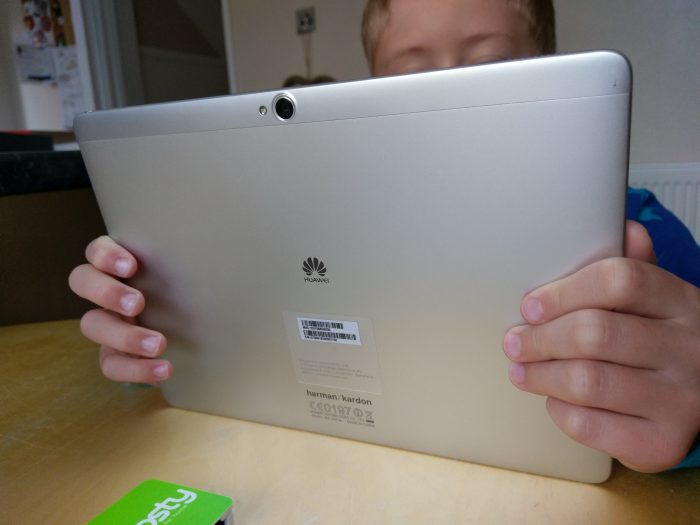 The back is a smooth silver affair and has the camera on that separated top edge along with a flash.
All in all, it's a good construction which – although slightly flexible if you want to try twisting it – has no creaks. Good spec and good construction.
Here's my usual video overview..
Turning on the device fires you into the usual WiFi setup screen and the Google login screen. You naturally use the device in a wide-screen setting. I elected to set a secure lock screen and the fingerprint sensor got busy as I placed and re-placed my finger on the sensor to build up a full reading.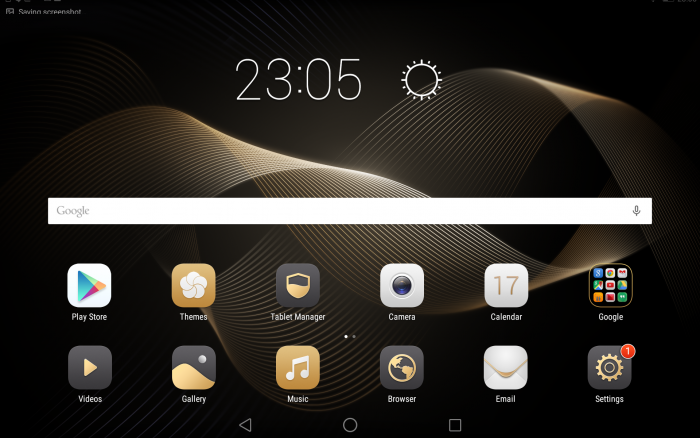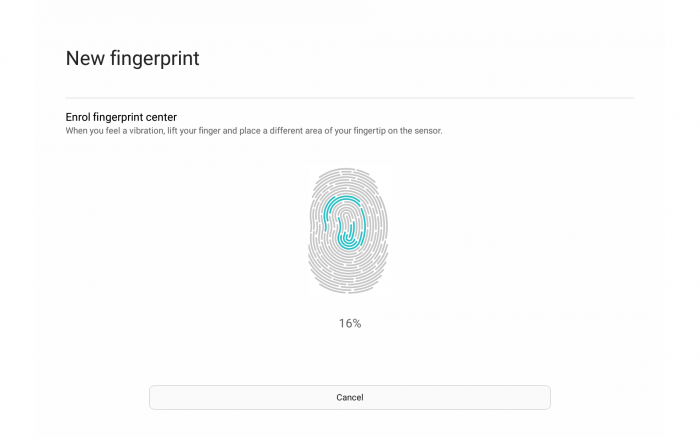 The main out-of-the-box screen has a dark background which you can change through the now-familiar Huawei theme system. This lets you quickly change the look of the device by tweaking the unlock animation, icons and background quickly and through one interface. I could only find four here, but you can adjust the background and lock screen picture yourself too.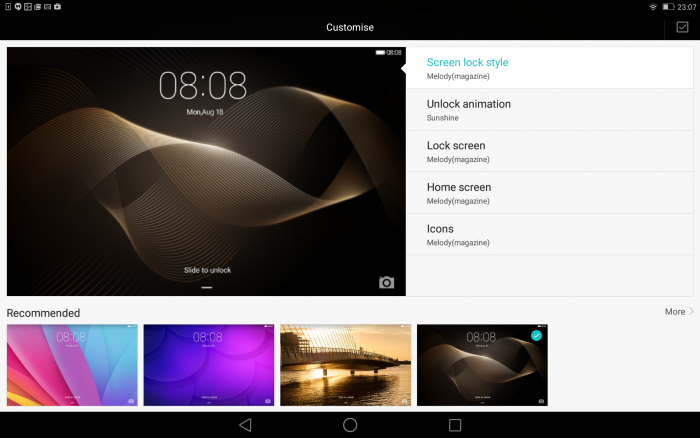 Again, as this is Huawei, there's a management system for keeping your device running smoothly. You can scan the device and then optimise it, check and adjust the apps that are allowed to run when the screen is off. This is something we've seen recently on the Huawei P9, where a power management system kicks in to stop apps sucking your battery (and your data bandwidth) when you don't necessarily want it too. There's a few things you'll want to adjust here, including fitness tracking apps like Strava that need adding to the allowed list.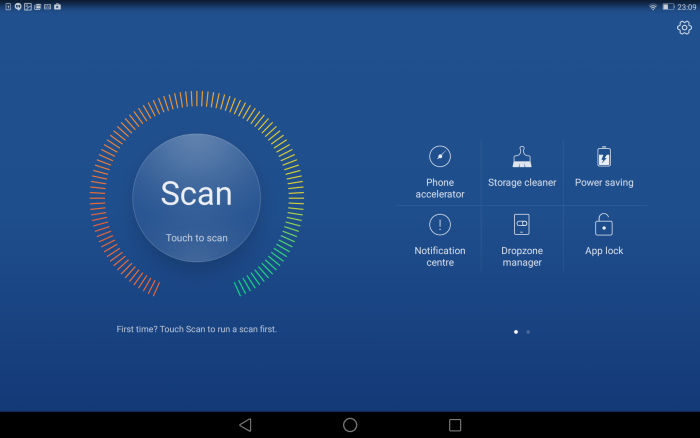 On the lock screen, which can operate in a slideshow format to flick through favourite images. Huawei call them "Covers" and you can flick through them direct on the lock screen itself. From the lock screen also lets you head straight into the camera, turn on the rear LED. It'll also let you dive straight into a calendar and audio recording.
The device has some cool little tricks, such as the "Speech Awareness" system which let you make a call or find your phone by saying a certain keyword. You can also open a dual-window system but I got a little sidetracked by the rather clever pen…
To be honest I've never been a big fan of these pen things, but after trying out the little buttons on the device (which help you hop into menus and remove mistakes etc) I really started to like it. It did indeed respond to pressure properly and I recognised the doodles and squiggles as the very same style and appearance as normal paper.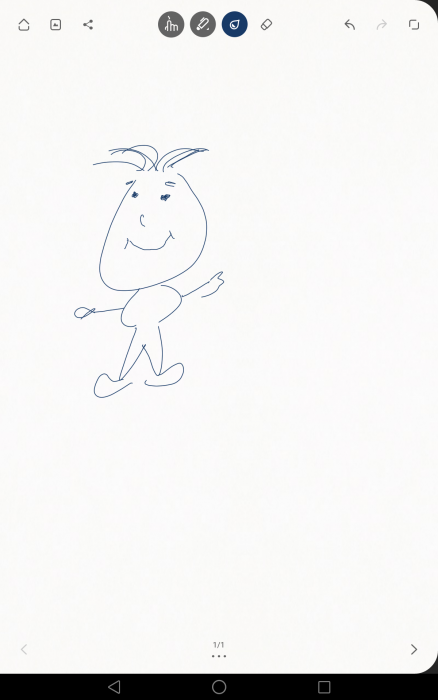 Little things, the same little things I'd seen on the P9, really impressed me. The fact that I could immediately edit the image when I've taken a screenshot, the careful battery management that keeps it running longer and longer.
Of course, the usual things are here too. We've got all the Google apps (Gmail, Maps, YouTube, Chrome, Play Books, Play Music, Drive and everything in between), plus a file manager, Magnifier, Weather, Notepad and much more. You can also type out documents with WPS Office, which lets you create a presentation, spreadsheet or Word document. It'll sync your contacts, your calendar and your email via your Google account and you can of course set up standard email accounts too.

There's also something called Clari-Fi which shows off the power of the Harman Kardon tech and how it emphasises, cleans and adds "whoomph" to your music. I must admit, I was particularly impressed with the sound on this and not just about how powerful and loud it was. It's like stepping into an audio bubble. You can hear the direction of the sound. You can hear the different streams of audio and watch a movie, music video or even a TV show is an absolute joy. Some older videos didn't sound quite right – one being Massive Attack – Unfinished Sympathy played via YouTube. I put this down to the age of the VHS-to-YouTube recording – the video was done in 1991. More modern videos played very well indeed.
Camera
Personally I'm not a big camera user with tablets. The rear camera didn't perform terrifically well and the white balance went a little crazy if the photo had darkness and light mixed together. Close-up shots didn't fare well.
That said, I am perhaps comparing this to the Leica kit on the P9 we recently reviewed and I don't personally think that a camera at the back of a tablet is going to be in use a whole lot. The front selfie shooter was OK, and decent enough for Skype and other video call applications.
The camera has a range of option, including the HDR mode I used on some of these shots, a "Best photo" option, Panorama, Watermark and "All focus" option. You can also add a GPS tag, track objects when filming video and get the perfect selfie along with a "beauty" mode to try and make you look less scary. There's also a stack of filters, a time-lapse mode and you can turn the flash on or off.
Here's some example shots..
Overall
Whilst the camera wasn't as good as the Leica unit on the Huawei P9, the addition of that stylus was something I actually really liked in this Premium model. If you choose the 16GB standard model you do have to realise that there's no expandable storage and that's pretty important if you're a media consumer – something this device is really built for.
Out of the two, the Premium model would be my choice. The sound quality and the included stand made it into a portable entertainment centre which was really enjoyable to use and a great TV-replacement for your bedroom or elsewhere.
The Huawei additions were appreciated and the build quality, battery life and device management were all top notch. It's yet more quality kit from Huawei, who are fast becoming a serious force to be reckoned with.
The "Standard" edition, which has 16GB storage and 2GB memory and no "M Pen" for £249.99. The "Premium" edition has 64GB storage, 3GB memory and that "M Pen" for £329.99. If you're into your artistry and like taking notes, get the "Premium" one.
Head to Currys to have a look at them or go to the Huawei website for more detail.
Huawei MediaPad M2 10.0
Audio - 93%
Camera - 77%
Build quaiity - 93%
Battery life - 91%
A very capable, media-savvy tablet that has amazing sound and great battery life. Well designed, well put together and the M Pen works incredibly well.