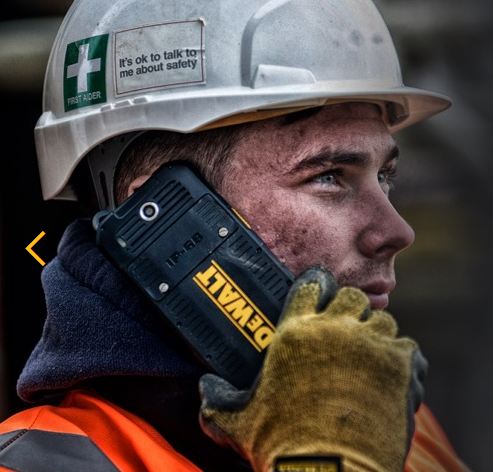 Creating a tough smartphone is something a number of companies have already tried. Over the years we've seen Energizer, JCB and CAT have all released smartphones which can survive the bumps and knocks of working life. Now DEWALT are having a go at it too, and the dual-SIM DEWALT MD501 is the result.
OK, here's a run-down. It's fully dust resistant and you can drop it into 2 metres of water and leave it there for 30 minutes. It's rugged enough to survive vibrations, chemicals and 2 metre drops too – straight onto concrete. You can even use it inside an industrial freezer because it'll operate at temperatures ranging from -20 °C to 60 °C.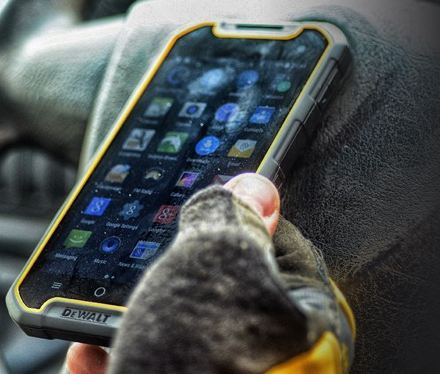 4G, WiFi, GPS, NFC, Bluetooth 4.0 and there's wireless Qi charging, so you don't have to worry about fiddly cables when you've got your gloves on. The smartphone, which will work even when you're wearing gloves, has a 5″ HD screen with Gorilla toughened glass and it runs Android 5.1 with a MediaTek 1.3GHz quad-core processor with 2GB RAM and 16GB storage plus a microSD slot for more.
The rear camera is a 13 megapixel unit and there's a 5 megapixel one up front should you want to take a picture of your nice shiny helmet. It's all powered by a healthy 3950mAh battery.
Get your name down on dewaltphones.com if you want to be notified when it's available. This is actually made by a company called RugGear, and they do a very similar handset here. To be honest both companies are using very similar (if not the same) icons and descriptions, so it looks pretty interchangeable.