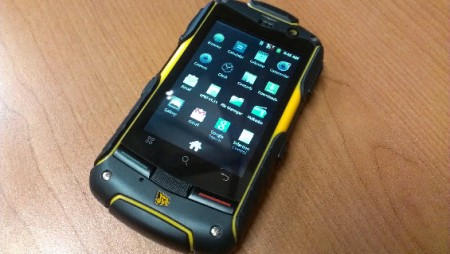 If your day job involves a lot of outdoor work then you might not carry a smartphone. They need charging quite a bit, they're fairly delicate instruments and can be fiddly to use with big, dirty, working hands.
JCB have moved from just sticking covers on other handsets and have made their very own Android phone.
We had an exclusive first look at their new Pro-Smart handset this weekend and, although we couldn't throw this very special sample unit in the water like the Toughphone, it was definitely a very solid, sturdy and chunky.
The Pro-Smart is selling for £317.95 and runs Android 2.3. Up top there's a really easy-to-locate power button on a pronounced upper section and a 3.5mm audio port which is covered by a rugged rubber flap secured in place by a solid screw.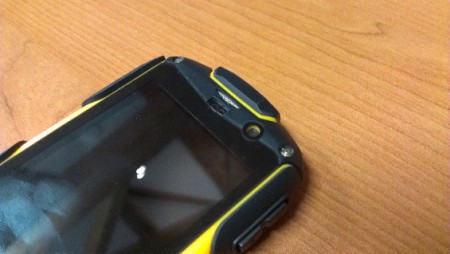 On the front screen you get a face-pointing camera, earpiece and some really big and obvious "call and drop" keys. Great for making a quick call. Damn.. I miss call and drop keys. In the middle there you'll see a nice big menu button which is textured and a little lower than the other two keys.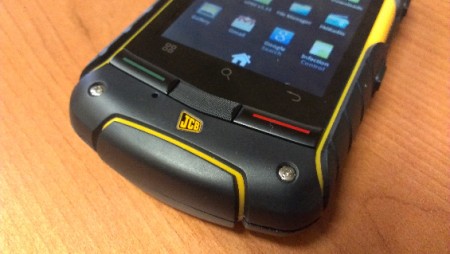 Around the four corners of this device there's some real screws holding the thing together. These aren't fake or just for show – they actually hold it together. You get a screwdriver in the box just to take the battery compartment off, and there's a lanyard with a big climber-style hook to clip onto your jeans. There's even a compass on it. Wehay ! 🙂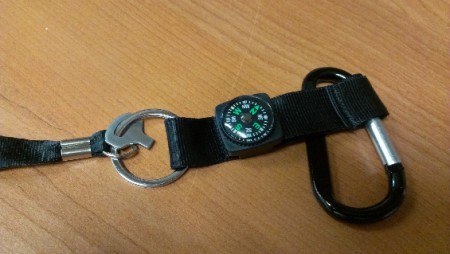 Above the main physical keys are three touch-sensitive keys – menu, search and back.
The left side has a solid rubberised button for activating the rear torch and the microUSB connector which, like the audio port, is behind a screwed-down flap. I opened this up and you can see how "buried" the microUSB socket itself is. The actual technology of this phone is safely protected from the elements.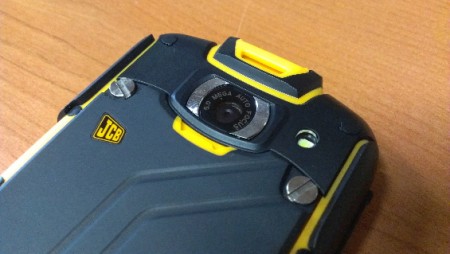 I should mention yet again how utterly strong and sturdy this device is. Although it's plastic, it doesn't feel "plasticy" in any way. This is like a firm and rugged tool more than a phone. The rear has the battery compartment, which is screwed down, and the 5 megapixel camera and torch / flash – all protected behind the outer casing.
On the right, the volume up and down. Again, these buttons are really easy to find – you can press them with gloves on and, although this handset doesn't have the fastest CPU on the market (800MHz), it meets the needs of the intended market.
The Android OS is largely untouched, apart from a few useful JCB apps designed for construction workers. The specs include a 3.2″ HVGA screen, that 5 megapixel camera we saw earlier, WiFi, Bluetooth 2.0, microSD expansion and it's both water and dust resistant, plus it's tested to IP67.
To add to all this, JCB give you a two year warranty. Overall, I this this really does plug a hole in the market. This is way more than just a tough "shell" or case on an Android phone – they've added some nice touches like making the shutter noise on the camera ultra-loud. Same with the ring-tone and text message sounds. It'll do all the usual Android stuff too – you get Google Play, Maps and all that good stuff. There's a 2000mAh battery so you won't be running to the nearest power point too. Good for people working outside most of the day.
I say "plug a hole" because this isn't just a phone for people putting up scaffolding, digging holes in the road, fitting satellite dishes or cleaning out the guttering on your house. This sort of design and ruggedness is like many PocketPC devices we still see in use by Police, warehouse workers and meter readers. Just a few weeks ago I saw an insurance assessor using a Windows Mobile 6.5 device with a custom app to do his work. It was a sturdy, life and work-proof device and many businesses are looking to upgrade. Could this be the new daily workhorse for your staff? I think it could very well be.
We've got some exclusive shots of the device below. Head over to ur-mobile to bag one unlocked for £317.95.