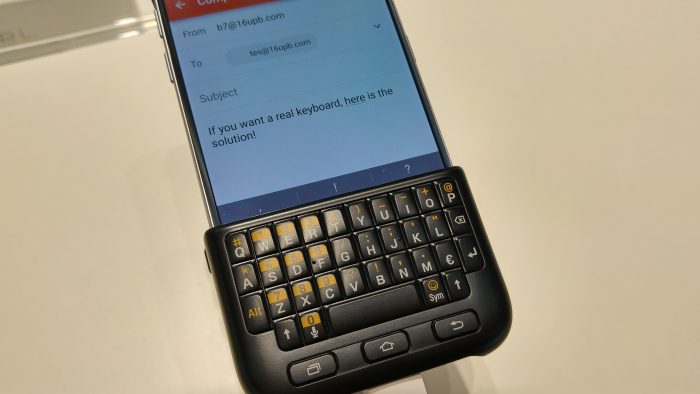 Here at the crazy mobile shin-dig that is Mobile World Congress – if you get a special sticker – you can head backstage. There, amongst the tired exhibitors, you'll find Samsung showing off their Galaxy S7 devices. We saw these at the exclusive Unpacked event on Sunday (which seems like weeks ago now), but right at the back is this cool little clip-on keyboard, which is ideal for all you hardcore hardware keyboard fans and ex-BlackBerry users.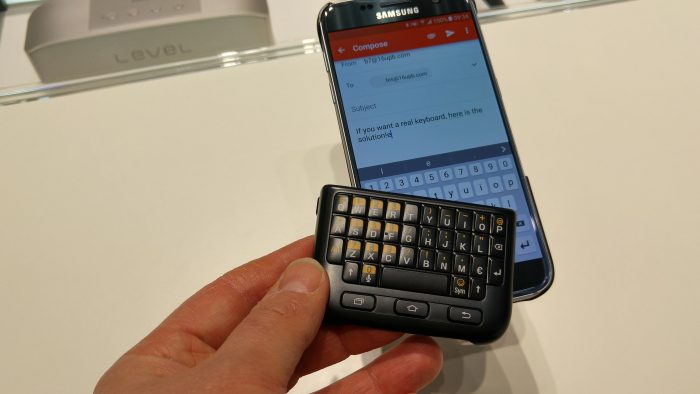 I gave it a spin and the keys seemed to be a bit spongey, but the lady demonstrating seemed to fair much better, as you'll see below.
Connected by Bluetooth this, according to the rep, uses an on-board battery which you can't swap or charge. I certainly couldn't find a charging point on it either.
Once you click the device on the screen automatically moves "up" and keeps the display visible at all times. The home, back and menu keys are all on there too, and this could be the ideal add-on if you're wanting a real physical keyboard again. These aren't a new idea though, and if you've just invested in an S6 edge+, then you can get one of these, plus it's available for the Note 5 also.
Here's a few more up-close snaps 🙂
Missed the low-down on the Galaxy S7 and S7 edge? Head to our in-depth piece or the launch details..