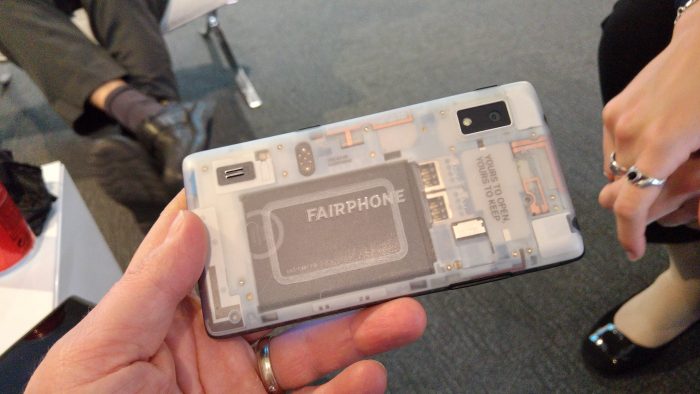 Yes, LG released a modular smartphone on Sunday, but that's only partially modular, and it's modular because it adds functionality. Here, you can argue that the Fairphone 2 is a whole lot more modular, and it's modular so that you can repair the thing. Here Daria from Fairphone shows me how the phone can be taken to bits and reconstructed with nothing more than a screwdriver.
The screen, as anybody knows, is the most regularly broken bit of kit on a smartphone. It's also pretty expensive and time consuming to get replaced. You usually have to go to a repair centre and pay a hefty chunk of money, however here owners can pop the screen off and simply replace it themselves by moving a couple of clips aside.
The camera, headphones and several other parts can be removed and replaced too. It basically means that you can save money by fixing things yourself and you create less waste – some would throw away a broken phone with a possible expensive repair bill, but here it's fixable for a lot less cash.
The Fairphone 2 was launched last year and the first phones were shipped to buyers in December. The company have created a Fairtrade gold supply chain too.
The phone costs €529.38, which is a pretty hefty sum. For that you get a dual-SIM handset with a 5″ Full HD 1080×1920 LCD TFT/IPS screen at 446ppi. It's also got Gorilla Glass 3 in front. It's powered by Android™ 5.1 with a Fairphone GUI on top and does 4G, WiFi and Bluetooth 4.0. Around back there's an 8 megapixel camera with a 2 megapixel shooter up front. This is all powered by a Snapdragon™ 801 Quad-core 2.26GHz CPU with 2GB RAM and 32GB on-board storage, plus there's a microSD card slot for good measure.
Overall I was pretty impressed by the concept, and my inner geek loved the fact that I could take it to bits. Fairphone are keen to point out that the bits you buy from them are easy to swap, but they wouldn't be drawn on whether you could upgrade those existing modules for better units. This is more for the "repairability" aspect rather than the "upgradeability" aspect.
Around back there's a port which allows for additional features to be added to the back casing – NFC for example.