Ask me about a smartphone with a projector and I'll probably point out the Samsung Galaxy Beam that we saw here in Barcelona some four years ago. It made a bit of a comeback in 2014 and Lenovo gave it a bash last year too.
However, for reasons I couldn't quite explain, they never seemed to catch on. Was it the fact that nobody really wanted them? Was it the battery life? Was it the huge amount of heat that was kicked out every time you used it? It was probably the latter two for me, because if my smartphone had a projector, I'd use the thing quite a bit … if it actually worked.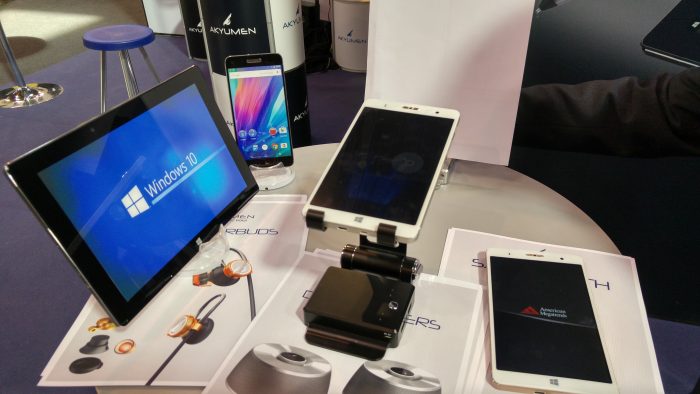 Today I spoke to Aasim Saied, the Chairman and CEO of Akyumen. This is a guy who left university less than five years ago and has created what we see here – smartphones and phablet devices with projectors.
Instantly, I've got all those bad memories – heat, terrible battery life and a poor projection which only works when you're a foot away from the wall you're using. However, my opinions quickly started swinging the other way when we went to a slightly darkened room and an image was projected onto a wall from several feet away. The size, quality and clarity of the image was comparable to "normal" projectors that sit on the tables and desks around the world. The gadget doing the "grunt" in this instance was the new Akyumen Holofone, running Windows 10. The idea has been a big hit in the education sector, which has traditionally bought lots of low-end devices, and it means that you can instantly project your work onto any surface with the minimum of fuss. The built-in battery on this device will keep the projector going for two solid hours, and the heat just isn't there. After a full 20 minute demonstration I felt the back of the phone and all around the bulb area but there was nothing. Not even a bit of warmth.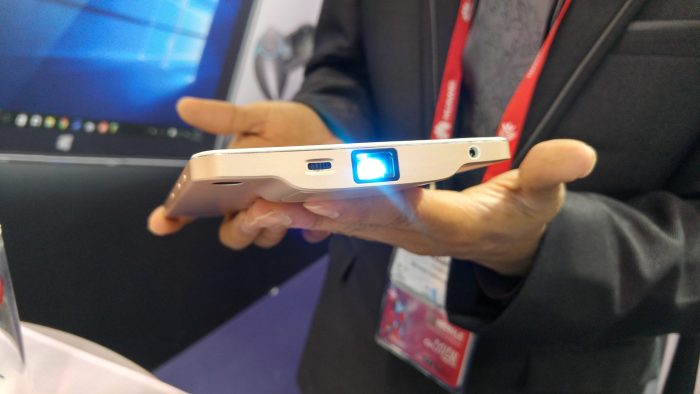 Aasim tells me that this is due to "nano technology" and heat dissipation, which means that it can run for a long time without burning your hand off.
If you choose the Holofone, you get a sabretooth pen, some high quality earphones, a device stand and a screen protector. That pen will let you control presentations and it'll act as a wireless handset so that you can make and receive calls whilst your doing a presentation. Handy that.
The above video probably isn't the best representation of what the Holofone can achieve though, as a 50″ to 100″ projected image is possible. You will, as with all projectors, need to dim the lighting to get the best results.
The premium version of the Holofone includes a stand with a built-in battery, and the advanced option gets you an additional 128GB of storage which you can share and use with your handset. There's also some Bluetooth speakers so that people can hear your presentation audio. This data is fully encrypted and the accompanying battery will boost the projector time by an additional 5 hours.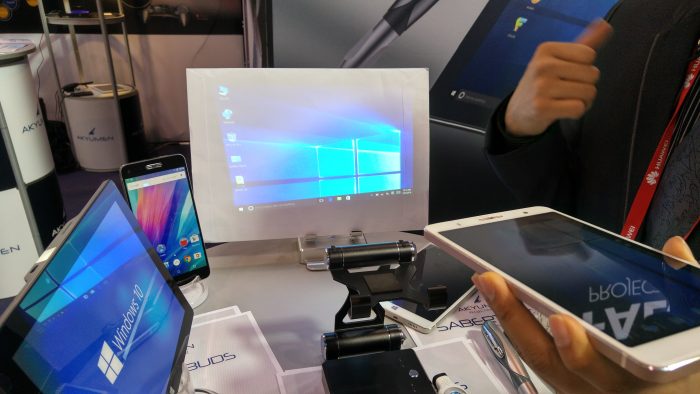 Available in June, I had to ask the question about that bulb. What if it breaks? Well, Aasim tells me that there's a 3000 hour lifespan on the bulb you get, and they'll replace it free if it fails.
OK, but what if I don't want to buy this? Can I get the tech in an accessory? Can I have a plig-in projector perhaps? Not at the moment no. This tech involves a new set of display drivers – not something you can quickly include ad-hoc with other handsets.
Akyumen also sell the Falcon, which is the large Windows tablet on the left side of the top picture, and the Hawk, which is at the back of the shot. This particular smartphone runs Android 6, but the Holofone I was shown could dual-boot into either Windows 10 or Android.
One thing I did learn was that a lot of companies have actually infringed on the patents held by Akyumen, and Akyumen are now being approached by others to work on the projector technology within future handsets. A lot of work has been put into making these products work, and work well. I was very impressed with the quality and resolution of the projected image, also the drive and passion of the people behind Akyumen.
Get more details on these devices at Akyumen.com