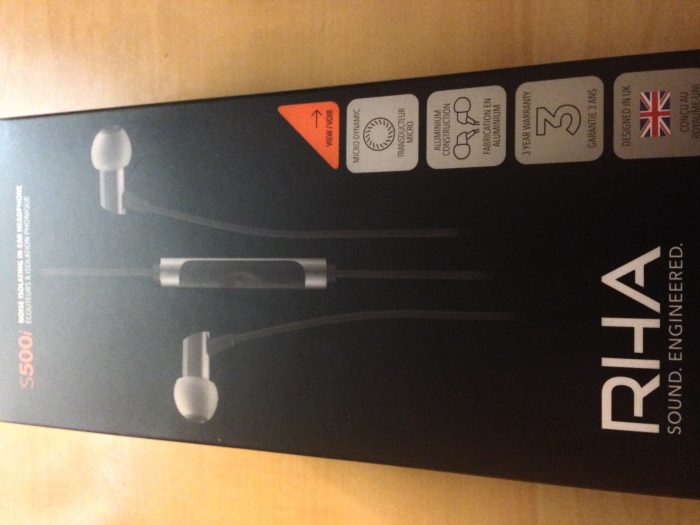 These are the S500i earbuds. They're quite nice actually.
Surprisingly nice.
My very first foray into using RHA was from the very base version of their earbuds, say about 4 or 5 years back (FYI, they were called MA150's. To put it in context, they're no longer sold by RHA). They did what they were supposed to do, but every single time I used them whilst on the move, I could hear the braided cable moving against my clothing through the earbuds. Still, I liked them. They did the job better than I'd expected at a knock-down price of £15. The bass kicked butt, and it was tight. I haven't used them in a while as they were donated to the never ending black hole of 'my-daughter-needs-new-headphones'. But that's not important right now. The S500i headphones are a different beast. The packaging is a tasteful affair, which helped my anticipation when I undid the packaging and found a full – and I mean, you have a complete set of earbuds for whatever the size of your ear is – full tray worth of 7 pairs of buds.
Sound
I wasted no time taking the well-cushioned S500i's out and taking them for a spin. They sounded ok. Most of all, that annoying braided-cable sound was completely absent. So far, so good. I listened to music on the way to work and on the way home, and that was ok.
Something then happened! I'm not entirely sure what, but somewhere around week 2 or 3, I'd find myself listening to music on my BlueTooth headset, and I'd stop, take them off, and pop in the RHA's. I didn't even notice until I was outside and raining on my way home, and I was huddled under a shop awning fiddling around with wires to put the RHA's in. I think I was kicking back to some old school jams (One Dark Night, by Kool G Rap), when I realised I wanted a little more to the tune. Whammo. The bass was tight, and the heavy piano line was a perfect counterpart to the atmospheric thunder and rain. The lyrics were crystal clear through the insistent high hats and by the time I heard:
"Now I can run and take flight, but alright, yo son'll be hyped
And I've played mother nature before
So yo I'm clappin thunder tonight
I step right, inside of the street light, my gun it was bright
Send him to kiss Christ, and let my s**t slice
In front of him twice"
I was head-bopping, the world fading away to the soundstage the S500i's were laying out to me. Something had happened between the time I first used the earbuds and now. The sounds were richer, smoother. Don't get me wrong, when bass was needed it delivered in spades, but when something a little more restrained was required from when I put on The Beauty Song from the House of Flying Daggers Soundtrack – oh, that was so clear. By the time I hit the Kathleen Battle rendition of Lovers from the same soundtrack (it's one of my favourites. Sue me. seriously, don't. I can't afford it with the wages the owner of CoolSmartPhone Towers doles out) her voice rose from the track and wrapped the power of her vocals around me. I'm not a music expert. I can't really tell my decibel from my ohm. But I can tell you this: I'm never ever going back to a £20 pair of earbuds without a damned good reason. The RHA S500i's let me know that paying a little more gets you a lot more.
Talking
At times, I seem to end up using my phone a lot, both in and out of work. Jumping on a conference call and sneaking around to grab a cup of coffee was simplicity itself. I found myself having to actually turn down the volume when trying to hear the ambient sounds of people in the kitchen area because the tight fit of the S500 earbuds are pretty good at cutting down on the random sounds. It wasn't that I couldn't hear people, more like that the noise they made mattered less. Hard to explain. Nevertheless, those on the call heard me a lot clearer than they did whenever I tried to use my BT headset. Score one for the wired connection.
The standard 3.5 mm connector is gold plated, and I have no idea if that helped with the sound reproduction, but it certainly hasn't detracted one iota from the aural experience.
The inline remote connector takes a little bit of getting used to if you want to get the most out of it – also, the S500i is 'tweaked' for an iPhone. I hardly used it on an iPhone, but was still able to get the answer/hangup functionality working without a problem. You also get play/pause of music using the same button, and the volume controls are placed at the top/bottom end of the remote. Simples? Why, yes it is.
Construction
As you might have noticed, I tend to pick up earphones on the lower end of the budget. I'm not surprised when a pair of buds up and fail on me at some point outside of a 1 year warranty. The S500i's don't fall into that category for me. They feel solid, in a way that a brick feels solid, but they aren't heavy or ungainly in my ear in the least. I keep them in the supplied pouch (nice touch, RHA) because that makes them easy to get to, and for some reason, they never seem to tangle up. The clip to keep it pinned to a piece of clothing gets used a lot, especially when I'm outside in the dusk hours, shooting a few hoops on my own to relax. That counts for a lot. The outer casing feels like aluminium, or if any of our stateside cousins are reading this, it feels like aluminum. They're not on the £100-200 range of earbuds, but then sometimes that isn't what you're after.
If you want something that definitely sounds as if it should cost twice as much as the £39.99 they're priced for, then check out RHA. They've done it again. I should not have been surprised.
RHA S500i - better than they should be
design - 84%
quality - 92%
performance - 89%
88
%
If you're in the market for a good midrange set of headphones, definitely try these.