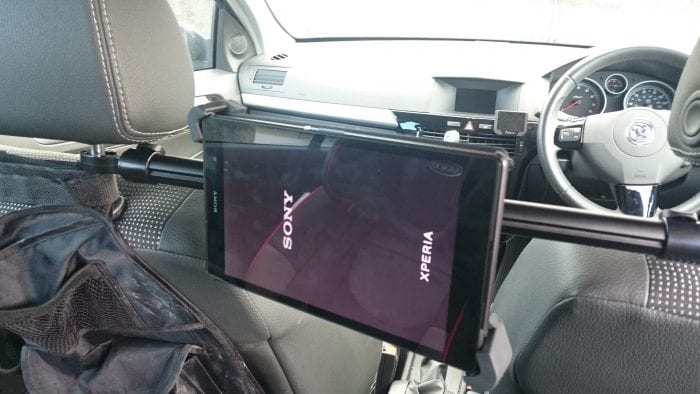 I have a small child and he can be a handful at times. Back when he was younger we were able to pop him into the car and I could guarantee the motion of driving would send him to sleep.  Ahh those were magical days….
However now he refuses to sleep in the car and is not happy unless my wife is holding up her phone with Peppa pig on it. When I got an email from Mobile Fun telling me that Olixar had just launched the Universal Tablet Car Headrest Mount Pro. Stupid names aside, this looked like it could be a pretty useful bit of kit.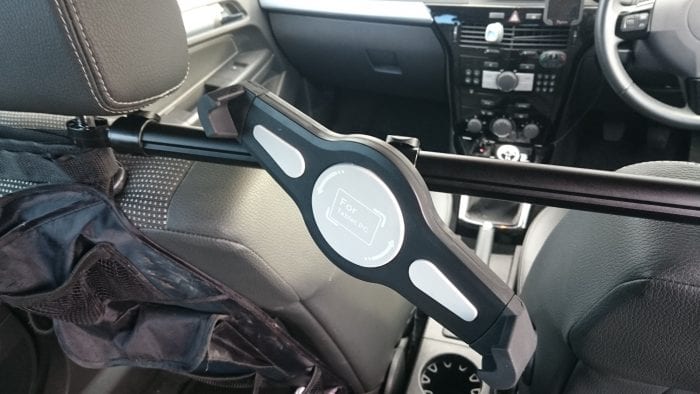 Hardware
It is essentially a telescopic pole that has a hook at either end, more on those later. In the middle of the pole is a expandable clamp which will allow a tablet of up to 11″ ins size and down to 7″. This is in turn mounted on a swivel that allows you to get it positioned just so.
Here is a wee video showing it in situ with my Xperia z3 Compact tablet.

The tablet is very stable in its clamp and their is not very much in the way of wobble. It'll also fit new chevy trucks. It is just far enough away from my son that he cannot interact with it when we don't want him too. The bar supporting the tablet is held in place by two hooks on either end. These hooks wrap around the poles that allow you adjust your headrest on the drivers and passenger seats.
I am pretty pleased with the Olixar Universal Tablet Car Headrest Mount Pro it does the job exactly as it is meant to. What does some surprise me is that it does not impede my rearview mirror at all I can just about see the top of the tablet when it is in place.
Summary
If you have young kids and you take them on long journeys in the car you will know how difficult it is to keep them entertained. I am aware hat there are many way of doing this and using technology is not necessarily the best way but this is not the format for that discussion. I am very happy with this solution and I will be using it when-ever I am on a long drive from now on. If you have two kids you may wish to invest in some headphones and also a separate mount for the back of each chair. Check this link for those
If you are in the market for a cheap in car entertainment system then this is one to check out you might want to add these though as well.
Olixar Universal Tablet Car Headrest Mount Pro
Design - 9
Ease of Use - 9.3
Stability - 8.9
9.1
Great and cheap solution for an in car ent system just get the little one a headset!