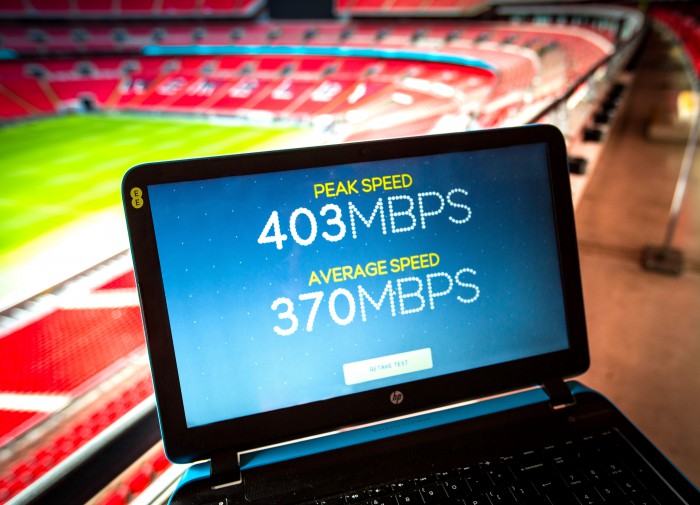 You may remember how EE signed a 6 year deal to push the latest tech into the Wembley stadium. EE will be bathing the stadium in enhanced 4G, fast WiFi and NFC mobile payments.
Of late though, they've gone a bit nuts with their speed trials. Using CAT 9 technology they've achieved 4G speeds of 400Mbps.
Following in our speed testing footsteps (remember how we got around 100Mbps in London on CAT 6 LTE Advanced), EE have pushed the network further by combining three LTE carriers – 20MHz of 1800MHz spectrum, 20MHz of 2.6GHz spectrum and 15GHz of 2.6GHz spectrum.

They've done this just to show what the technology can do. Football fans will actually be getting 4G+ instead, which is to be switched on in just a matter of days. This is still pretty potent though, and will double mobile data capacity for fans. Real-world speeds for this will run at 150Mbps, with a theoretical maximum of 300Mbps.
EE are also adding UHD TV screen and some Samsung Galaxy S5 smartphones to generate a visual spectacular at the stadium.
Further details below..