EE recently announced the launch of their upgraded LTE-Advanced network here in London. This runs at a maximum of 300Mbps with real-world max speeds of 150Mbps promised and a realistic 90Mbps during the day.
Vodafone also launched their service in London with the same speed expected.
But are these super-fast speeds a reality or are these just numbers to attract new customers?
Well I have arrived in London for two days and have a Samsung Galaxy Note 4 which is CAT6 LTE-Advanced compatible. It only felt right to head to an enabled area and check it out.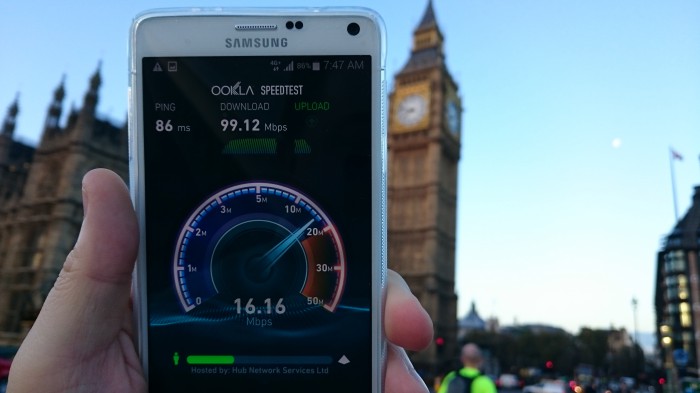 As you can see in the photo above the speeds are blazing fast – just under the 100Mbps mark. Best of all, this wasn't a one-off. I must've done 30 tests in this area of Westminster and most were above 70Mbps, which is incredible for a mobile device in the capital at rush-hour. This is way, way faster than most home broadband connections.
These are just a few examples, there is a gallery below full of images showing off speeds I was able to get this morning, and am still very impressed with what I have seen so far.
This is only possible thanks to a new technology called 'Carrier Aggregation'  which pairs up 2 bands of LTE signal to help spread the data load.
Yes, it's all a bit techy. To help, here's a quick run-down of the mobile tech in operation currently.
3G / HSPA was set at 14.4Mbps  before new technology came in to help boost this
HSPA+ was next offering in theory a max speed of 21.1Mbps
DC-HSPA came in and doubled this to 42Mbps which a few networks here use and helped with speeds
LTE standard is 100Mbps using a single band of LTE spectrum (EE used 1800Mhz on launch)
LTE then had an upgrade to offer CAT4 devices speeds of 150Mbps if the network supported this
4G+ is now here, also known as LTE-Advanced and pairs 2 bands together to offer up to 300Mbps (EE using 1800 Mhz and 2600 Mhz)
With 4G+ now live in London and rolling out in other large cities, it is great to see LTE moving forward really quickly considering how long it took 3G to get where it is today.
Right now there are only a few devices which support this new 4G+ network and that is the Samsung Galaxy Alpha, Note 4, Nexus 6, Huawei Ascent Mate 7 and the Honor.
Huawei did announce a new MiFi device back at MWC this year that will work with this tech, but as of yet it has not been launched here in the UK.
If you have one of these phones and are on EE with the 'EE Extra' plan, why not head out for yourself and see where you find the 4G+ symbol come up and see what speeds you get.
Vodafone will also get 4G+ on the same devices as long as you are on a 4G plan in a 4G+ enabled location. Currently we only have an EE SIM for testing though, but it would be interesting to see how they compare.
Just be careful though, doing lots of speed tests really eats into your data allowance…. believe me…. I would know! 😉