Mobile World Congress could get interesting this year because quite a few of us will be out there and we all have pretty different ideas on the best way to get content onto the web quickly and effectively. For the simplicity, battery life and quickness, you'll probably already know that I'm using a Chromebook. However, after getting a bit of time with the Windows-powered Acer Aspire Switch 10, I now have the slightly larger Switch 11. It's a device that doubles as a tablet and a netbook and it's certainly intrigued me.

Recently Garry, who'll be out in Barcelona too, went for another Windows tablet, and it's the daddy of them – the  Microsoft Surface Pro 3.. It comes with a 12 inch screen, 128GB of memory and is the newest and neatest member of the family. It's designed to behave like both a sheet of paper and a laptop computer, with a stylus that feels and writes like a pen, and a neat cover plus keyboard as an optional add-on. You can even rest your hand on the screen as you write without disrupting your work. There's a USB port and a microSD card slot, and you can install heavyweight software like the Office suite, making this a great business tool as well as entertainment hub.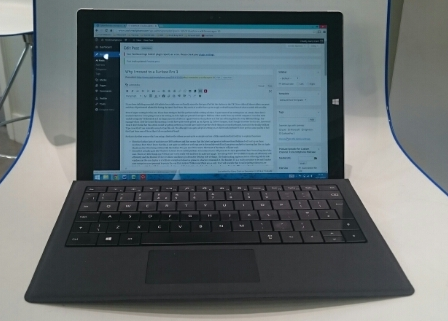 Other Windows tablets under consideration include the slim, lightweight Lenovo ThinkPad 10.1 Multimode, which has a slightly smaller screen than the Microsoft Surface, but enough extras to give it some serious business computing power. That one includes a front facing webcam and an 8 megapixel rear camera for photos and video, while optional additions include a keyboard and pen type stylus.
I still tend to base a lot of my decisions on the design of the tablet, and devices like the Yoga 2 from Lenovo, another Windows tablet, left a definite impression with me purely due to the way it looks. It comes with a 500GB drive and felt quick with a lightweight feel and great size. The battery life was very decent too, which is ideal when you're in a long press conference and need all-day power.
Then again, perhaps I should be looking at another one of our past reviews, the Nokia Lumia 2520. This one has a glorious screen, 4G on-board and a microSD slot for additional space. This one runs Windows RT though, although the spec is still good with a quad-core 2.2GHz CPU and that 1080×1920 pixel screen.
Although I'm still a Chromebook user and, as yet, haven't totally migrated over to an iPad or Windows tablet, I think it might just be worth me taking a Windows tablet onto the flight, even if it's to push me into using one full-on so that I can get a really good feel of the OS under pressure.