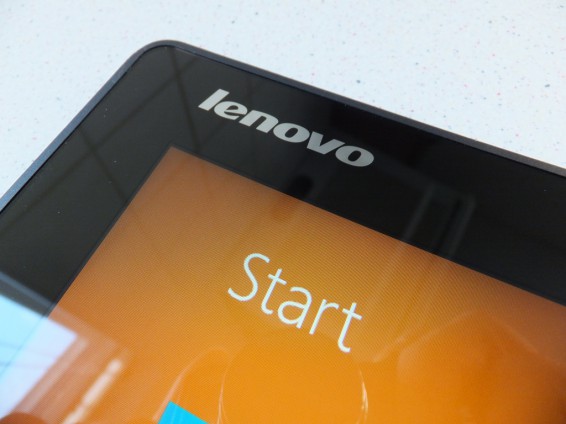 In my continued hunt for the ideal tablet/laptop I've stumbled into the fascinating world of the flexible Lenovo Yoga 2, it's an 11″ touchscreen bendable flexible hybrid. I mainly use Windows 8 devices like large tablets that you can run normal desktop apps on when the store stuff just can't cope. I've been using the Yoga 2 for a few weeks now and it's time  review. Starting as usual with my good and bad points.
Good Points
Nice compact size and it's lightweight.
Screen positioning is actually quite useful.
Decent price (about £499 at the moment).
It feel pretty quick in the modern UI side of things.
Battery life.
Large 500GB Hard Drive.
Bad Points
Pre loaded Lenovo Software is a little annoying.
No full HDMI out.
Low resolution screen.
The screen is a bit dull in bright daylight.
Design
Lenovo have a few levels of design with the Yoga IdeaPad range, the Pro devices are the top end with fancy elements such as leather wrist rests etc. The Yoga 2 falls into the mid range, costing around about………
I have a 13″ Yoga Pro from last year and it's interesting to see where they've cut back and what they've moved around. Closed up the Yoga 2 looks like any other small ish laptop, a soft touch plastic lid, bearing the Lenovo branding, a selection of ports and buttons on the right hand edge and some bottom facing speakers.
It's when you open the Yoga 2 up that things start to get a bit more interesting. Normally with a laptop I'll put it on my lap and then adjust the screen, finding that the ideal angle for the screen isn't achievable. With a few laptops out there you can fold the screen back flat, meaning that viewing the screen at any angle is possible, with the Yoga range this is taken a step further. Any angle you want is possible, folded back on itself in tablet mode, using the keyboard as a desk stand, laid flat on a desk, or even just in a tent shape as a self supporting touchscreen display. They are all possible, when I got my first Yoga last year I was really really impressed being able to bend a laptop to whatever form factor you want is really useful and bending it back on itself never gets boring.
Hardware
The Yoga 2 is a lower specified model, it's aim is to bring the unique Lenovo design to more people, people on a budget that is. The spec is as follows:
Processor – Intel® Pentium® Processor N3520 (2.166 GHz, 2.42 GHz with Intel® Burst, 2 MB cache).
Storage  – 500 GB HDD, 5400 rpm.
RAM – 4 GB DDR3L.
Screen – Size 11.6″, type IPS, Resolution 1366 x 768, 10-point multitouch, LED backlit.
Conectivity – Wireless 802.11 b/g/n, Bluetooth 4.0, USB – USB 3.0 x 1, USB 2.0 x 1, Micro HDMI, 3.5 mm jack, 2-in-1 memory card reader.
Dolby Home Theater Integrated stereo speakers.
Camera – Integrated 720p webcam.
Keyboard – AccuType .
Mouse / Multitouch trackpad.
Battery – 4-cell Lithium-ion, Battery life Up to 6 hours.
Dimensions – 17.2 x 298 x 206.5 mm (H x W x D).
Weight – 1.45 kg.
For me the most obvious difference to last year's models is the inclusion of a 500gb Hard Drive as opposed to a smaller Solid State drive, it's obviously down to the price, but it sure does effect the startup time. Although saying that it still boots a whole load faster than my desktop PC. Also swapping out the full size HDMI port for a Micro HDMI port is a little annoying, this time it will have been down to the size of the port more than anything. Lenovo have cut costs mainly with the inclusion of the Intel Pentium processor, which is also indents performance (see benchmarks below). The battery on the Yoga 2 has lasted me well, needing only to be charged a few times during my time with it, unlike with my older Yoga laptop.
The screen is nice, albeit a bit dull and hard to see outside and also a bit low resolution. But viewing angles are good and colours are nice, with the Windows 8 Home screen looking nice and multi-coloured.
Benchmark wise I ran the Yoga 2 through 3DMark and it came out pretty reasonably, on a similar level to the Nokia Lumia 2520 I reviewed earlier on in the year.
Lenovo Yoga 2
3DMARK Score 14583
Lenovo IdeaPad Yoga 13
3DMARK Score 36482
Lumia 2520
3DMARK Score – 16256
Microsoft Surface RT
3DMARK Score – 3758
Software
The Yoga 2 is now running Windows 8.1 and the full version, none of the RT nonsense here. I'm really liking Windows 8.1 these days, being able to jump between a touch optimised UI to a traditional desktop really suits how I use a PC.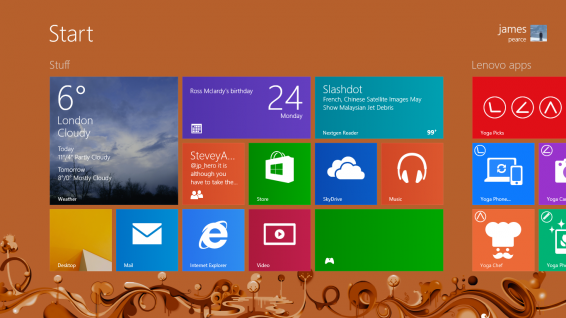 As the resolution is only 1366 X 768  some modern UI apps run with less on the screen. Such as Nextgen Reader which displays less information than a larger resolution device.
Software included with the Yoga 2:
Lenovo Companion.

Lenovo Support.

McAfee Internet Security (30-day trial).

YouCam.

Skype.

Amazon Kindle.

Zinio Magazine Reader.

Lenovo Cloud Storage.

Evernote.

Nitro Pro.

Phone Companion.

Yoga Camera Man.

Yoga Chef.

Yoga Photo Touch.
None of the apps are essential, the Lenovo apps are ok but will more than likely remain unused. There is a gesture recognition program which uses the front facing camera to function like the original Xbox Kinect sensor.
Lenovo try to advise which apps you should use when the Yoga is in a specific position. So if you fold it up you get a popup which takes you to an app which advises some apps which will suit the mode.
In Use
In use I found the Yoga 2 to be the ideal mix of size, weight, power, price and form factor. If I want to play some games on the touchscreen I can fold it back on itself, if I want to play some real desktop games I can plug in a gamepad and play without a problem (although the lack of a gaming GPU will limit what you can play). It really lasted me well in terms of battery life as well, whether the low resolution screen helps with that I'm not sure, but I found myself charging it a lot less than my larger older Yoga.
The Yoga 2 will easily be a lightweight laptop to take on the road, it will easily be a laptop for living down the side of the sofa for using to run your life on. It basically can adjust itself to suit your needs, apart from hardcore gaming.
Conclusion
Overall I really liked the Yoga 2, as I mention earlier for me it is the ideal mix of elements. As to how I would improve the Yoga 2 I think I'd add a higher resolution screen, a full size HDMI port and possibly add an SSD instead of the hard drive. But that would all increase the price of the Yoga, at just below £500 it's a viable option for budget buyers, at over £500 devices seem to be more specific.
Lenovo are really on the up these days, with many multi function devices in their portfolio to suit all budgets, it's just a shame this one didn't come in orange like my older one.
Lenovo Yoga 2 11" - Review
Design - 7.5
Hardware - 6.5
Software - 7.5
Screen - 7.5
Battery Life - 7.5
7.3
Overall I really liked the Yoga 2, as I mention earlier for me it is the ideal mix of elements.